Also works as a deodorant or breath freshener.
sublingual duck fat lol
Silly, IMO. What other ingredients are in there?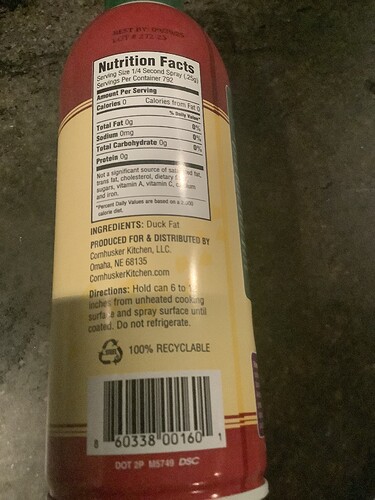 None which is why I found it so surprising…
How does duck fat have no calories or fat?
Or is the first 1/4 a second of spray just air

Same thing with Pam. Less than 0.5g fat can be rounded down to zero. Naturally, the entire can is fat. And no one would ever use 1/4s spray for anything legitimate.
I wonder how they keep it liquid. My duck fat isn't
I get that but even a 1/4 sec spray of fat should have more than 0.5 calories. How could that not be at least 1 digit?
Grams not calories. And then 0g = 0 calories. Thank your gov't for the rules.
Not sure what to try it on? Maybe a sauté vegetable?
Because it's under pressure?
I guess I see that if there is zero fat due to rounding there can be no calories because it's 100% fat.
That's crazy logic because it would mean they aren't checking calories separately? There must be more than 0.5 calories in that spray if they actually measured that?
Looks like a gram of fat has ~9 calories. So they must make the serving size to equal less than .1 gram of fat to keep the calorie count at zero (rounding down).
Edit: I see that 1/4s is .25gm so there should be ~ 2 cal.
They don't measure it that way. It's based in a 2,000 calorie diet. 1% would be 20 calories. .25g must have fewer that 10 calories.
Exactly! I do like your serving size better than mine, although I'm Feeling even yours is going to fall short when trying to fry some potatoes
Great product for potatoes and probably fried eggs (and endless others). The FAQ answers a lot of ?'s. Storing it in the fridge will probably make it not work until it's taken out and brought back up to room temp.
I feel like this stuff has been around for a while at least in our neck of the woods.
I have a can of it somewhere have used it on french fries and potatoes and not much else. It was gifted to me.
I think this has been around for a while–I am pretty sure I saw this at least a couple of years ago. A bit pointless to me, as I love duck and goose fat and if I use it, generally use it quite liberally.