Jojo Madrid, a longtime friend now based in Vancouver, is a partner of Premium Wine Exchange, one of Manila's fine wine distributors. He invited me to attend what was billed as their most important dinner of the year, featuring library wines of Domaine Comte Georges de Vogüé.


Jojo flew in from Vancouver to host. Though a bit worse for wear from the past few days' over-indulgence(s); I made sure not to miss it.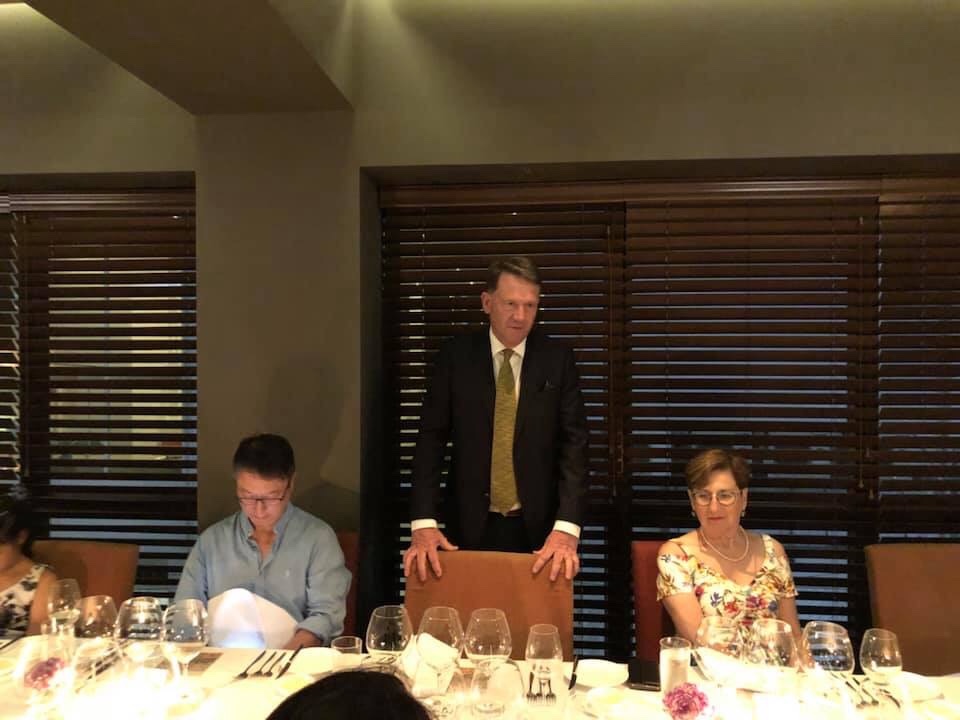 Domaine Comte Georges de Vogüé's Commercial Director, Jean-Luc Pépin, & his charming wife, Brigitte were the special guests. Jean-Luc gave a brief yet very informative talk about the domaine's history, wine making technique, and the philosophy behind it. Jojo seated me beside Brigitte and had asked me to help entertain her while her husband "works".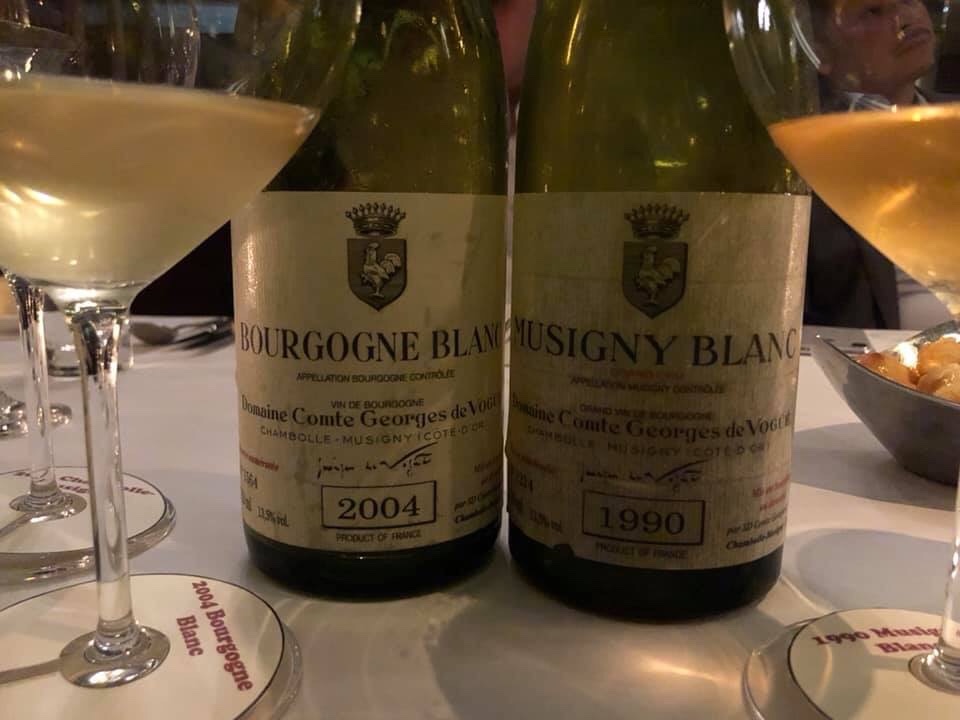 2004 de Vogüé Bourgogne Blanc (fruit from the younger vines of the domaine's grand cru vineyard, as I understand); and, 1990 de Vogüé Grand Cru Musigny Blanc. All wines were poured generously - no "tasting portions" here. All one had to do was say "yes".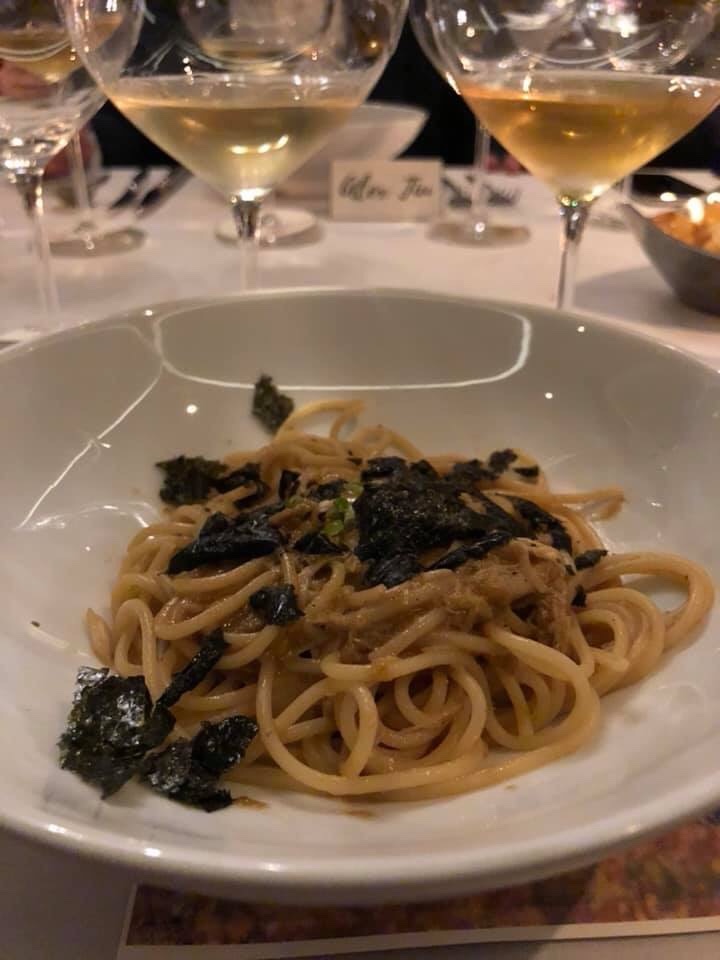 After tasting both, the appetisingly bright, nervy 2004 Bourgogne Blanc I had with the Sea Urchin Pasta course; and had the heavier, more complex, yet elegantly understated 1990 Musigny Blanc alone.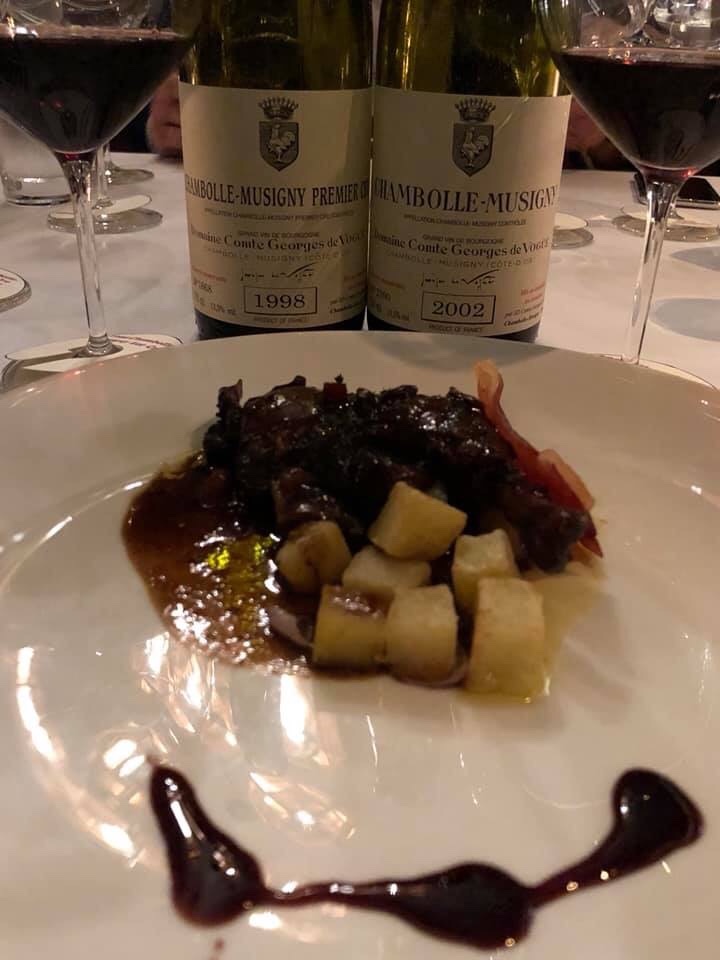 With the fowl course, the comparatively svelte, well-poised 1998 de Vogüé Chambolle-Musigny 1er Cru & the riper, marginally earthier & easily approachable/accessible 2002 de Vogüé Chambolle-Musigny.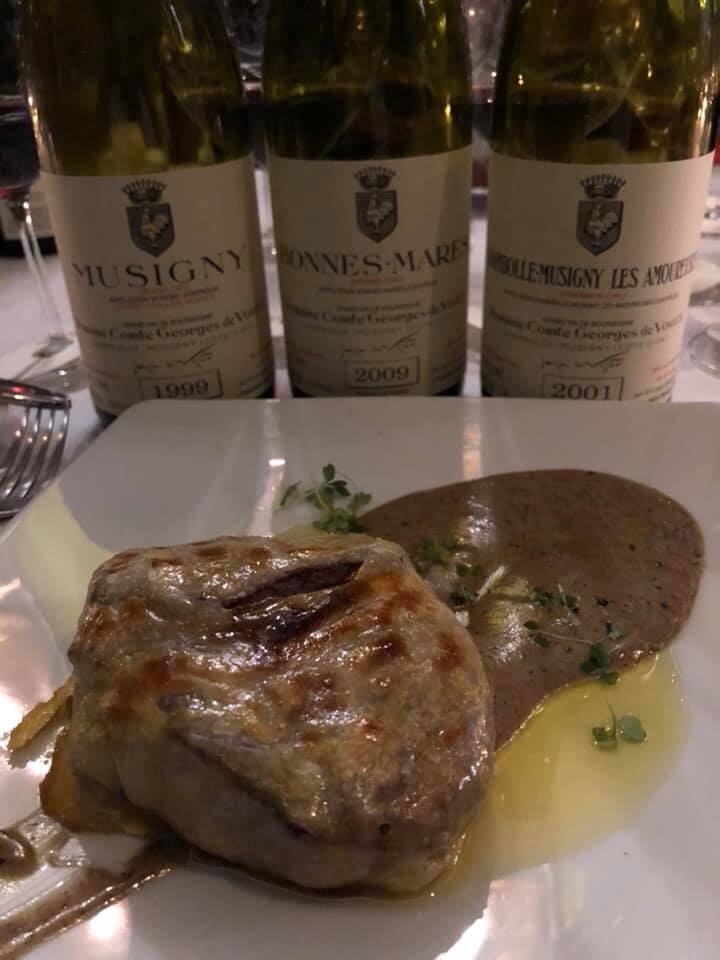 With the tender, juicy, earthy meat course, the nicely rounded, patrician 1999 de Vogüé Grand Cru Musigny; the young (yet already somewhat approachable), firmly structured, clean-lined/fruited 2009 de Vogüé Grand Cru Bonnes-Mares; and, the comparatively generous, open, hefty, more immediately accessible 2001 de Vogüé Chambolle-Musigny 1er Cru Les Amoureuses. Lovely wines; all dignifiedly self-possessed and refined. The '01 1er Cru would be the "crowd pleaser" of the trio to my mind.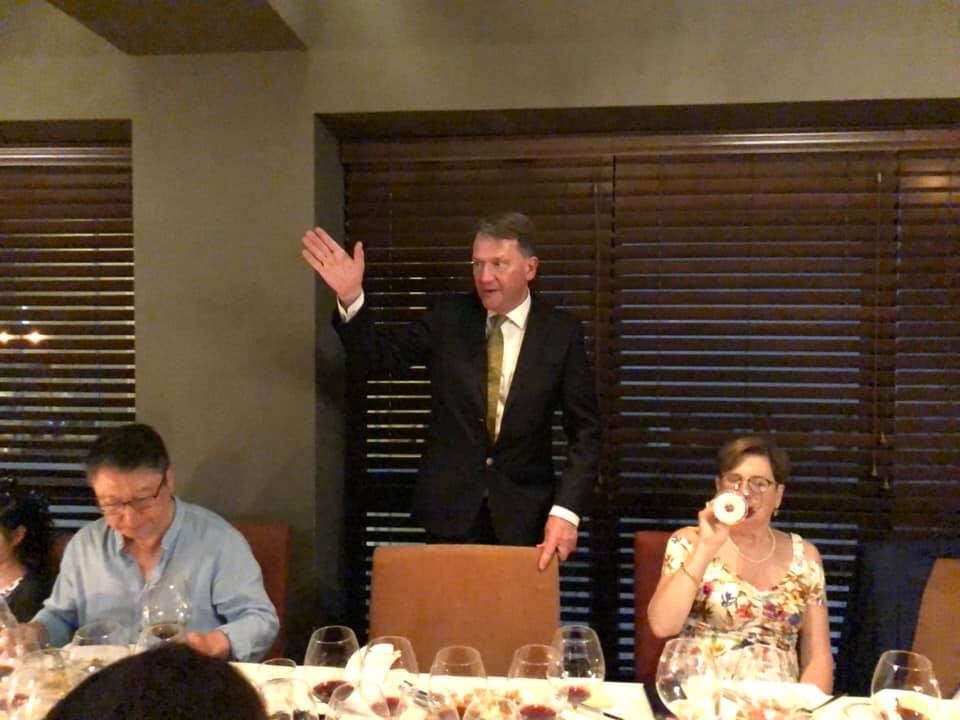 Jean-Luc concisely briefed everyone about each wine/flight for each respective course.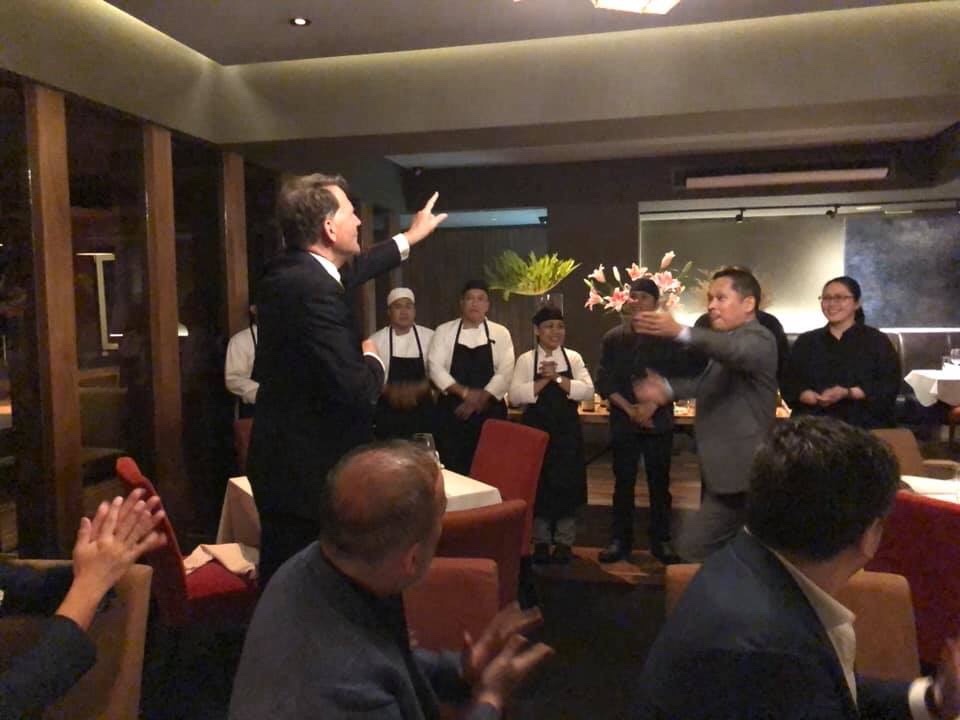 After the cheese and dessert courses, Jean-Luc called for and led the singing/chanting of the "Ban Bourguignon", a traditional Burgundy drinking song identified with the Confrérie des Chevaliers du Tastevin…


…which ended with an enthusiastic flourish.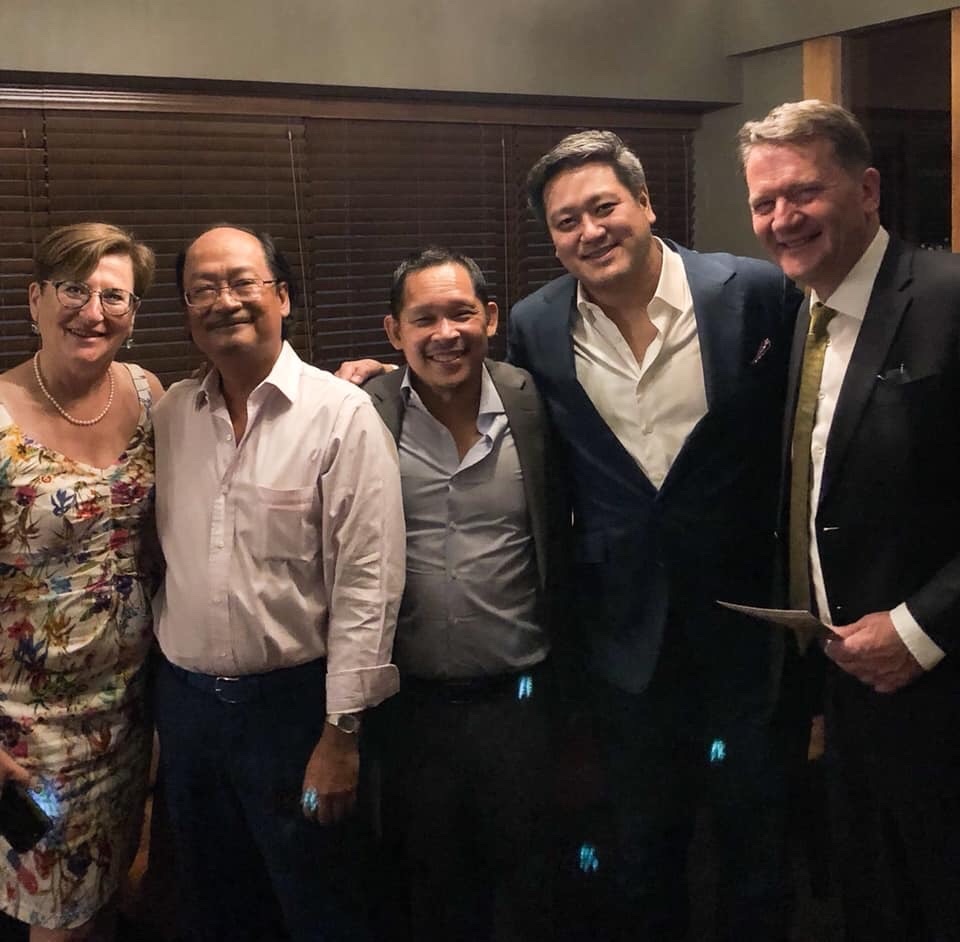 Brigitte, myself, Jojo, Alex, Jean-Luc.


Coffee & cigars after the dinner at the cigar & whisky lounge of Alex's family's nearby hotel.