A few days ago, J-Lab called me for lunch today (Friday, the 5th March 2010) with Bodjie at Pepato. The Stockbroker would catch up. We were to be 4 in all. Bodjie wanted to share some bottles he picked up at a recent trip to Singapore. I arrived half an hour late and came upon them already starting on their appetizers of Roasted Bone Marrow and Tempura-Fried Squash Flowers…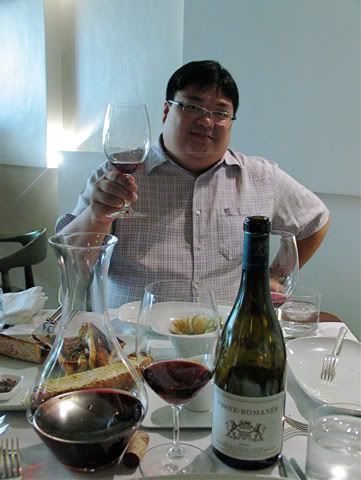 …with an already decanted…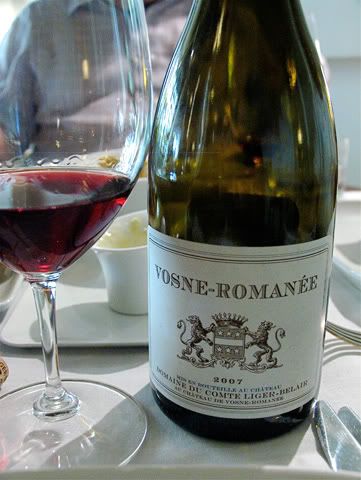 2007 Domaine du Comte Liger-Belair Vosne-Romanée - Bodjie's bottle, a village level wine from Vosne-Romanée. I've mentioned before that I spent several days in Vosne Romanée with my wife in early October 2007, staying at Anne Gros' Maison La Colombière and taking in a lot of the sleepy little town packed with the most famous vineyards of the Côte de Nuits. I remember walking past the Domaine Comte Liger-Belair during one of our almost daily afternoon walks. The village level vineyards of the subject domaine lie on the far western part of the appellation, west of the town's Place de la Mairie.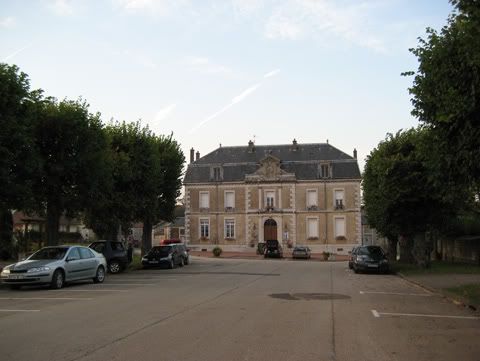 Vosne Romanée's Place de la Mairie (the town hall)
The subject wine was very fresh, exhibiting medium-weight, sappy black cherry and raspberry over dark plum, some dark oak spiciness but not obtrusive, nuance of pine needles and a bit of violets. Sweet tannins, acidity is very bright. Good balance. Clean. Well-made wine, comes of very natural, if a bit simple and straightforward. In all, impressive enough for a young village level Vosne-Romanée, and definitely gave good cut to my main course of Rack of Rosemary Lamb.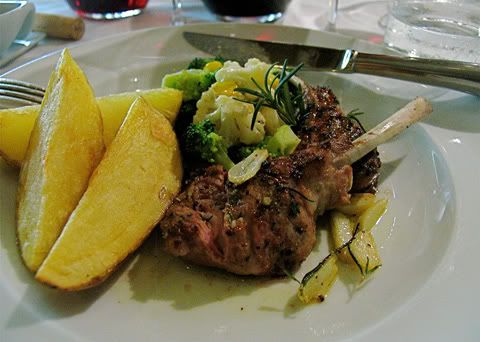 I recall Bodjie had some Salmon on Lentils, while J-Lab and the Stockbroker (who had since arrived) had a nice looking pasta.
It looked to be/smelled like a Tagliatelle al Nero with Tarragon Cream & Seared Scallops. J-Lab commented it was just slightly bland and the Stockbroker agreed. I handed him the little dish of sea salt, but the staff remedied the situation almost immediately with what looked to me like fresh salmon roe. Now that's service.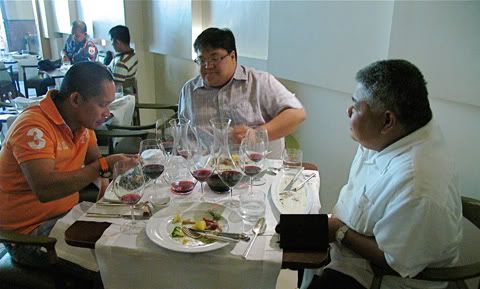 We also had a bottle of Bordeaux…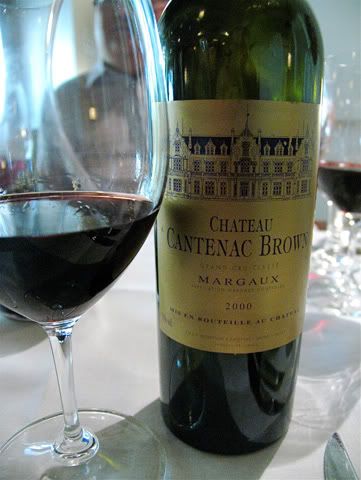 2000 Château Cantenac Brown - My bottle, a 3rd growth "branch" of the old Boyd-Cantenac estate in Margaux, from a highly-touted vintage nb: this vintage was still under the watch of J-M Cazes as head of AXA's wine portfolio). Both J-Lab and I had tried this many years ago and were both curious how it was doing now. Bodjie, who joined us for lunch the first time, likes big, forward Napa Cabs and is just starting to more deeply explore the wines of Bordeaux and Burgundy. Thus, knowing this wine to be rather big, concentrated and extracted - I chose this to bring for him to try out.
Vaguely smokey cedar, dark minerals, bit of tar over dense ripe, blackcurrant compote and crème de cassis in its aroma. Notably concentrated and quite extracted on the palate, it mirrors its scents richly with notes of iron, licorice, black cherry, violets and a bit of animal and blood surfacing past mid-palate and onto the finish. A decidedly masculine Margaux (as also noted by Bodjie). J-Lab said he detected a note of burnt rubber which I didn't get. Full-bodied, fairly mouth-filling, admirable heft. Long, strong finish. Balance was fair; I found it slightly top-heavy, a bit over-wrought and almost clunky. Not bad, pleasant enough; but not really my style.
After complimentary servings of delicious Fresh Mango-Topped Panna Cotta and some espressos, we headed off to Premium Wine Exchange and proceeded to one of the Stockbroker's personal cellars that houses a little over 4000 premium bottles. Bodjie hadn't been here before, so the Stockbroker showed him around…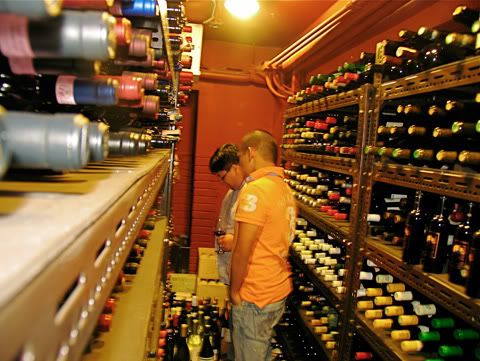 …then proceeded to open a bottle of…
2001 Penfolds RWT Barossa Valley Shiraz - The Stockbroker's bottle. Thick, very/sweetly ripe, concentrated, full-bodied, high-alcohol Aussie shiraz with tell-tale, dense toffee, cinnamon notes towards the back of the mouth. I did note, though, that this is lighter-footed, better balanced and not as overtly hot or oaky as many other Aussie shiraz wines I've tried before. I'm no fan of Aussie shiraz myself, but this was better than most I've tried.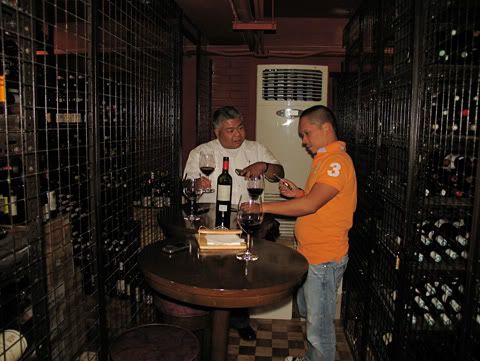 Another of the Stockbroker's bottles followed. "We're back to the region you love", said he.
1996 Château Langoa Barton - Another 3rd growth Médoc, this time from St-Julien. Moderate bouquet of cedar, blackcurrant, bit of new leather, asphalt and gravel, hint of violets. In the mouth, it is firmly structured, clean-cut and very neat; classically cut, precisely mirroring its bouquet in a slightly over medium body. Good balance, notable focus and precision. Still very firm at almost 14 years from vintage, I do not think this will become "soft" any time soon, if ever. For those who appreciate old-school Médoc.
As 5pm neared, we took our respective leaves, the Stockbroker staying behind for a meeting with his PWX partners.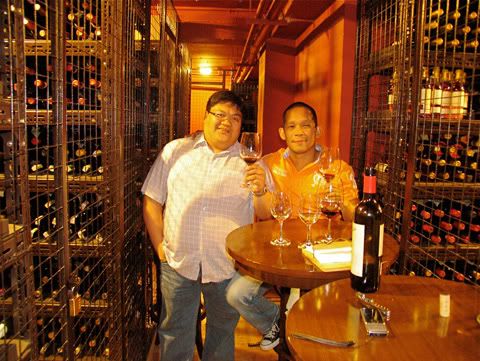 Very pleasant lunch and casual afternoon of drinking. Until the next.