Book Review:
Sauternes | and other Sweet Wines of Bordeaux
Written by Stephen Brook
Edited by Julian Jeffs
1995 publication, 277 pgs
This is an older reference book on the main sweet wines of Bordeaux, along with some of the satellite regions that also produce these late harvest treats. The author is a prolific English writer, having authored 40+ books, mostly on wine but on other topics as well, like travel. Brook writes for Decanter and other specialist journals, on a periodic basis, while also energetically producing long form reference books every few years. To wit: Brook's new 4th edition reference book on Bordeaux was officially placed on my Christmas list today; I'm hoping the kids will look upon the request favorably instead of a lump of coal.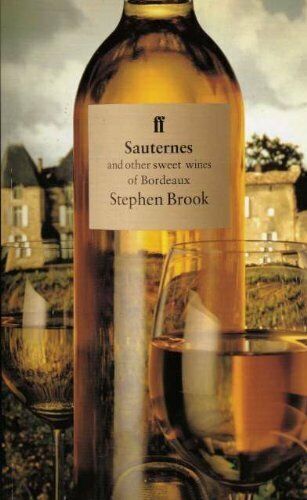 If one likes the wines of this style and region, this book is worth picking up, and merits the slot on the book shelf. It's highly digestible with compact sections that will pair well with a glass of honeyed 1990 Sauternes, or perhaps a zippy 2001 Barsac. The author tends to write in a 'journalistic' style rather than a 'consumerist' mode (like RMP) which means many different points of view are shared, with less certainty of 'this is best, and these are bad'. And Julian Jeff's editing of these older books is far better than Brook's newest books, so it's easier to read them, without getting annoyed at all the small errata that happens on every other page in in Brook's Complete Bordeaux (3rd Ed).
The intro plus first 4 sections, roughly 40 pages, cover basic background along with the classification system, communes, soils, varietals, noble rot, and the process for making botrytized wines. Although the classification might be considered 'fixed' now, the author's research shows how various systems evolved over the years, and what rankings looked like. Some of the estates have all kind of machinations and morcellations over time, so what might have been a top performer in 1780, may not be relevant today. Additionally some brands have been resurrected, after years of dormancy, which is interesting (see Myrat).
One hallmark of the author's work is the extensive research, data, and information which drips through every page. All kinds of information will be footnoted and attributed, if it comes from published material, and his bibliography is a fine fishing hole for the enthusiast. For his primary sourced material, often derived from interviews, he provides direct quotes from his meetings. He lets his sources make the cases for how they make the wines and what the various trade offs might be. For example, when it comes to making a secondary selection of sweet wines Brook will have a discussion from one producer who might choose to make many passes through the vineyard, and then maybe sending the least botryized grapes to the deuxieme. Yet another house might instead wait til after the fermentations are done and then, on a barrel by barrel selection, choose which lots do not make the cut. Rather than proclaiming 'truth on high' and infusing that gestalt into his work (like wine writers with strong views) Brook presents more viewpoints, usually by the words of the proponents. Another example is when he contrasts the various pressing techniques (horizontal, vertical, pneumatic, etc.) and has producers articulate what and why they chose. That approach in his communication is one reason why I keep buying/reading his catalog. The visuals (just a few pages of maps in the introduction) are Spartan, but effective enough for a small area.
The book then follows a conventional outline of profiles of the prominent estates, broken down by the main communes (Sauternes, Barsac, Bommes, Farques etc.) The estate details are great, especially for those who have long fondness for certain houses. (Coutet is a long favorite of mine). Additionally, some of the smaller sweet wine regions (Cadillac, St Croix du Mont, Loupiac etc.) are also covered. American consumers are less likely to see those, and the economics may not make sense (given transport costs) but every now and then decent ones show up in my market (I'm in a direct import state) and its great to be able to have chilled Sauternes-esque like dessert wines at low prices. Admittedly those deals are less frequent now, as producers rationalize, and shift toward dry whites, rather than labor intensive and money losing dessert wines.
The book is long out of print but second hand copies are readily available on eBay or Amazon for less than $10. If one enjoys these stickies, and reference books, this is worth the time and money. I'd give this a solid A in my scorecard. Despite all the years since publication, so much information remain timeless, and the insights have not grown stale over the years.
https://www.amazon.com/Sauternes-Other-Bordeaux-Classic-Library/dp/0571173179 Not an affiliate link. Xposted at BWE too.