Last night, the 9th June 2010, was our little group's Blind Bordeaux Challenge XVI. For those not familiar, this is a friendly competition among the Vigneron, Stockbroker, Doc and I, held 3-4 times a year (as schedules permit), wherein each of us brings a bottle of red to be served blind and voted on as the best. No restrictions on vintage, price or origin; the idea being that any wine can be brought to challenge this group's Bordeaux-centric palates.
These blind challenges are held over dinners with our wives, the one bringing the winning wine and his spouse get to be treated to the dinner by the non-winners (i.e., the LOSERS), and reigns as "King" over the others until dethroned by subsequent vinous battle. The only non-Bdx wine to have won so far was the Stockbroker's 1994 Dominus in Blind Bdx Challenge XIII.
The usual pre-competition group shot - while everyone is still friends.
The traditional venue is the Old Manila restaurant of the Manila Peninsula Hotel (where all but 3 or 4 of the 16 challenges have been held). Doc won the last Challenge with a 1982 Ch. Grand-Puy-Lacoste, and the rest of us were hot after his crown.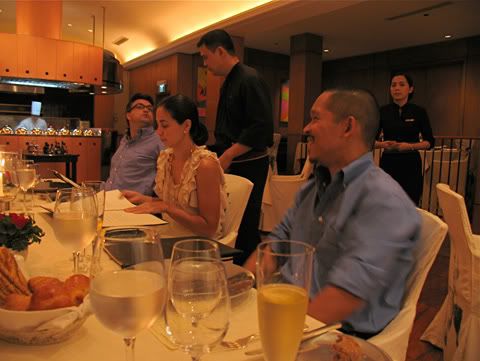 The Stockbroker, Mrs. Doc and the Vigneron.
My wife, unfortunately, wasn't feeling too well after the OMGD 3rd Kaiseki Dinner the night before, so we were only 7 in all for the subject Challenge. By the time I arrived, everyone else was there making headway into the Doc's…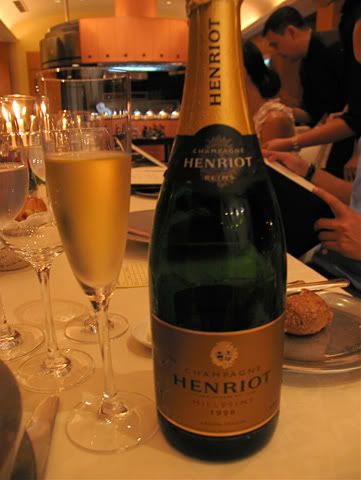 1996 Champagne Henriot - We went through a couple of these from Doc at his place on the 20th May 2010. My notes, still applicable, were as follows:
1996 Champagne Henriot Brut Millésimé - Excellent, full, hefty, robust, yet lively, vibrant and light-footed fruit vintage Champagne from an excellent year. Founded in 1808, Champagne Henriot, to this day, is family-owned and run. Notable ripeness, complexity, indulgent layering and lovely, bracing acidity make for an impeccably balanced and impressive champagne. This bubbly calls to mind wild honey (in the nose), lightly spiced, fat pears, apple, moderately dried apricot and citrus, fresh brioche and hints of underlying milkiness and white chocolate (the latter two from the pinot noir most likely). Excellent verve in this. Love the weight and roundness. Undoubtedly one of the best champagnes I've had the past year together with Bernie's 1988 Dom Pérignon.

NB: Subsequent pours from the decanter showed more pronounced citrus/lemon and fine, white mineral notes. The bubbly seemed to have sharpened its focus as well and become more streamlined.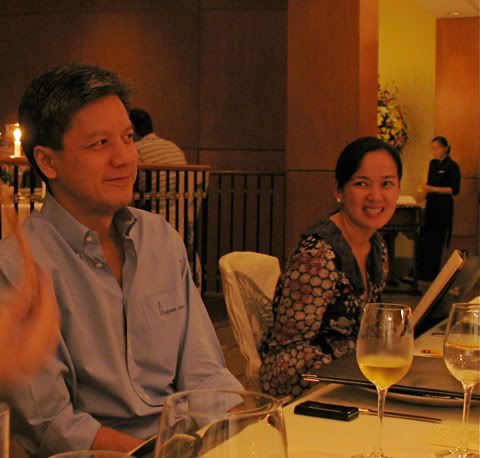 Doc and Mrs. Stockbroker.
Rabbit Amuse Bouche
Before I even made a material dent in my glass of welcome bubbly, the Doc poured me another of…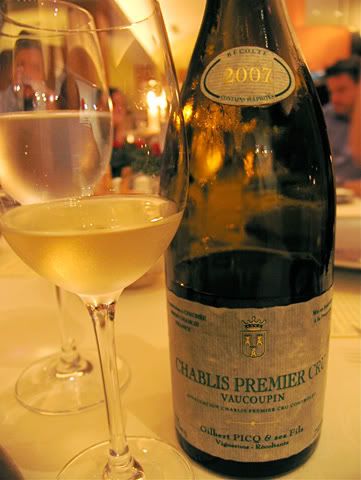 2007 Domaine Gilbert Picq & ses Fils Chablis Vaucoupin - Doc's bottle. I've come across the name of this producer a few times, but know nothing about them or their wines - much less have I had any (to the best of my recollection). Doc mentioned as he poured that "this should be your style of Chablis". Indeed, it was. Dry, clean and neat, tense, nervy, subtly minerally, the ripe, steely, flinty, cold limestone-touched, bright, fresh, ripe fruit comes off with remarkable purity and definition, unsullied by much oak (new or otherwise). Acidity is mouth-watering. Lovely Chablis. Definitely my type, and it lent needed cut and lift to my bowl of Lobster Bisque.
At the tail-end of my soup, the Stockbroker poured me some of Premium Wine Exchange's recently available signature Napa chardonnay: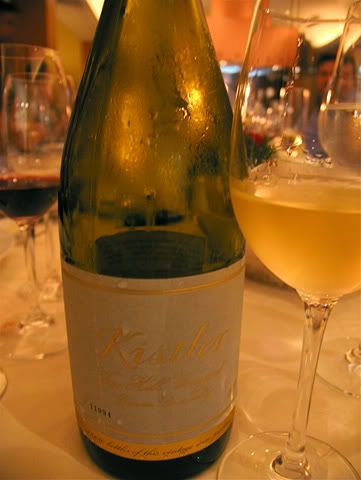 2006 Kistler Kistler Vineyard Chardonnay - The Stockbroker's bottle. What a huge contrast in styles of the same grape. Mouth-filling, big, hefty, notes of creamy vanilla/oak, honeysuckle, some orange blossom, butterscotch and moderate minerality permeate the buttery baked/ripe apple, pear, hint of citrus, with mild underlying orange rind. Heady stuff. The Stockbroker commented that this would be my wife's kind of chardonnay, and he's right.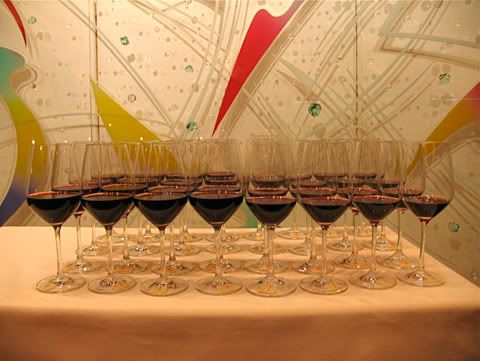 The table laden with the competing reds, already poured, awaited as we finished our starters.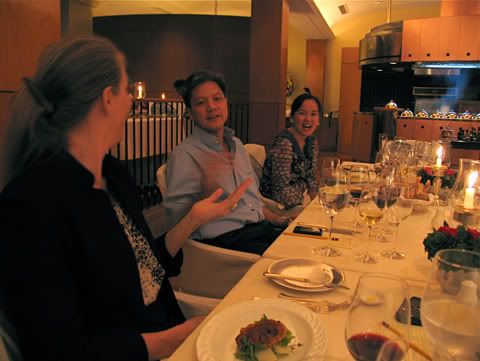 Mrs. Vigneron jokingly raised the issue of the wives getting smaller pours than the husbands. Doc assured her that everything looked "equitous" to him.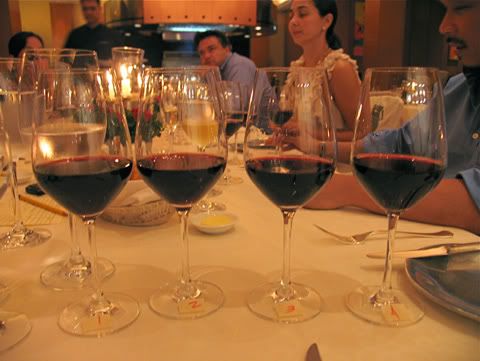 The reds were finally served. The Stockbroker and I lost no time in analyzing before the main courses were served so as to avoid the aromas of the latter from interfering with the wines' respective bouquets. I was well into my second pass at the reds before my 400gm Grilled Rib-Eye Steak arrived.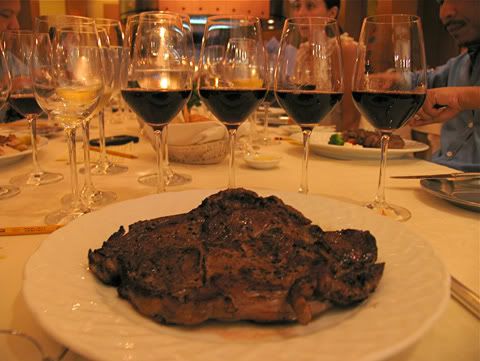 Leaning away from the table and food aromas, most all of us finished our notes, filled in our ballots and submitted them to Mrs. Vigneron for tallying (4 points for 1st place, 3 points for 2nd place, 2 points for 3rd place and 1 point for 4th place).
My own hastily scribbled notes on and rankings of the competing wines (made throughout 5 passes):
Wine # 1: Toast, fullish body, smooth, soft cherry, raspberry, smooth, long finish. I ranked this 3rd place. It turned out to be a 2001 Château Figeac (the Vigneron's wine).
Wine # 2: Initial scents of rust, plum, smoky cedar, lightest in body amongst the 4 reds, light on its feet. Aggressively herbaceous notes and bell pepper emerge later. Medium finish. I ranked this 4th place. It was later revealed to be a 1992 Dominus (the Stockbroker's wine).
Wine # 3: Dark chocolate, crème de cassis, violets, black cherry. Notes of wet tea leaves notes develop later, emerging past mid-mouth and into the finish. Full-bodied, lush and moderately generous. God harmony and balance. I eventually ranked this 1st place. It turned out to be a 1995 Château Mouton Rothschild (my wine, decanted for aeration for 2½ hours at home then returned to bottle for transport to the evening's venue).
Wine # 4: Minty, smoky cedar, dark plum, cassis. Good acidity. Full-bodied. Fresh blackcurrant, vanilla/oak. Licorice notes, subdued at first, came on just a tiny bit too strong as the wine was "worked" in the mouth - making me rank this 2nd place. It was a 1994 Peter Michael Les Pavots (Doc's wine).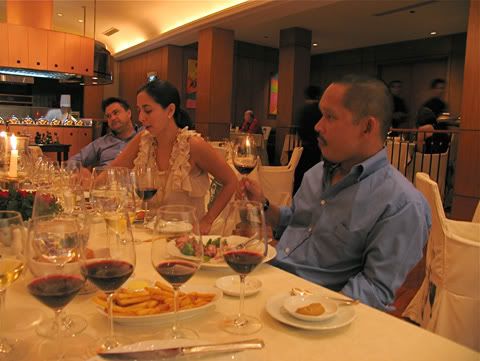 Post-analysis time.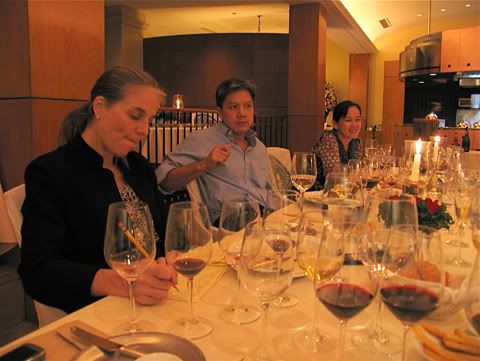 Mrs. Vigneron tallies the votes as always.
The Results:
1st Place - Doc's 1994 Peter Michael Les Pavots with 22 points (3 votes for 1st place, 3 votes for 2nd place 0 votes for 3rd place and 1 vote for 4th place).
2nd Place - My 1995 Château Mouton Rothschild with 21 points (2 votes for 1st place, 3 votes for 2nd place, 2 votes for 3rd place and 0 votes for 4th place).
3rd Place - the Vigneron's 2001 Château Figeac with 14 points (1 vote for 1st place, 1 vote for 2nd place, 2 votes for 3rd place and 3 votes for 4th place).
4th Place - the Stockbroker's 1992 Dominus with 13 points (1 vote for 1st place, 0 votes for 2nd place, 3 votes for 3rd place and 3 votes for 4th place).
NB: both the Stockbroker and Vigneron identified the Figeac as St-Emilion; the Stockbroker identified his wine and ranked it 3rd place; both the Vigneron and I mistook the '92 Dominus for an aged St-Estèphe; the Stockbroker noted that the '95 Mouton Rothschild could possibly be a Napa and the Vigneron guessed it to be a '90 left bank.
The Competing Reds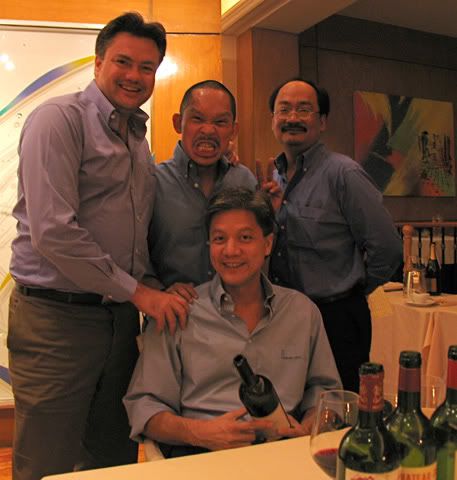 The Post-Competition Shot
Well, it was another victory for California that night (this time from Sonoma), the second time in all 16 Blind Bordeaux Challenges. It doesn't sound like much - a 12.5% batting average - but, significantly or not, only 3 bottles of Cali were ever entered and 2 have come out as winners - both times beating a 1st growth*****. Not a shabby track record, come to think of it. The Vigneron seemed slightly bemused. For sure, he will have something else up his sleeve next time.
*****In Blind Bdx Challenge XIII, the Stockbroker's '94 Dominus tied in points with my '99 Latour, so, per our rules, in such cases, the less expensive wine prevails.
Edited twice for typos and twice for geography