This will be the principal thread for all discussions related to the 8th BerserkerDay - a buying extravaganza unrivaled in any other wine community, anywhere. One day (two, if including the Subscribers Advance Purchase Day) where over $250,000 in wine and wine-related goods are sold to eager wine lovers throughout this community.
First of all, BerserkerDay (full history posted below) is a celebration of the founding of this amazing and vibrant community of wine lovers around the world, and it started on the first anniversary of our founding, some 8 years ago. The idea is to have a day-long celebration by introducing wine and wine-related products to the community at large, at deals that you CANNOT find elsewhere, primarily because those making the offer are so small that they don't have 'sales'. It's a fantastic way to introduce yourself to some new small wineries, in particular, and I can attest - as can thousands of others who have bought on BerserkerDay - that I've found some of my favorite producers this way.
How does BerserkerDay work?
Anybody - registered member or not - can view the BerserkerDay subforum (where you are now) and the offers that wineries, retailers, and other wine-related product sellers will have posted. It starts approximately 7:30 am PST on January 27th, and each offer will have its own thread. I will be posting them in chunks of approximately 10, in intervals of approximately 30 minutes. Threads will NOT bump to the top of the list when replies are made this year, but discussion - as always - is HIGHLY encouraged. That's part of the fun! Share this event with your friends, on your social media accounts! Our Twitter handle is @WineBerserkers for those that tweet, and the more you share, the more fun we ALL have here!! I want to see some tagging on Facebook and Twitter, folks!
(Offers are made by the wineries, businesses, retailers, etc, and each offer has its own specific order parameters, which will be outlined in the offer itself. Wine Berserkers does not take any orders, has no e-commerce capabilities, nor licenses to sell wine, so each offer posted will have the directions on how to order)
Specific to BerserkerDay IX: We have some special tags for threads this year, to help you recognize and differentiate easily. Newbies (as with last year) will have a NEW topic icon on their threads, and participants who have been in BerserkerDay for 5 years or more will have a 5 topic icon. The rest should have BD topic icons. This way, any new threads that pop up in the BerserkerDay forum (which is encouraged, and always happens, like 'what are you buying on BerserkerDay?') won't confuse those looking for the offers, as the offers will have one of the three topic icons below: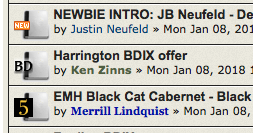 Preview Day/Early Purchase Offers
On January 26th, Friday, Subscribers will have access to the Pre-Launch forum to see ALL the offers, and plan their buying strategies. NO PURCHASES CAN BE MADE FROM THAT FORUM, and violators stand to lose the ability to participate in future BerserkerDays. There are, however, 'Early Purchase Offers', wherein BerserkerBusiness members, in a separate forum, can sell their offer on the same day as Preview Day, Jan 26th. Only Subscribers will have access to Preview Day and Early Purchase Offers, everybody else (guests and registered members) will be eligible on Jan 27th. Both will be open around the same time
Auctions
Auctions will commence toward the afternoon, finishing in the evening. Save some money for auctions, as many of our participating wineries and businesses offer auction items to the community, as thanks for the benefits they get during BerserkerDay, since there is no cost to participate (there is no cost to participate because this maximizes the discounts offered to the community! Rather than take a percentage of sales, the auctions are the way to financially support the community, throughout the year, and are a lot more fun than taking a slice from the deals being offered!)
HISTORY OF BERSERKERDAY:
WHAT IS BERSERKERDAY??
For those who do not know, BerserkerDay was named for the day it was founded at its current location on the web - January 27 - with the URL wineberserkers.com. Each year, on the 27th, I invite wineries, retailers, and other peddlers of the wine industry to offer berserk deals on their wares. Each is posted throughout the day, in groups of about 10, in roughly 30-minute increments, spreading out the fun throughout the day, ending with an auction of even more fantastic items. This day of deals is a fantastic way for those ITB to give back to consumers, and also the reverse, as many, many new and exciting wineries/producers/wines are discovered by Berserkers on BerserkerDay, with purchases made, and discussions from those who might have experience with them. There is NO revenue sharing or cost to any participating winery or retailer, as to do that would raise the prices in the offers - this way, the maximum discount is given to all those who show up on this magical day. It's also a way for me to give back to what makes Wine Berserkers what it is - the community! All the fantastic content on WB is from you, and here's a way for me to setup a virtual party for everyone - current and future community members.
History of Wine Berserkers: The name 'Berserkers' actually comes from Mark Squires (the image below shows when/how the original group of 15 or so was named by him), before the word that bore our community became a banned word on that website and forum. Our growth has never stopped over the past 8 years (there was half a year on another domain name as well) and we're currently over 22,000 registered members strong.



This year, be sure to tell your friends, as I'm opening the BerserkerDay IX forum up to anyone who wants to see it - you don't HAVE to be registered (unless you have an order that requires you to PM the winery, in that case, you better register!) to see the deals. We'll have a Twitter hashtag of #berserkerday and hope that you can post your favorite threads on Facebook as well on the 27th. PLEASE help point it out to me, so I can see when folks are sharing. My Twitter handle is @toddfrench, so please tag me, and on Facebook, I'm easy to find.