Yes. Typo. The Dom was in my picture.
I was bored without anybody to actually challenge me
We had you running so much your heart almost exploded.
Did you, though? Did you?
GORGEOUS!!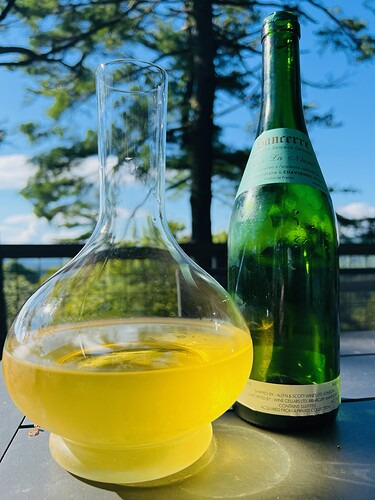 We all commented on its appearance as soon as glasses were poured
Actually, if you spun the narrative how Avery would, you were the winner by virtue of having the most elote heart rate. Points matter!
It really is, such depth of color for a Sav Blanc.
I started emailing some retailers, again, for more.
Funny, from the title all I could think of was the jail break and adventure/pilgrimage the Soggy Bottom Boys took in O Brother, Where Art Thou.
I'm definitely the Clooney in this group.
You are definitely the closest to being Clooney's age.
That 2005 Vatan was sensational with a waterfall of tropical fruit flavors, kiwi and pineapple and passion fruit, lovely acidity. Like me, it's got an amazingly long nose and is really beautiful. Among the most unique and best smelling white wines I've tried. Really something special, and in sensational shape. Does this even age? A question never once asked about Alfert. Aside: we invited Alfert exclusively because he said he'd bring this wine.
Jorge's 2020 PYCM Aligote was carrying huge pineapple notes with a hint of lemon, coconut, and snappy green apple. Nice crispness and good minerality, but with a fairly nice rich mouthfeel. A lovely and approachable alternative to chardonnay. Crowd pleaser.

And we are told it's acceptable for 'wine pong'
Knew I served that up as a beachball to swing at.
Nice job on the notes, boys! I have to scream from the mountaintop just how monumental the 2004 Champagnes were. To reiterate, the Chardonnay was a poppin!!… 2004 Salon: This is a perfect wine. I love how wines like this confuse the senses a little at first. Is it the fruit that's making me crazy, is it the nose, is it hard to translate things like length, lift, openness, compactness? As it was, this wine was thrilling. The Chardonnay fruit, was perfectly pure, giving hints of apple skin, apple meat, lemon curd, citrus peel, and a hint of white cherry skin. Sweet biscuit, apricot, white peach, shine through with dusty mineral and wet stones. This was power, finesse, weightlessness. This was nuanced in the mouth with a compelling swallow. 2004 Krug: This is such a different style, and again monumental. This wine just smelled long. I could just sense this before the first taste. There was a crispness on the nose, sharply of tart apple, baked breads, and hints of spice, and a slight hint of oxidativeness, that seemed just so right for this wine. The first swallow lead to a grin, it was full and rich, but so long and level, and incredibly balanced, and quite long. The fruit here was long and rich apple, pear, in a wet limestone bowl. Like the Salon, powerful and weightless, and perfect in its own way!
Latest release late last year.