Email sent for cider sampler. Second ever BD purchase!
Thanks Scott! Glad to be one of your firsts
Cider Sampler to be shipped to my cider loving son … Neat offer and your place looks amazing.
Sending email now.
Awesome Siun. Thanks for the support!
Dan's wife does the labels and each bottling is based on a handmade piece of art.
Looking forward to a cider 3 pack!
Stoked to try this stuff!
Definitely in for this one!

Bruce! Thanks for the support today…this community rocks!
I have been salivating all day thinking about these crispers… Finally, time to shop.
Dan, hook me up! I'll take a sampler

Email sent in for 2x West Valley Cider 3 Pack yesterday! Hope I'm not too late. Cheers
The cider sampler arrived today! The bottle art is gorgeous and looks even better in person. I can't wait to try them and I am currently fighting the urge to Pobega the lot.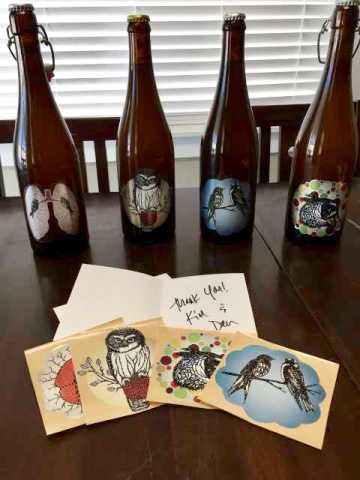 Agree with others about how pretty these bottles are. I opened my first tonight–the pear–and it was great. Completely dry and a little tart, cloudy and moderately effervescent. I loved it but it was friendly enough that my non-drinker mother in law enjoyed a glass. Can't wait for the others. A great BD discovery.
West valley cider was very good. Tart and dry with some funky, spicy, and earthy character. One of the best ciders I've had in a while. Looking forward to trying the rest of the pack.