Below is a little write up I did on my web-journal. Mainly for my friends I was traveling with, but thought some might enjoy here. I wish I would have gotten more vineyard shots, but it was cold and rainy so that wasn't in the cards. Cellartracker notes for the wines I tasted below are grouped together- A day in Burgundy- 4/4/16 - CellarTracker. Cheers!
The second time in Burgundy, first with my fellow wine-touring friends, and only about 6 hours to work with; our group took an hour-long drive up from Macôn to visit domaines in the Cote d'Or on a cool and rainy early April day. Once in Gevrey-Chambertin, we would move south through the Côte De Nuits before finishing in the Côte De Beaune in Puligny-Montrachet.
Domaine Quivy was the first stop, in Gevrey-Chambertin. Gerard Quivy, a fourth-generation vintner, has headed the domain since 1980 after leaving a career as an attorney. The domaine and adjoining residence are in the heart of the village, with narrow streets leading up to the medieval architecture of the domaine.
He owns plots in two Grand Crus in Gevrey-Chambertin- Chapelle Chambertin and Charmes Chambertin, as well as in the 1er Cru Les Corbeaux, producing wines from these plots as well from the village level Les Journeaux and Les Evocelles vineyards. The plots are organically farmed, and the resulting wines are fermented de-stemmed, with extended elevage in French oak barriques, with around 20% new for the village wines, and around 50% new for the 1er and Grand Cru wines.
We visited the underground cellar, and tasted the 2013 and 2014 vintages of Quivy's Les Journeaux Gevrey-Chambertin, a village level single vineyard wine, and the 2013 1er Cru Les Corbeaux. Stylistically, the three wines showed nice structure and elegance, tending toward notes of dried flowers, minerality and earth, tea leaf spices, and red fruit. The 1er Cru Les Corbeaux added complexity on the nose, with notes of smoked paprika and earth and additional florals, spices and red fruit; and density and length on the palate. Both of the 2013's displayed bright notes and angular profiles, indicative of the rainy and cool vintage. The wines were lovely at a glance, with plenty of long cellaring potential. In my wine notes I mention "stately elegance," which seems like an apt description for both the house style of the wine, and the personality of the domaine.
Domaine Arnoux-Lachaux lies on N-74 as it passes through the heart of Vosne-Romanée. Dating back 150 years, the domaine took its current form in 1987 when Pascal Lachaux joined his father-in-law Robert Arnoux at the estate. When Robert passed away in 1995, Pascal took the helm of the domaine, finally changing the name from Domaine Robert Arnoux to Domaine Arnoux-Lachaux, in 2007. In his time, Lachaux has introduced organic & biodynamic farming techniques and green harvesting in the vineyards, and polished the depth and profile of the wines in the cellar by gently extracting color, and avoiding fining and filtering. Pascal's son Charles took over vinification in 2012, adding the dynamic of whole-cluster fermentation, further distinguishing the style of the wines. Aging takes place in French oak barriques, up to 100% new for Grand Cru bottlings.
The domaine's vineyard holdings include parcels in the villages of Nuits-Saint-Georges, Vosne-Romanée, Flagey-Echezeaux, Vougeot, Chambolle-Musigny and Gevrey-Chambertin. Grand Cru holdings include Romanée-Saint-Vivant, Echezeaux, Clos-De-Vougeot, and Latricières-Chambertin.
We were given a tour and tasting with Charles Lachaux, who explained how he's put his own stamp on the winemaking. We tasted through a quartet of 2013's- the '13 Vosne-Romanée, '13 Nuits-Saint-Georges Les Poisets, '13 Nuits-Saint-Georges 1er Cru Clos des Corvees Paget and '13 Latricières-Chambertin.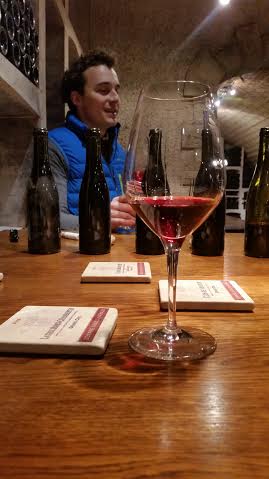 The complexity added from the partial whole-cluster fermentation was apparent in each bottling, yet totally integrated into fruit notes focused on fig, with a mélange of secondary mushroom, earth, spice and floral notes that differed subtly with each bottling. Each 2013 was distinctive for its richness and density on the palate. The '13 Nuits-Saint-Georges 1er Cru Clos des Corvees Paget stood out for the round and open fruit, and full textures layered with earth, spice and flowers. The '13 Latricières-Chambertin wowed with heady complexity throughout, and silky richness and depth. We also tasted a 2012 Chambolle-Musigny and 2011 Vosne-Romanée 1er Cru Les Chaumes, which was notable for its display of sweeter red fruit notes and spice, and lack of whole cluster influence.
Quite a lineup overall.
The obligatory drive-by at Romanee Conti
Overlooking Vosne-Romanee
Heading south, we ended in the Côte de Beaune, in the village of Puligny-Montrachet, at Domaine Jean Chartron. The domaine is in a workman-like facility in the heart of the village. Dating back to 1859, the 5th generation domaine has vineyard holdings in Chassagne-Montrachet, Puligny-Montrachet, Saint-Aubin, Aloxe-Carton. Grand Cru holdings include Chevalier-Montrachet, Batard-Montrachet, and Corton-Charlemagne. Production being primarily white, Chartron produces reds from Puligny-Montrachet 1er-Cru Clos du Cailleret, and two regional bottlings.
Chartron's vineyard plots are farmed organically, without use of herbicides and chemical fertilizers. The Chardonnays are barrel-fermented in Allier and Vosges French-oak barriques, with 10-40% being new depending on the bottling. Bâtonnage is light and takes place as the wines undergo malolactic fermentation, and the wines are bottled lightly fined and unfiltered.
We tasted a lineup consisting primarily of 2014's, both village and 1er Cru whites- The 2014 Savigny-lès-Beaune Pimentiers, 2014 Saint-Aubin 1er Cru Les Murgers des Dents de Chien, 2013 Chassagne-Montrachet Les Benoites, 2014 Puligny-Montracet, 2014 Puligny-Montrachet 1er Cru Clos de la Purcelle, and 2014 Puligny-Montrachet 1er Cru Clos du Cailleret. The lineup was brilliant, with the common thread of the wines being mineral-driven bright fruit, silky structure, and rich textures.
The '14 Saint-Aubin 1er Cru Les Murgers des Dents de Chien stood out for its notes of mineral and oyster shell, citrus and stone fruit, with spice and white pepper on the finish. The '14 Puligny-Montrachet 1er Cru Clos de la Purcelle astounded, popping with stone fruit and citrus, mineral, white pepper; then deepening with honey, rose petal, and spices- silky, complex, and ponderous. The '14 Puligny-Montrachet 1er Cru Clos du Cailleret similarly impressed, showing a little more butterscotch and spice, and a little more reserved structure.