After the Siran vertical dinner this past Tuesday, I laid off the wine Wednesday to Friday to "de-tox" a bit, as it were. Saturday, 30 May 2009, after 18 holes, dinner back at I'm Angus with the Doc, Stockbroker, the Vigneron, Eric and our respective spouses.
Traffic was pretty bad so my wife and I were around half an hour late. The others had already finished a bottle of a German trocken riesling to start by the time we arrived. Since we were 10 in all and I knew there would already be several reds, I brought along two bottles of…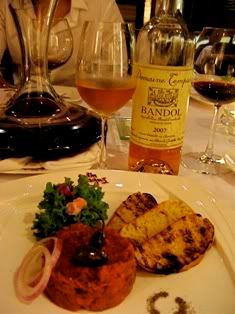 2007 Domaine Tempier Bandol Rosé - to go with my Beef Tartare starter. I've gone through so many bottles of these I can't even remember how many. The last bottle I opened was on 3rd January 2009, so that was probably my last bottle until Jérome Philippon reminded me a little over a week ago that he had his last 6 bottles in stock set aside for me. My old notes are still applicable:
An exquisitely pure and clear light pinkish salmon in color, it is a hell of apretty wine, one could drink it in with one's eyes. In the nose - and I've never really bothered to pay much attention to any rosé's aroma before - was alluring- like a light, cooling summer cologne. In the mouth, it is light and delicately infused with a fine melange of fresh canteloupe, strawberry, bit of melon, orange rind and the faintest whisper of lavender. Perfectly balanced. Ethereal.

Astounding. My poor descriptions fail to do it justice. It is, without any shred of doubt, the best rosé I have ever had.
Last night, the wine seemed to have even more complexity by reason of pronounced notes of garrigue and a slight, appetizing bitterness towards the back. Still a most excellent rosé. Since the others already had a white before we arrived, I opened only one of these that night (good, more left for me).
As a pairing, I felt this was a very good match. The tartare's texture was, yet again, very creamy, the meat delicately savory and clean - the caper berries a perfect foil (I should've asked for more of them). It was not as spicy as I would like, so I asked for a little chili flakes which completed the dish for me. The wine refreshed the palate and its summery flavors brightened that of the tartare.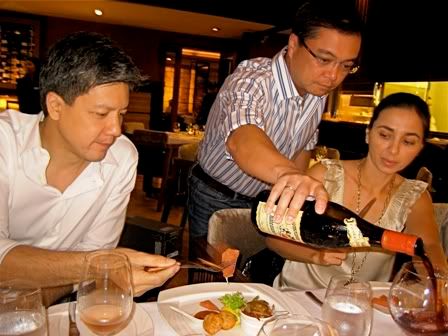 When the appetizers started winding down, Eric, seemingly the only gentleman amongst us, poured the first red for everyone.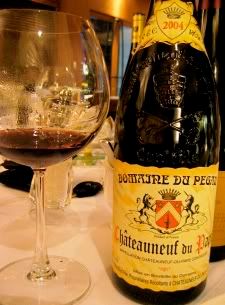 2004 Domaine du Pegau Châteauneuf du Pape Cuvée Réservée - Eric's bottle from a superior, well-ripened (not roasted-ripe like 2003) Rhône vintage. I had a little bit with my tartare, but enjoyed most of my pour with my main course. I found this wine, as a whole, very good indeed - the spicy, sweetish-ripe fruit, leather, garrigue, licorice, thyme, rosemary and wood notes admirably knit, with precise push and superior structure. Comes off well-defined, confident and clean - good balance, in my opinion.
A couple of notches over medium-bodied, the mouthfeel is very poised, correct, clean and well-heeled. With my tartare, though it was an acceptable match, I felt it had just a little too much power for the delicately flavored, creamy raw beef.
Alone and with my steak, I liked it a lot more. Speaking of which, since my wife and I had an order each of the beef tartare and split a rather large salad, we likewise halved a rare 16 oz. US Certified Angus T-Bone Steak and French Fries between us.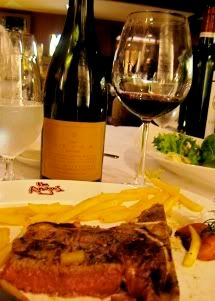 1997 Sean Thackrey Orion Old Vines - The Doc's bottle. He made it a point to hunt some down ever since we tried it a year ago with steaks. That first bottle was a gift from Rod Schiffman of WCWN when he and his wife, Debby, spent a couple of weeks with us in Manila last May 2008. I cannot thank them enough for introducing us to this wine.
This was, without a doubt, my favorite wine of the night. Plump, nicely extracted, ripe with good concentration, velvety tannins and a most pleasingly rounded mouthfeel. What struck me most was its incredibly seductive middle - its deep dried cranberry, blackberry, wild dark cherry, marjoram, underbrush and slight leather and vanilla notes rolled around languidly mid-palate - so much so that held each sip in my mouth longer than could possibly be considered polite.
Excellent with my steak. The last wine I had with so entertaining a middle was a 1996 Rauzan Ségla during dinner at Elbert's Steakhouse in December 2007.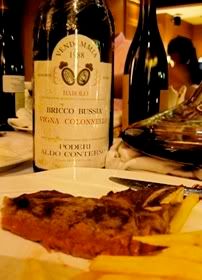 1988 Poderi Aldo Conterno Barolo Bricco Bussia Vigna Colonnello - The Stockbroker's wine. This comes off as an old-school Barolo, cut from an entirely different cloth compared to the modernly lavish, ripe and richly fruited style of, say, Prunotto. Rather, it has a decidedly stern and challenging character, presenting a somewhat severe, dry, earthy profile of black olive, asphalt, tobacco, licorice, faint violets, leather, cedar and dried herbs. The fruit of this wine was rather spare on its firm medium frame.
Very complex, serious, very masculine, but, for some reason, just too challenging for me that night - especially after the most readily pleasing Orion. I must not have been anywhere near a contemplative mood. Undoubtedly a very complex and expertly crafted wine though.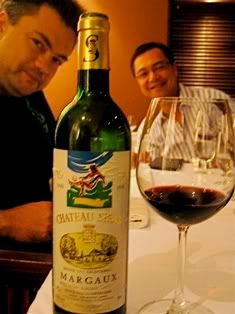 1998 Château Siran - The Vigneron's bottle, of course. One that I only then realized that I had never tried before. I asked him why he had been "hiding" this vintage from us, and he replied that he was waiting for it to mature before presenting it. I mentally noted that this vintage fell under the watch of Siran's then consultant, Michel Rolland.
Popped and poured, no decanting at all. At around 10-½ years from vintage, this wine presented an emerging bouquet of cedar and damson and cherry fruit over violet-infused dark berries.
In the mouth, it mirrors its aromas on a body halfway between medium and full, with an added dose of cassis flecked with vanilla/oak, underpinned by some leather and minerals. Shows a very pretty feminine side of finesse over-all.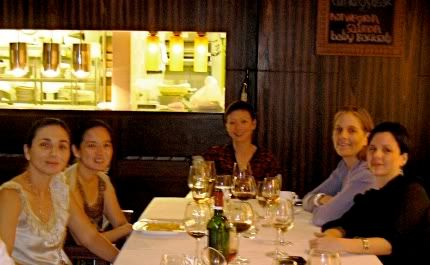 Moderately lush - it shows alluring charm, but holds back a bit of mystery of how much more it has to give. Good structure, very nice red spice, raspberry, cedar and violet finish. Very enjoyable now and with very good future prospects as well. I would certainly like to track this over the next 5-7 years.
With a few more stories shared and plans made for an evaluative tasting of locally available albariños, we parted ways and brought an end to a most pleasant evening indeed.