Happy Berserker Day!
2017 marks our 4th Berserker Day and we feel like celebrating! For those new to Wilde Farm, we are a small winery based in northern Sonoma (Forestville). Pax Mahle is our winemaker. Our wines shoot for balance, transparency of site and food friendliness; yeasts are native, clusters tend to remain whole, alcohol levels tends to be lower than many, our wines are raised in neutral french oak barrique and concrete and tend to be bottled without fining or filtering. Antonio Galloni called Wilde Farm "…one of the most exciting projects I have tasted in the last few years" (very kind of him to say so!). 2015 marks our 4th vintage. Staying with the theme, below you will find 4 different offers, each exclusive to Berserkerday and available for only today. The wines available for purchase are:
2015 Donnelly Creek Vineyard Pinot Noir from the Anderson Valley (not yet rated, for those who care)
2015 Alder Springs Vineyard Chardonnay from Mendocino (not yet rated for those who care)
2015 Bedrock Vineyard Heritage (Field Blend) from the Sonoma Valley (not yet rated for those who care)
2014 Cardiac Hill Vineyard Syrah from the Bennett Valley (rated 94 points WE)
2014 Halcon Vineyard Syrah from Yorkville Highlands(rated 93 points VM)
The following "packages" let you mix and match the above wines as you would like:
• Wilde Farm 4 Pack: Select Any 4 bottles from our current offering above and receive 20% off the bottle price, with 20% off shipping as well.. 30 offered. 12 left after day 1. CLICK HERE TO ORDER https://www.wildefarmwines.com/#wines-and-vines
• Wilde Farm 8 Pack: Take 25% of 8 any of the above bottles, with 50% off shipping! A limited supply of 8 packs will be offered. 10 offered. 4 left after day 1. CLICK HERE TO ORDER https://www.wildefarmwines.com/#wines-and-vines
• Making a case for Wilde Farm: 12 bottles means 30% off of the bottle price and 100% off the shipping! Mix and Match any way you please. 5 offered. 3 left after day 1. CLICK HERE TO ORDER https://www.wildefarmwines.com/#wines-and-vines
• The Wilde Farm Dolcetto Madness Futures Offer: And last but certainly not least an extremely limited "futures" offer on our upcoming Spring releases, to be released in April. The wines to be bottled are two: Our inaugural 2016 Fox Hill Vineyard Dolcetto from Mendocino and it's little brother, the 2016 Fox Hill Vineyard Rosè. I'm not sure I have words to accurately describe the excitement I feel about our new, 100% carbonic Dolcetto. Pax's one word descriptor was "Explosive". Bright, exuberant, full of life; just a palate full of colors. It is a wonderful wine to serve slightly chilled and to share with friends. I expect to drink a lot of this come the spring/summer, though with only 52 cases made I may have to be somewhat judicious. It will retail for $28 on release. The Rosè is also 100% Dolcetto from Fox Hill and also sees some carbonic. Harvested at a tense 19 brix (11% abv) and fermented completely dry, this wine is also crazy delicious and actually benefits from some time in bottle. Our best yet. With only 100 cases made, it will disappear in a heartbeat. It will retail for $24 on release. The offer: Order 3 bottles of each, creating one crazy delicious six pack and enjoy 50% off (sorry, no free shipping)! Only 10 six packs will be made available as a futures "Thank You" offer for Berserkers. After the 10, it will revert to full price but we will offer 100% free shipping on full cases, still a $60 savings for most. In both cases it will only be live through the end of day and available only to Berserkers! Sold out day 1! I added 10 more as that didn't seem fair. CLICK HERE TO ORDER https://www.wildefarmwines.com/#wines-and-vines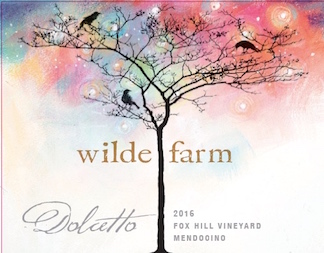 QUICK NOTE: If you are ordering BOTH the dolcetto and a 4/8/12 pack, the system can't help but count the bottles all together and add them up, applying the discount that would apply given total number of bottles (e.g.8 pack plus dolcetto = 14 bottles so case discount of 30/100 applies instead of 25/50 for 8 pack and 50/0 for dolcetto) . DO NOT WORRY! When we process the order we will apply the most generous discount regardless. All is well! Thanks Mike for catching this! If you would prefer to keep the offers separate, please order the dolcetto and any other offer in two separate orders.

Again, many thanks for your continued support of Wilde Farm. We are always so grateful to be members of this community! All the best!

Amy, Loren & Pax