Bien Nacido proudly claims to be the United States' most influential single-vineyard source, with more than 160 producers over 44 years having used "Bien Nacido" on their labels. Only vineyards in Burgundy have been designated more, and I am certain that has something to do with their 700-year history. Having been inspired by this, Steve Miller's youngest son, Nicholas (Below LEFT, now the fifth generation) decided to make some of their own small-production wines starting in the late 2000s
In the mid-1850s, the Ontiveros family was granted a deed to a parcel originally called Rancho Tepusquet, near Santa Barbara in California. This was a land grant offered by the then-Governor of Mexico as a homestead for his daughter and new son-in-law to create a future and family. From the first days of their time at Rancho Tepusquet, the Ontiveros family had raised cows, horses, and other livestock next to a small tributary of the Santa Maria River. With a crystalline water source and nearly 2,000 acres of pasture land, the family started building their home. Then came Bob and Steve Miller (Below CENTER), members of their own fourth-generation farming family, both of whom found this pristine property in 1969 when they were offered two contiguous parcels of land that were part of the original Rancho Tepusquet. With the chance to continue a tradition of farming sustainably and focusing on the highest quality, the two original parcels were reunited and rechristened "Bien Nacido." Directly (and appropriately) translated as "well-born," Bien Nacido is about as purebred as vineyards come.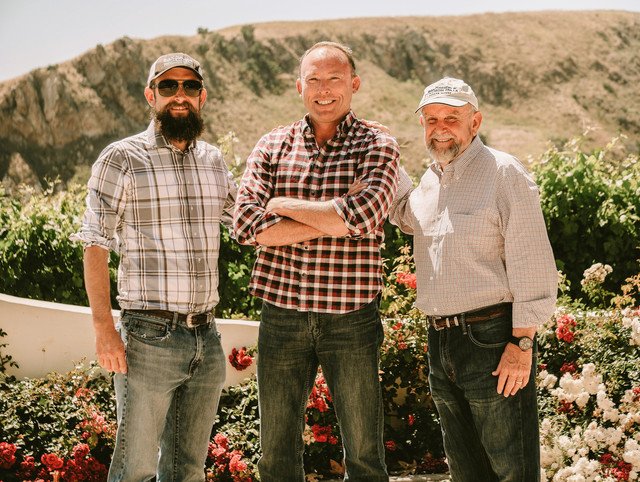 Bob and Steve saw this land as a perfect home for wine grapes. Santa Maria Valley is technically classified as a "Winkler Region 1b." This is as cold, in terms of average temperature, as Champagne; the Mosel Valley in Germany; Kremstal in Austria; and Burgundy's Cote d'Or. Understanding this, the Millers planted the vineyard with the first certified virus-free clones of Chardonnay and Pinot Noir from UC Davis in 1973—the "X Block" Syrah followed in 1987.

Bien Nacido & Solomon Hills Estate wines are made to showcase this sustainably farmed terroir by limiting the factors in the winery that would take away from that. All of the Estate wines from both Solomon Hills and Bien Nacido Estate are as traditional as one can get. All of the grapes hail from low intervention, organically farmed grapes, and are brought into a winery with the same model in mind. No yeast inoculations, no filtering or fining, only minimal Sulfur additions. All focused on bringing out the balance of carefully farmed fruit, with passionate winemaking.
****RECENT PRESS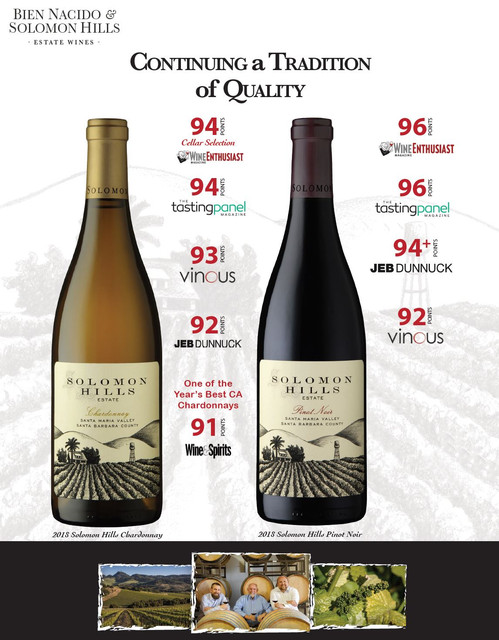 THIS YEAR'S OFFERS ~ ALL PRICED AT WINE CLUB MEMBER PRICING
(30% off of retail & $.01 Shipping on 6 Bottles or More)
USE CODE "BD12" for Discounts
PERKS!!! PERKS!!! PERKS!!! PERKS!!! PERKS!!! PERKS!!! PERKS!!! PERKS!!! PERKS!!!For every full 12 Bottle Case Purchased, The Miller Family is going to include a night stay at their 2000 acre Bien Nacido Estate property in Santa Maria Valley, CA. This is about 1 Hour north of the heart of Santa Barbara, 1 Hour south of Paso Robles.
This is not a house you can generally rent to stay…this is a family and friends only home that sleeps 4. Full kitchen with Sundeck.
You can see the Milky Way clearly most nights of the year, hear the coyotes howl, and watch the red tails hunt for weasels and gophers. Its truly a heaven on earth.
For Every 6 Bottles Purchased, we will throw in a tour for 4 with our winemaker, Anthony Avila with a full tasting and tour of the property and wines. $600 value.
For every 3 bottles purchased, we will include a tasting for 2 at our tasting room for you or any friends. $40 Value.
HIGHEST SCORES LISTEDhttps://shop.biennacidoestate.com/Purchase/Current-Releases
2018 Bien Nacido Estate Chardonnay ~~~~ $31.50 - - - 95 Points Wine Enthusiast
2018 Solomon Hills Estate Chardonnay ~~~~ SOLD OUT - - - 94 Points Wine Enthusiast
2018 Bien Nacido Estate Pinot Noir ~~~~ $42.00 - - - 95 Points Jeb Dunnuck, Wine Enthusiast
2018 Solomon Hills Estate Pinot Noir ~~~~ $42.00 - - -96 Points Wine Enthusiast
2018 Bien Nacido Estate Syrah ~~~~ $42.00 - - - 94 Points Vinous Media



2016 Bien Nacido Estate "The Captain" Pinot Noir ~~~~ SOLD OUT - - - 96 Points Wine Enthusiast
2016 Bien Nacido Estate "THE XO" Syrah ~~~~ $70.00 - - - 97 Points Wine Enthusiast
Shipping is currently available to the following 33 states:
AK, AZ, CA, CO, DC, FL, GA, ID, IL, IN, KS, MA, MD, ME, MI, MO, MN, MT, NC, NE, NH, NM, NV, NY, OH, OR, PA, SC, TN, TX, VA, WA,WI


https://youtu.be/GB_JiP2HgFA