Recently, I attended a once in a lifetime Vintage Port tasting luncheon that has to rank toward the top of my all time wine experiences.
My friend, Don Schliff, now retired CEO of Wine Imports for Wine Warehouse in LA has put on many Vintage Port tastings/ events since 1985 when he and Addison Phillips presented a vertical of Taylor Vintage Port from 1908 to 1980.
Earlier this month, he held a black tie Vintage Port tasting luncheon at the Hotel Bel Air featuring 12 Ports from the heralded 1945 vintage and as a "throw in", 4 from the excellent 1935 vintage. Additionally, he had 2 mystery wines which turned out to be Ports from 1870 and 1880.
This event was a sequel to one that was done 25 years ago at the old Spago in Hollywood when Don presented a retrospective tasting of 12 1945 Ports with Clive Coates. Wolfgang Puck did the menu and it worked so perfectly then that Don asked for a repeat performance for this one.
Don and I arrived about 3 hours prior to the luncheon to prepare the wines, coordinate the pours and table setups. He built and used 2 homemade Port Tongs apparatus`s each containing a small canister of propane and an arm rest for the tongs to sit over the flame. He also supplied all of the stemware and an ample number of decanters along with 2 silver funnels with screens in place. Additionally, we placed cheese cloth inside the funnels for further sediment filtration. We then proceeded to prepare 2 of the 3 bottles for each producer for all of the wines.
The heated tongs removed the tops of the bottles with the corks still in place. We checked for any flaws and then thoroughly decanted each bottle combining 2 in the same decanter.


The next step was for local renowned sommelier Rachel Macalisang, recently at the helm of the wine list for the Los Angeles location of The Bazaar by José Andrés, to number and pour all individual glasses using one of many of the classic Riedel Swan Decanters on hand. Watching her gracefully pour and move through the lineup of glasses was a special treat. Poetry in motion.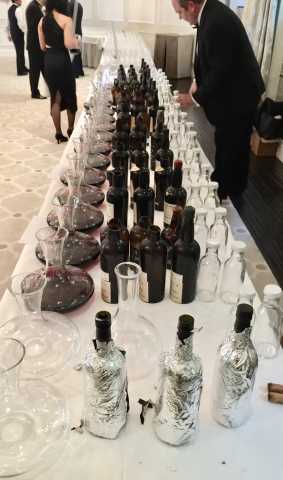 About 40 of us were dressed up and ready for this gala affair which was held in the perfect sized intimate Ballroom of the Hotel Bel Air. For me, it was extra special to be in the company of some of the most distinguished people in the world of wine. To just name a few: James Suckling, Darrell Corti, Bipin Desai, Anthony Dias Blue, Martine Saunier, Christian Seely, Christine Graham and Ed Lazarus. Missing was Roy Hersh [fortheloveofport.com] who, according to one source, was conducting a Port tasting in Portugal.


We enjoyed hors D`oeuvres while sipping 2009 Louis Roederer Brut Nature champagne brought by attendee, Xavier Barlier, Sr. Vice President of Marketing for Maisons Marques & Domaines USA, Inc.
The appetisers were:
Quinoa crisps with smoked creme fraiche & caviar
Black truffle bone marrow "en Croute"
Chilled Kumamato oyster, green apple shiso mignonette
Crispy pillow bite with jamon iberico, black garlic aioli
2009 LOUIS ROEDERER BRUT NATURE PHILIPPE STARCK LABEL- a blend of Pinot Noir, Chardonnay and Pinot Meunier harvested and fermented together; no dosage, no ML; this is the second bottling for Roederer since the release of the 2006; the French designer, Phillipe Starck was heavily involved in the blending of the wine as well as being responsible for the packaging and designing the label; Xavier repeated a comment he made when he poured me the 06 last year at another wine event: "why drink water when you can drink champagne" and "If you like Chablis, youll like this". I concur with both astute statements.
Our bottle had lemon lime orange colour which somewhat emulated what the aromatics and taste profile contained; it was nicely balanced, had bright acidity, demonstrated an element of elegance and kept evolving in the glass with more nuances unfolding which revealed pear, grapefruit, stone fruit, spice, saline and distinct mineral notes, all intertwined in the depth of the multiple layers.


\
First Course:
Duo of chicken liver, oakwood grilled and chilled terrine with homemade brioche and seasonal fruits.
Paired with one flight of 4 1935 Vintage Ports:
1935 COCKBURN VINTAGE PORT- as with all of the 35`s except the Sandeman, the colour was a medium red purple thinning out with less volume after tastes; the nose had nice inviting ripe fruit notes that became mostly red cherry once tasted along with a hit of vanilla extract, mint and menthol; it had a medium body and nice elegance.
1935 SANDEMAN VINTAGE PORT with a stencilled purple wax seal commemorating the ROYAL SILVER JUBILEE for GEORGE V [and QUEEN MARY], May 6-12, 1935- darker red purple colour; with all of our quality control, we somehow missed at least one of the 2 bottles after decanting each separately as the combined pour was definitely corked; so, we opened the 3rd bottle reserved as a back up; now free from the flaw, this bottle gave sweet mint chocolate dark cherry in a medium body; it finished slightly hot.
1935 GRAHAM VINTAGE PORT- my fav of the flight, this was perfectly balanced from the nose through the tail; it had elegance and charm giving slightly honeyed cherry fruit.
1935 TAYLOR, FLADGATE & YEATMAN VINTAGE PORT- from one of the oldest Port houses, founded in 1692; this was bigger, more full bodied and more expressive then the others in this flight; it gave toasted plum, black currant and black cherry fruit.
Second Course:
Pan roasted dover sole with celery root puree, Port reduction, French black truffles.
Paired with the first of 3 flights of 4 1945 Vintage Ports:
1945 RAMOS-PINTO`S VINTAGE PORT- following the somewhat muted nose, came much more expressive cinnamon spiced red cherry/ berry notes in a medium to full body and silky tannins.
1945 ROBERTSON`S REBELLO VALENTE VINTAGE PORT- this was also mellow out of the gate with minimal aromatics, the taste profile had medium sweet and spicy maraschino cherries; the tannins were soft and easy on the palate and the wine had medium weight and body served up in a sticky substance.
1945 FERREIRA VINTAGE PORT- this was somewhat understated with the aromatics and tastes being mild expressions of spicy, black fruit with accents of mild coffee notes; the tannins were soft and the body and weight was medium at best; a bit of heat came in at the end; I`m thinking that if I had this by itself, it would have been fantastic.
1945 QUINTO do NOVAL VINTAGE PORT- the nose suggested wondrous things ahead and it did not deceive; nice toasty, maple sweetened cherry pervaded throughout; it had a silky mouthfeel and a sustained pleasing finish; my fav of the flight.
Third Course
Whole roasted Wolfe Ranch quail with braised greens & wild field mushroom stuffing puree of quince, natural jus.
Paired with the second flight of 4 1945 Vintage Ports:
1945 WARRE VINTAGE PORT- this was outstanding with floral and dark fruit notes in the nose, an immense amount of sweet and spicy cherry/ berry fruit and a definitive taste of maple came in late; it had nice texture and a welcomed sustained finish; tied for my fav of this flight.
1945 FONSECA VINTAGE PORT- even the colour denoted viability; the aromatics contained fresh, sweet, spicy, toasted cherry which continued on and was joined by caramel and concentrated vanilla extract; it had a full body and yet was soft and easy on the palate; my other fav of the flight.
1945 DOW VINTAGE PORT- initially, this was somewhat closed and understated, but it came on like gangbusters and took off and gave and gave; it morphed into a big hit of cinnamon and spicy black cherry which was delivered in a full body with a heavy weighted feel.
1945 SANDEMAN VINTAGE PORT- light in colour; sustained mild aromatics of a hint of dried rose petals; more to enjoy in the taste which had sweet red cherry notes delivered in a silky texture.
Champagne break for palate rest and cleanse:
1999 LANSON GOLD LABEL BRUT in magnum- a perfect choice for a break as this was a solid wine unto itself; it had a yellow gold hue and was rich and luscious with expanding flavours of toasty apple, pear, honeysuckle and nectarine; it had bright acidity, was full bodied, layered, powerful with finesse and length.


Fourth Course
Whole roasted rack of Snake River Kurabuto pork slow cooked, buckwheat polenta, Oregon morel mushrooms, plum Port reduction.
Paired with the third and last flight of 4 1945 Vintage Ports:
1945 CROFT VINTAGE PORT- medium red colour with a purple hue; both the nose and the taste gave honeyed and spicy red cherry and cranberry fruit in generous amounts; it was big, rich and full bodied and the streak of spice was most prominent throughout.
1945 GRAHAM VINTAGE PORT- medium ruby colour; clove and spice gave accents to the red cherry and red plum notes; it had a medium body and weight and a nice feel of finesses.
1945 NIEPORT VINTAGE PORT- this was hallmarked by having nice sweetened caramel, chocolate and butterscotch blackberry and cherry fruit.
1945 TAYLOR, FLADGATE & YEATMAN VINTAGE PORT- dark ruby colour; the nose was very inviting with sweet red cherry notes which continued on along with a touch of vanilla and cedar laced cranberry; full bodied, layered and long; probably my fav of the flight although they were all winners.
Dessert Course
Warm apple pudding with sour apple sorbet and honey dacquoise
PaIred with the 2 mystery wines:
1870 WHITWHAMS VINTAGE PORT listed in our program as a Mystery Old Vintage Port Tregnum- a tregnum is a special sized Port bottle, the next step up from a magnum, containing 2.25 litres [3 regular bottles]; since the label was covered up, we were to guess at the contents and come up with an identity; it had a light amber, maple colour; I got pine needles, mint, leather and dried apricots in the nose and maple syrup/ nutty like notes in the taste; the colour and taste was so mindful of an Amontillado or Oloroso Sherry, but the bottle [and program] said Port. Other than that, I had no clue and yielded to the experts in the audience. I do not know which Port house made this for Whitwhams & Co. from Altrincham, England. The label sates "Shipper unknown".
1880 WHITWHAMS MILLENIUM PORT listed in our program as an Old Mystery Wood Port- in a 750 ml; I learned that it was bottled by Dirk Niepoort, who refreshed the Port by adding 4-5% of the Niepoort 1945 colheita; this had a much darker maple colour with some Sherry like notes all the way through; I got walnut, caramel, toffee and butterscotch with an after taste mindful of cinnamon spiced apple sauce.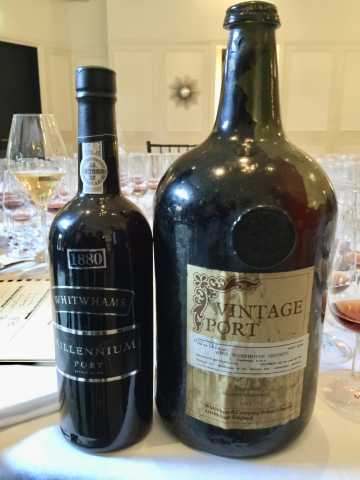 End of the luncheon treats- Housemade Chocolates
This event had it all. Incredible Vintage Ports from stelar vintages, outstanding and perfectly paired food from one of the icons of kitchen lore, an amazing assemblage of wine/ Port passionate/ upper industry echelon folks from around the globe and the exquisite service and ambience of a world class hotel. I remain deeply grateful and privileged to be a part of this wondrous, lifetime memorable event.
Cheers/ Saude,
Blake