Yesterday's lunch, 11 February 2010, was at Masseto, as the Stockbroker called for a pinot noir (old and new world) based wine lunch. Aside from the Usual Suspects (sans Keiichi who is abroad), 6-term IWFS President & Wine Master, Bernie Sim, and Rolly (Dapper D's wine guy) joined us, making us 10 in all (J-Lab was late, catching up after lunch proper).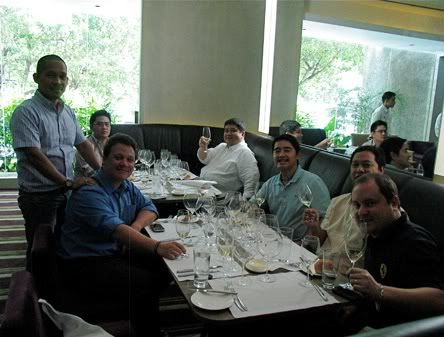 Clockwise from bottom left: Miguel, the Stockbroker, Aaron, Arnie, Greg, Rolly and Rene.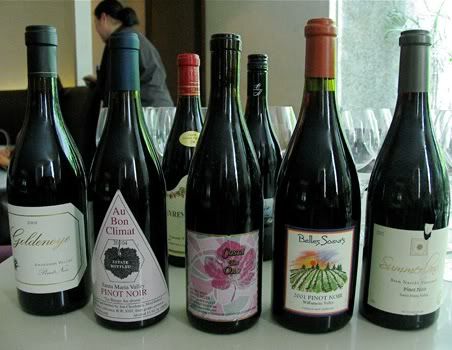 Some of the new world pinot noirs.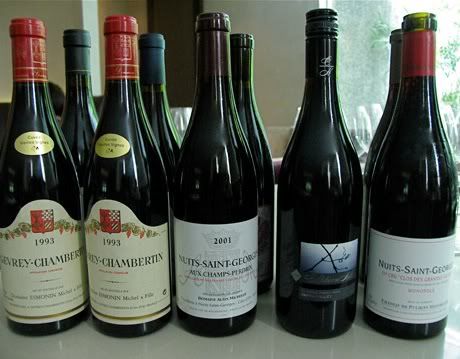 Some of the Burgundies.
I was a bit late due to work, ariving at 1pm, finding most of the guys already there, Bernie following shortly thereafter. Though Bernie was late like me, he had sent his over wines earlier in the day. Among others, Bernie brought more of the 1996 Domaine Armand Rousseau Ruchottes-Chambertin Grand Cru Clos des Ruchottes which we had not long ago over lunch in early December 2009 so we could re-taste it.
If I recall correctly, that last bottle was decanted for over 2½ hours before we got to it. This time, it was just opened and decanted for around 30 minutes at most before we re-tried it - but I get ahead of myself here. More on that wine later.
We kicked things off with some champagne.
2002 Champagne Taittiner Brut Millésime - Bernie's. Bright and easy, nice focus of crisp apple, pear, very mild citrus and fine white minerality, good rounded, discreetly milky/creamy middle (must have a healthy dose of pinot noir). Hints of brioche just past mid-mouth. Fresh and dangerously drinkable in its barely medium body. Having had a very light breakfast, it was a bit of an effort not to gulp this down quickly.
With my starter of Goat Cheese Ravioli with Olive Butter (most of the others had green salads with a crisped slice what looked like pancetta), I had…
2007 Raimbault Pineau Pouilly-Fumé - Miguel's bottle. I written about this producer's wine several times already and have thoroughly praised it each time: "Ever since Rene introduced us to this domaine's P-F, we've bought and gone through so many bottles and I've written about it in my blog so many times (both the 2006 and 2007 vintages), readers of my blog know well enough how much I love this fresh, fruity, extremely charming sauvignon blanc-based eastern Loire wine - especially when paired with goat cheese and simply prepared, fresh shellfish dishes."
This beautifully poised wine has admirable balance in its ripe fruit, floral and mineral notes and acid lift. It has put on a bit of weight and has developed a marked crescendo. As a pairing, it was absolutely perfect with the delicious chèvre ravioli and olive butter.
We then moved on to the reds.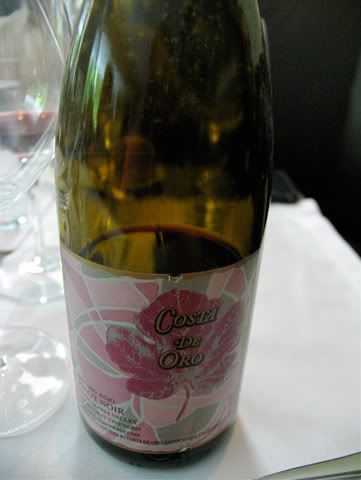 2002 Costa de Oro Oro Rojo Pinot Noir - The Stockbroker's. From the others I asked, this appeared as the majority's favored of the new world pinot noirs. Though not at all over-bearing or over-wrought, this, to me, was the ripest (hotter area?), extracted, softly -fruited and one of the most concentrated of the new world pinot noirs. The oak ageing is apparent in the underlying creaminess, slight chocolate and mild, well-integrated wood notes. Though there were other big-boned pinot noirs, this seemed the most "mellowed out" and richly smooth to me. A crowd-pleaser style.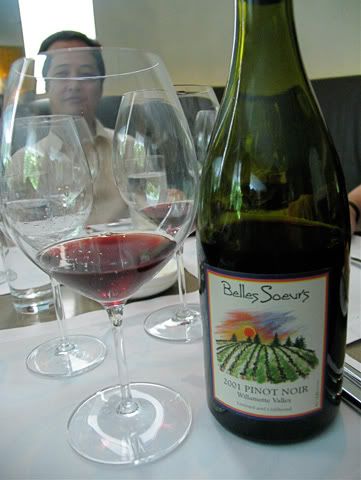 2001 Belles Soeurs Willamette Valley Pinot Noir - The Stockbroker's. Totally different in texture and body - cleaner, lighter and more red-berry focused in style, materially leaner and lighter in body but firmer in acid and more light-footed on the palate. Raspberry and strawberry over tartish cherry and a hint of cranberry. There was a strange soapy note to it, though, in both the nose and mouth that I found bothersome (everyone seemed to note it as well, and, no it wasn't our glasses).
2004 Au Bon Climat Santa Maria Valley Pinot Noir - The Stockbroker's. I actually quite liked this one - it was purer in fruit and more graceful and light-footed than the 2002 Costa de Oro Oro Rojo, yet with more body, depth and complexity than the 2001 Belles Soeurs Willamette Valley. The red berries (slight notes of cola) are a bit sweetish, but well balanced with healthy acidity Good show.
My main course of Breaded Veal Chop with Mixed Greens.
2005 Alma Rosa Encantada Vineyard Santa Rita Hills Pinot Noir - Arnie's bottle, purchased during a recent trip to California. Clean, good purity and focus, slight topnotes of forest floor leaves and pine needles to its dark raspberry and cherry. Another nicely light-footed one reminiscent of the Burgundy stye. Nice structure, restraint and balance. A bit straightforward yet very approachable, pleasant and easy to drink.
2006 Château de Puligny Montrachet Nuits St Georges 1er Cru Clos des Grandes Vignes - My bottle. Young, I know, but having read that Etienne Montille has been in charge of this producer since 2001 and implementing an earlier-drinking style than that of his revered father, I just wanted to try it out. Anyway, having barrel tasted a few red Burgs in autumn of 2007, I figured 2006 1er crus should be drinking soon, so, I figured to sacrifice this bottle for curiosity's sake.
Notably too cold, I allowed it to warm in my glass for several minutes. Thereafter, it gained a nice depth, good push on the palate and a pronounced crescendo in its young, slightly leafy and resiny black cherry, dark raspberry, hints of dark spice and violets. On the rustic side, there seems to be more earthiness under there somewhere. Medium bodied and aspiring for more. Decent depth and nice complexity even now. Already enjoyable though young, I'd try this again in a year and follow this for around 3 or so more to see how it develops. Available at Wine Depot for approximately P3780/bottle.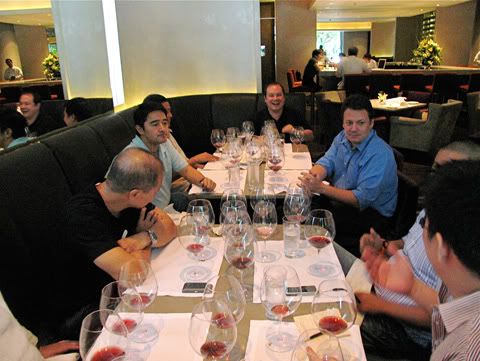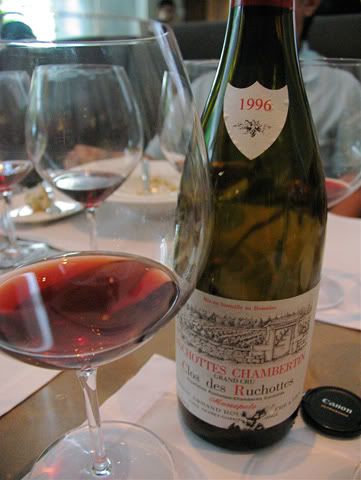 1996 Domaine Armand Rousseau Ruchottes-Chambertin Grand Cru Clos des Ruchottes - Bernie's, from the domaine's grand cru monopole. Well structured, masculine and firm, the acidity was nowhere near disturbing unlike the previous bottle not long ago. Sous bois - slight mushroom and old, pressed violets in its earthy cherry, raspberry, dark plum and dark spice. Notable depth, complexity and confidence. Quite nice and certainly much more alive and over-all better than last time.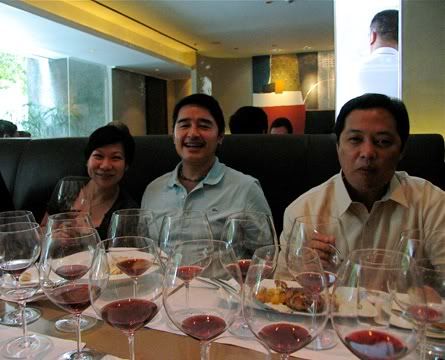 Premium Wine Exchange Finance Manager and Masseto part-owner, Laraine Lim, briefly joins the boys.
A bit later, J-Lab finally showed up.
2005 Coldstream Hills Reserve Yarra Valley Pinot Noir - Rene's bottle. A concentrated, richly ripe fruit-forward pinot noir in the new world style, but not over-the-top. Much fuller and immediately showier than the earlier wines. I note that the spicy-toasty oak, while easily noticeable, is pretty well integrated. The fruit is soft and ripely sweetish. I'd say this would be readily approachable and pleasing to most.
1993 Domaine Esmonin Michel et Fille Gevrey Chambertin Cuvée Vieilles Vignes - Bernie's bottles (nb: renamed Domaine Sylvie Esmonin in 1998). Admirably youthful, this is in very good shape. Earthy, slight meaty and bacon fat notes lace the deeply-veined spicy black cherry, blackberry, raspberry, slight licorice and violets. Also a bit rustic. Very nice.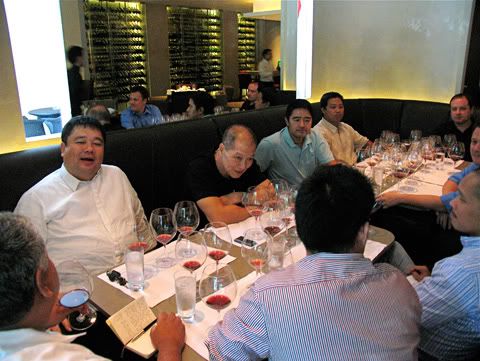 Serious wine discussions going on here.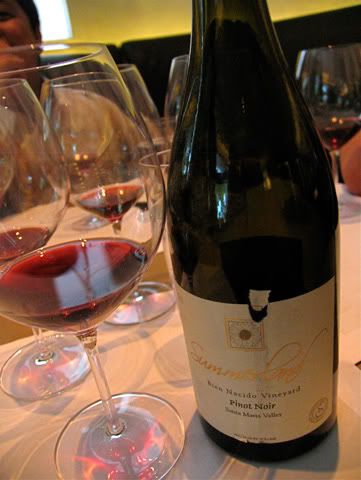 2002 Summerland Bien Nacido Santa Maria Valley Pinot Noir - The Stockbroker's. Big and ripe, fruit-forward, but it has subtle earthiness and good depth to the fruit and a notable balancing acidity. Suggestions of chocolate and spicy oak. Probably one of the better new world reds of this lunch.
Silliness started creeping into wine analysis as Rene and Miguel started castigating Greg for chopping a generous piece off the Stockbroker's mid-afternoon burger (which, by the way, is now available on Masseto's menu)…
…though Rene's fine sensibilities certainly didn't prevent him from grabbing a bite of his own from Greg's purloined prize.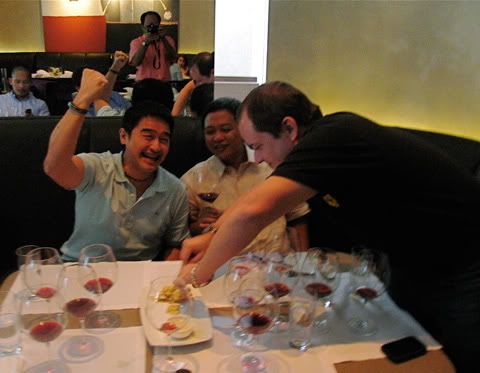 A bottle of riesling was opened then, but I really couldn't manage the switch to a white at this point. I took a few sips and remember it being dry, lean and minerally, but, after all the reds, it seemed a bit watered down. Unfair to evaluate the riesling at this point, so I did not bother noting down the wine or taking a photo thereof.
Cheese Platters with Grapes and Warm Walnuts were then served to accompany glasses of…
1977 Graham's Vintage Porto - Bernie's bottle, another generous treat of subtly luxurious mellow sweet, earthy nuttiness and dried dark red berries and plum. Supple, slinky curves mid-mouth, loved the balance of sweet and savory. Excellent with the bleu and warm walnuts. Sexy stuff…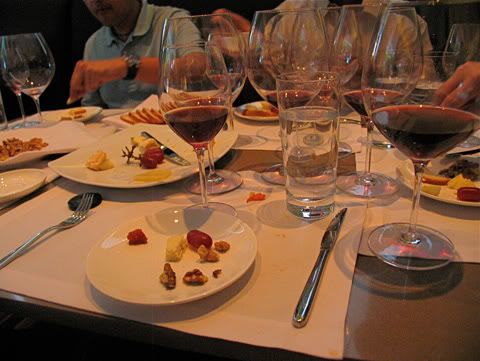 …which inspired some rather racy speculation.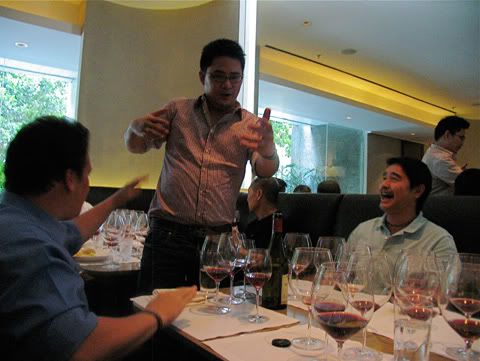 I thought we were finishing up by then, until yet another red Burgundy was opened.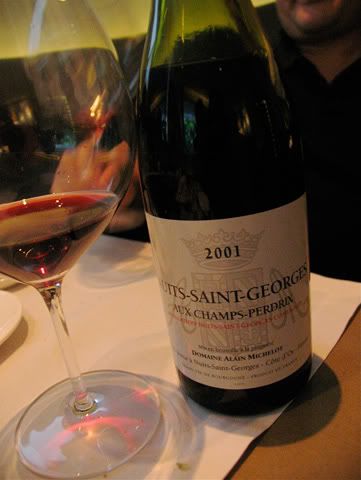 2001 Domaine Alain Michelot Nuits St Georges 1er Cru Aux Champs Pedrix - Rene's bottle. Typical Nuits St Georges rustic, almost broodingly muscled dark fruit (black cherry, dense raspberry, dried plum), violets, slight leather, whisper of meat. In good shape, still youthful. Nice, nice. I wished for some roasted pigeon and truffled whipped potatoes to go with this.
Cedric Le Gall, Marketing Manager for Asia of Red & White International (Asia) Pte., Ltd., then came by for a meeting with the Stockbroker and poured a few bottles of Aussie wines by Mount Langi Ghiran. I couldn't make the switch though, so abstained after a few sniffs of my glasses. I went out for a smoke and my glasses had disappeared by the time I returned - so the wines surely didn't go to waste.
Many of the guys had started to trickle off by then as dusk threatened to deepen into night. Bernie then made some of us stragglers try…
1999 Domaine Richaud Côtes du Rhône-Villages Cairanne Les Estrambords - Bernie's bottle, of course. Surprisingly youthful and concentrated considering, per Bernie, '99 wasn't a notable vintage for the Côtes du Rhône. Seemed a bit modern in style to me (not that I know much of the wines of the area) with dense, jammy, dried black fruit, prune, cherry, kirsch, some herbiness, all buttressed by oak notes of chocolate and espresso. There is a bit of heat on it as well, but, after pinot noirs and Burgs, the subject wine's abv was probably emphasized thereby.
After a few while, darkness fell and Greg and I noted that rush hour was well upon us. Rather than spend our time in traffic, we decided to continue on with dinner at Masseto. Laraine, free of her duties by the time, joined us for a light dinner of very flavorful fried chicken (must surely have been marinated very well). I also ordered a platter of the delicious Bucatini with Spicy Tomato Sauce and Pancetta, and, of course, a bottle of 2008 Domaine Tempier Bandol Rosé to go with the meal.
Greg opened his bottle 2005 Oregon Pinot Shea Cellars East Hill after dinner and with his dessert of Warm Chocolate Cake with Honey Ice Cream. Cedric then joined us for his late dinner and a couple of glasses of wine.
Needless to state, by that time, I was no longer taking photos myself nor making mental wine notes. Greg left by around a little past 10 I think, so I hung out a little longer with Laraine and Tippi, leaving Masseto nearing 11:30. What a lunch. I can't wait for the next.