A few weeks ago, the Stockbroker thought to have a lunch comparing the 2007 Domaine Tempier Bandol Rosé and the 2007 Domaines Ott Château Romassan Rosé Coeur de Grain as he had picked up some of the latter at a recent trip to Tokyo. I'd heard and read about Domaines Ott, but I don't recall ever having had its wines. The unanimous choice for today's lunch, 25th August 2009, was, naturally, Je Suis Gourmand - since 2 top Bandol rosés were featured, Marc Aubry's escargots bourguignonne were definitely in order.
We were 5 in all today (the Stockbroker, Keiichi, Miguel, Rene and myself) and we all ordered the same meal: an order each of Escargots Bourguignonne to start and Beef Onglet for main. The Stockbroker tested the rosés, found them in order…
…so they were poured…
…and the tasting began.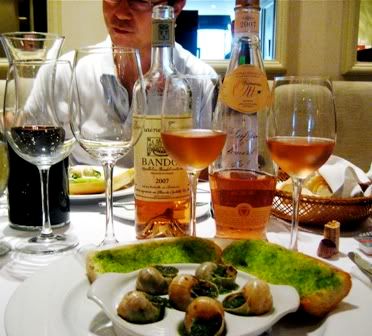 2007 Domaines Ott Château Romassan Bandol Rosé Coeur de Grain - The Stockbroker's bottle, as earlier mentioned. Just a shade lighter in color than the Tempier, this is made up of mourvèdre, cinsault and grenache. Fresh, very supple, fruity and extremely easy to drink. The aroma called to mind a light, cooling summer drizzle, light melon, cantaloupe, whispers of grapefruit citrus, underlying red currant - the entirety of which was possessed of a cool, delicately steely character. This is a happy, light-footed, delightfully fruity, feminine wine. Very fresh.
2007 Domaine Tempier Bandol Rosé - My bottle, unsurprisingly, as it is my favorite rosé. It is likewise a blend of mourvèdre, cinsault and grenache. The dominant fruit flavors are somewhat similar to the Romassan Coeur de Grain, but the dominance, structure and character are totally different. Most obviously in the nose and on the palate is the Tempier's readily apparent garrigue (emphasis on lavender, fennel and oregano) and an underlying mild woody toastiness. It is also more complex, firmly structured and the fruit clearly more deeply veined (I suspect the Tempier's vines are older).
My thoughts, as well as Rene's, are that the 2007 Romassan rosé is a fun, feminine, light-hearted wine that dances on one's tongue. It is, per Rene, something one could drink tons of at the beach. The 2007 Tempier rosé, on the other hand, is, comparatively, a more serious, complex, structured, intellectual wine. As such, to me, the Tempier is also more versatile as a food wine, though I could easily sip an entire bottle of it alone as well - though, admittedly, not as easily as I could the Romassan.
Conclusion? They are both excellent rosés, though totally different in character. Both have their own places. If pressed, though, I would say that the Tempier is still my favorite rosé, especially with Marc's escargots.
That done, our orders of Beef Onglet made their way to the table. I must mention that everyone seems to love this dish's deeply earthy, slightly gamey flavors heartily accented by caramelized onions. With a side of excellent frites, what's not to love? Due to its robust character, we unanimously decided to have it mainly paired with an equally robust Spanish red.
2004 Flor de Pingus - Miguel's bottle, one he recently brought back from Spain. As I understand, Flor de Pingus, is not technically a second wine as it is made from fruit of a separate vineyard of Peter Sisseck's Dominio de Pingus (Ribera del Duero). Pingus' wines are produced in small quantities, consistently highly rated by influential reviewers, consequently highly prized by collectors, and, accordingly priced - so much so that they are perceived as "cult wines". I've only ever had one Pingus, the 2001, which I liked a lot…but, when I found out how much it cost, I nearly had a heart attack. It's modern, definitely openly pleasing, but I'd never pay the lofty price it commands (I feel the same way with Le Pin's wines).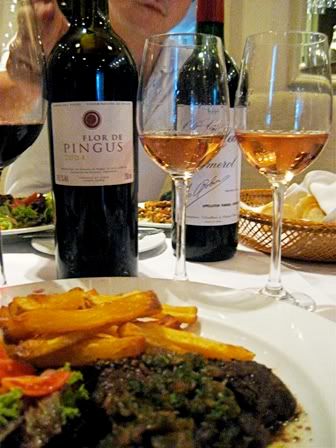 Flor de Pingus is produced from the estate's vineyard of "younger" vines - I use quotation marks because I've read that the so-called younger tempranillo vines average a good 35 years of age (the average vine age for Pingus is 70 years). The 2004, though obviously and understandably quite young, is a lusciously, rich, ripe, super-concentrated wine, cascading lowish-acid, high in alcohol, dense, slightly briary dark fruit, blueberry, ripe strawberry, mild tobacco, a hefty dose of vanilla/oak. Again, very open and pleasing, and I am very thankful to be able to try it. For my pocket, though, I'll stick to Vega Sicilia when my Ribera del Duero cravings come upon me.
The lunch's extra bonus points wine was…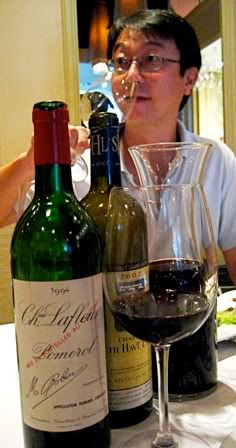 1994 Château Lafleur - Keiichi's bottle - a more than generous treat. The wine wasn't decanted, the bottle was just left opened - I'm not sure for how long, but at least a couple of hours before it was poured.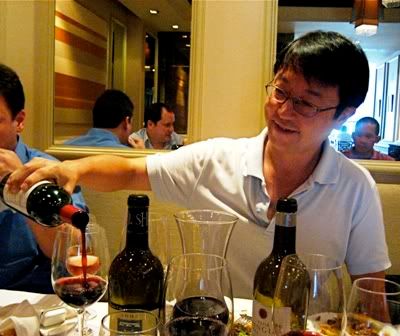 I've been having a string of good luck the past year or so when it comes to much maligned 1994 Bordeaux. Impressive wines that immediately come to mind have been the 1994 Haut Brion, La Mission Haut Brion and Angelus (the '94 Margaux, however, was quite a letdown). This '94 Lafleur, after around 35-45 minutes in the glass, was captivating: incredibly deep, powerful but properly reserved and elegant, finely cedar-and-gravel-laced dark fruit/plum, discreet black cherry, violets and minerals, just the merest trace of dried marjoram in the cedar and dark fruit. Complex, contemplative, exquisite and unmistakably Bordeaux. This is my kind of wine. Loved it.
2002 Château Smith Haut Lafitte - Rene's bottle (I don't have a photo of him with his bottle - or the Stockbrocker with his for that matter - since they were seated on either side of me - difficult to take photos of them at those angles). This is light-years removed from the lasciviously ripe, wantonly oaky 2003 of SHL that I remember from the UGC tasting at Vinexpo (Bordeaux) 2007. Rather, it is quite toned-down, proper and Pessac-Léognan-like compared to most SHLs I've had. Notes of cedar, warm asphalt and dried thyme are present in the cassis and slight raspberry/cherry base. Quite correct and typical. Impressive given the vintage. This is undoubtedly the best 2002 Bordeaux I've had (not that I've had many, admittedly). Keiichi was openly complimentary of it.
We all skipped dessert and, with the cheese plates, went on to…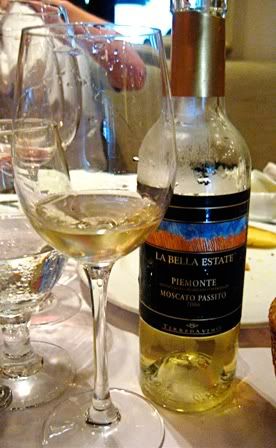 2006 La Bella Estate Moscato Passito - Miguel's bottle which he brought home from a recent trip to Italy. A rather simple, straightforward, charming and easy to drink light, nimble, moderately sweet Piedmontese moscato - reminiscent of a mildly honeyed, floral white grape juice with a light touch of vanilla/oak. Nicely clean and cleansing.
Cups of coffee, double espressos and glasses of Eau de vie de Prune brought an end to yet another a excellent lunch with fine food, wine and company.
The Stockbroker had business to attend to at Premium Wine Exchange and Keiichi headed off for home - but Miguel, rene and I weren't done yet. It being slightly before 4pm, we followed to PWX where the Stockbroker opened…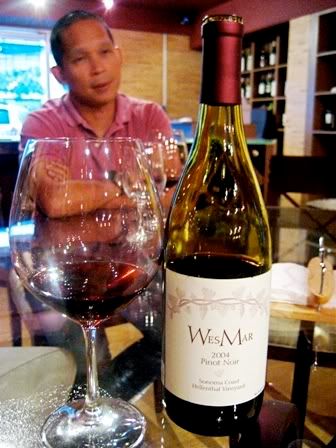 2004 WesMar Pinot Noir Hellenthal Vineyard (Sonoma Coast) - Jammy, resinous, concentrated spiced cherry, raspberry, blueberry, some plum underneath, notes of cola, cinnamon, muscovado and vanilla/oak. Big, dense, concentrated, with a definitive and long finish. Very California pinot noir.
2006 Freeman Vineyard & Winery Akiko's Cuvée Pinot Noir (Russian River) - Easily lighter in frame and weight than the WesMar Hellenthal, its dominant fruit flavors (raspberry and cherry fruit) are neither jammy/spicy/sweet/ripe nor as concentrated. It is evidently cleaner, more refined and much lighter on its feet, albeit not as layered or complex. I likened it whimsically to a Louis Latour Marsannay. Very easy to drink.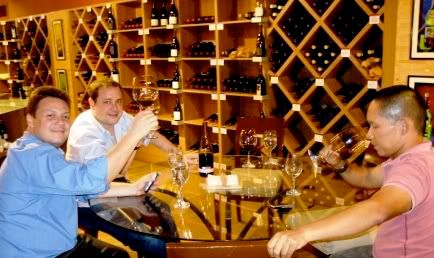 6 pm rolled around the corner and we all had to head off home. I picked up a few bottles of PWX's 2006 Saintsbury Brown Ranch Estate Bottled Chardonnay for my wife on the way out as she likes this style of chardonnay.