Some great wines over the father's day weekend and the surrounding days!
1989 Clusel-Roch Cote Rotie Les Grandes Places - a dynamite CR, in a perfect spot now. 2nd bottle in the past 6 months that has shown really well. Hit its stride after about an hour in the decanter. Really savory aromas, meaty. Just silky on the palate. A great wine in a great place.
1974 Bruno Giacosa Barolo Riserva Speciale Bussia di Monforte - decanted off its sediment around noon on Fathers Day and in the decanter for about 6 hours or so. Color was bricklike. Nose was just fantastic. Sweet red fruit all the way. Really nice. Finished a little tart on the palate, where you can tell a bit of the fruit has faded. But nonetheless a joy to drink.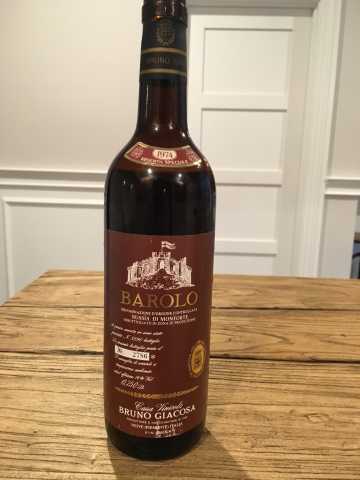 1991 Domaine Jamet Cote Rotie - stunning, gorgeous, superb, pick an adjective. This is a great wine. Bacon fat, smoky, peppery, everything I could want in a mature CR. Fabulous finish on the palate. Just great.


2008 Outpost Grenache - thought this wine was in a good spot now, paired well with some pork chops. Relatively light in style, showing some red fruit and spice/pepper on the nose. Not a huge finish, but nice. Enjoyable.
2015 Jolie-Laide Pinot Gris Rorick Heritage Vineyard - I've really enjoyed what I've had from them. Surprisingly rose in color, some nice red fruit and citrus on the nose. Real zippy acidity. Nice wine.
2010 Schrader Cellars Cabernet Sauvignon RBS Beckstoffer To-Kalon Vineyard - just ridiculously good. Decanted about 2 hours. Inky purple, big and powerful but definitely not over the top. Great nose - dark fruit, cassis, some leather. Great powerful finish, extremely long. Really great.