His wines change each release. That said I always love his Evangelho Vineyard wines.
Couldn't agree more, only to add: his successes are not limited to his unique mixes - his 2022 Mourvèdre is IIRC 85% single variety and also has all the positive attributes you mention. I know even 15% can really alter a wine's flavor profile but still - he can work within traditional grape combinations and still turn out head-turning wines.
Amen. EDWC wines are among the most distinctive in the world. As much so as Lopez de Heredia or Musar - I have more confidence I could pick out an EDWC blind then any other wine. And maybe just as quirky, if slightly more reliable (though I've had a few flawed bottles). But most of the time they are magical. When you read the reviews on CT (including yours David and mine), I ifs hard to think of any wines (say under the $200 level) that consistently inspire the kind of rhapsodic praise that is given - I usually see these kinds of descriptors used for that elusive perfect old bottle of Burgundy or Prüm or Yquem. They are wines that you remember for a long, long time, and when you think of them, you smile.
Seems these are drunk young but can anyone give me an insight on how well they might age?
Hardy's D&R wines have been aging well, though even those have only been around since the early 2010s. I suspect that short to mid-term cellaring will be just fine for the Yeah! wines, and have bet on that with my wallet.
Agree with the above suggestions on his Mourvèdre wines and Evangelho but I would definitely suggest trying a white wine when you order.
I really love what Hardy does with his white wines, especially the wines from Brosseau vineyard. This is my first time purchasing from Extradimensional but I'm referring to my prior experience with his white wines from D and R. The white blends from Brosseau are special and unique. Complex aromatics and they seem alive which I think is achieved by the combination of a very special vineyard high altitude in Monterey county in the Chalone AVA and his winemaking philosophy. I think it's farmed impeccably and the grapes are harvested to preserve acidity but captures the California fruit too. The whites seem unfiltered as they aren't crystal clear but that adds to their feeling of being alive.
I love the whites maybe even more then the reds. It might not be your cup of tea as I think the unfiltered makes the wine lean into the "natural" wine realm, but my experience has been great. I haven't experienced any Brett funkiness or mouse flavors, just what I consider the positive side of natural spectrum.
Is it wrong to point out that these distinctive and gorgeous wines are being produced at a price point that puts many other producers to shame? EWCY dominates in price as well.
Two wines that were even better on Day 2/ Day 3 for the Nightlight! And a belated Happy Birthday

to @H_Wallace_Jr !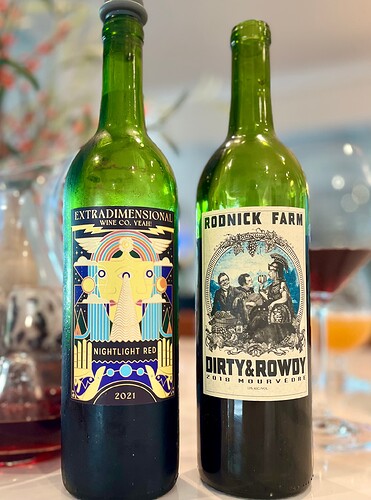 Chendawg is mind blowing, but I'm not sure there are any available at this point.
Thank you! That Chendawg II is something else. We are sold out at the winery but a few bottles may be in NYC restaurants (maybe a retailer?).
Thank you, Dennis!
Thanks for all the kind words everyone! We love seeing these wines being enjoyed.
Had the 2019 Mo' Yeah! last night.
It smelled bright and brambly with just whiff of funk.
Lots of bright, tangy but almost weightless red fruit on the palate. Plus acid worked well with our light tomato sauce. I always love how well these wines pair with lettuce salads and fruit and this was no exception.
After some air some spice & light tannin emerges. Pretty, ethereal wine.