Should have had it five months from now in a pseudo tribute to The Four Seasons.
2021 Extradimensional Wine Co. Yeah! Local Election Red
I decided to try a 24 hour advance double decant. Whoa boy did that open the wine up like the polls at 8 AM!
Full note:
2021 Extradimensional Wine Co. Yeah! Local Election Red - USA, California (7/29/2023)
Hot, steamy July day, but I wanted a red wine. Looking for red wine refreshment almost always takes me on an extradimensional trip. Hardy has advocated significant decanting of his wines, and I decided to prepare for this one by double decanting the day before, and placing the bottle in the fridge until Saturday's dinner (black bean & spicy slaw tacos) was prepared.

Allowing the wine to warm up to 60 degrees or so, I poured a quick sample glass, and immediately poured more! Bright red cherry fruit, cranberry astringency, and a herbal overtone that could have come from the final Dead & Company show. Did Hardy bottle CBD gummies? Excellent match with the tacos, as the sweet red fruit played counterpoint to the spicy slaw.
YEAH!!! Thank you.
The Local Election with air is something else. Refreshing with depth.
So glad you did the 24 hr double decant!
Only have a single bottle of Astral Plane and may wait another 10 years to open it- how was it???
No detailed notes honestly, but I think @Dennis_Atick has a good note on CT based on my light recollection
2021 Five Points - 1170 bottles produced. A crazy blend of 70% Zin, 9% carignane (from old vines in Rosewood Vineyard - the best), 8% brosseau grenache, 7% chard and 6% Mourvèdre (insane). First note on pop and pour, LOVE the color. Crazy strawberry nose, fruit on first sip is a bit darker, but moves back toward the sweet reds on the back of the tongue. It's fresh, but serious, and the body/mouthfeel is great. It has a nice hit of acid towards the end.
Day 2 - the berries have darkened just slightly. The acid is still persistent, having moved up to the middle of the tongue. The carignane really shows through crazy given its smaller percentage. Another really good one.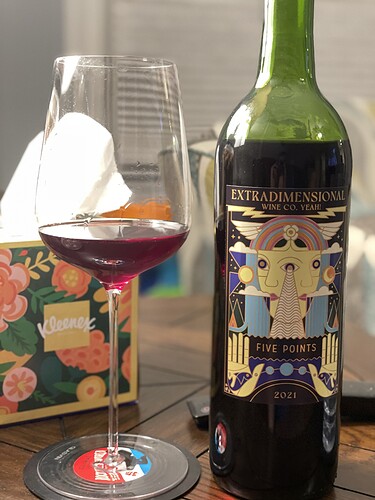 [list][*]2020 Extradimensional Wine Co. Yeah! Innervisions Red - USA, California (8/21/2023)
Notes after 5 hours open. Extra dark ruby color with a light haze. Profound aroma, featuring dark ripe berries, flowers, licorice, and mens cologne (meant in a good way, like Dolce y Gabbana). Very pleasant weight and grip in the mouth and I think there's no harm in popping these young. Very interesting and unique, like trying a new varietal for the first time. I really appreciate the 13.7% reasonableness. What really elevates this is the finish: so long and beautiful.
4+12+18+9= 93 (93 pts.)[/list]
Posted from CellarTracker
Zin is my cologne

75% Primitivo, 10% Grenache, 10% Chenin Blanc, 3% Carignane, 2% Barbera
So, yes
Fall Sampler order in! Can't wait to try these!
Thank you so much! The Grenache on this release is bonkers!
I guess I better try these wines out. You guys are bad for my wallet.
Anyone who bemoans the change in French wines as alcohol levels rise due to the dreaded "solar" vintages, needs to try Hardy's wines. He's working in the land of sunshine, but all of his wines retain elegance and freshness, while not being short on fruit. What he is showing with Yeah! is that he can create complex, aromatically gorgeous wines through unexpected grape combinations. Every Yeah! wine could only come from Yeah!
What are your top 3 of his wines?