4x 2008 Olga Raffault Picasses
3x 2015 Peter Michael Les Pavots
1x 2016 Bevan Sentinel Ridge
ouch, just get yourself some nice vin jaune instead…
2 mags of 2014 La Chablisienne La Chablis Les Preuses
a 6 pack of 2017 Ceritas Hellenthal Old Shop Block pinots
Terre et Sang
2–2020 Kissing Vipers (Bien Nacido Vineyard Grenache)
2–2020 The Shadow (Bien Nacido Vineyard Syrah)
2–2020 The Patriarch (Larner Vineyard Syrah)
A few bottles of 2015 Pierre Péters Les Chetillons @ $174.99, maybe not the cheapest price but I'll take it. These went really fast, like within 5 minutes sold out fast…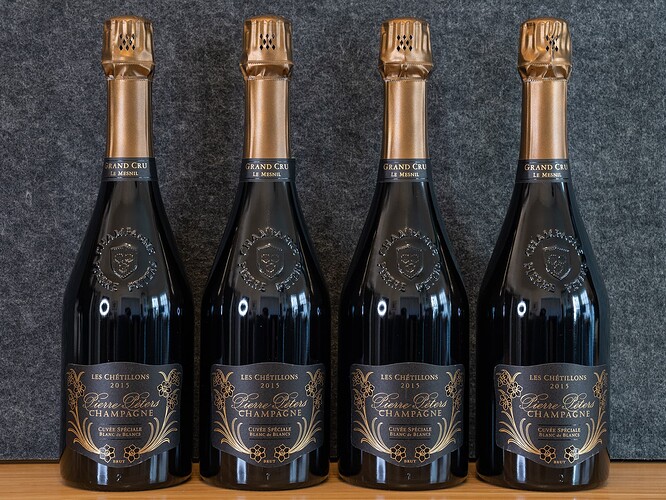 I like it with scallops, or other seafood which are mildly flavored.
Just received a sixer of Thackeray Pleiades XXIX Red from Last Bottle
Half a case of Tom Sivilli's (ass't winemaker at Cameron) sparkling wine.
A case of 2020 Goodfellow Durant Chardonnay and another half case of 2020 Goodfellow WV Chardonnay. I think I'm done for the year…
also found 2 bottles of 2011 pipparello for 2011 prices ($65 each).
Finally found some '85 Magdelaine at good price, I bought 2 cases!
Cascina Baricchi Barbaresco Rosé delle Casasse Riserva 2016
Bought without tasting first as the 2015 is glorious
2018 P. Overnoy Ploussard/Trousseau
2013 + 2014 Kenjiro magnums
Some half bottles of Prum eiswein gold cap 1998
I decided to take a leap of faith that I'll be able to drink again in the future and ordered some 2012 Taittinger Comtes and 1989 Huet Temoins (my favorite of their huge 1989 lineup).
6x 2019 Olek Bondonio Roncagliette
6x 2020 Wasenhaus Kanzel
6x 2010 Franck Balthazar Crozes-Hermitage
1x 2016 Fratelli Alessandria Gramolere
1x 2001 Sociando Mallet
Just waiting on Balthazar's Cornas to hit Denmark and then i am done for 2022.
2001 Chateau Leoville Las Cases
3x 2020 Paravel Howell Mountain Cabernet Sauvignon (Henry Brothers Ranch)
3x Paravel Howell Mountain Proprietary Red Wine V