Rick, will we see any distro in So Cal ? Sounds amazing !
Cheers,
Bud
I'm afraid not. This is draft only, and probably around 25 kegs available. It will likely all go to Portland metro, the Puget Sound area, and McMinnville.
We still can't make enough of our regular beer to keep up right now. The new cellar should be done soon, and then we will be able to make more beer.
I'm sure it's absolutely delicious ! Cheers Rick,
Bud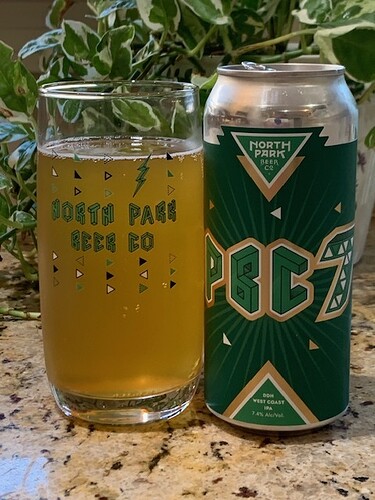 North Park Beer Co. NPBC7 DDH West Coast IPA. Hopped with Chinook,Citra Incognito,Mosaic, Mosaic Cryo,NZ Nectaron, Nectaron Cryo,Citra, Simcoe, and Freestyle Farms Peacharine. Yea, they're all in the pool.
One of the three North Park 7th Anniversary releases from 2 weeks ago I'm finally getting around to posting. The nose is worth the price of admission alone, so dank and impactful.Flavor wise I get gobs of mixed berries, juicy tangerine, ripe summer peach and sweet apricot.The transition mid palate shows crushed pineapple, creamy papaya and mango notes before it finishes with a nice bite of resiny spruce tips, that finish is long dry and totally refreshing.
Highly Recommended,
Cheers,
Bud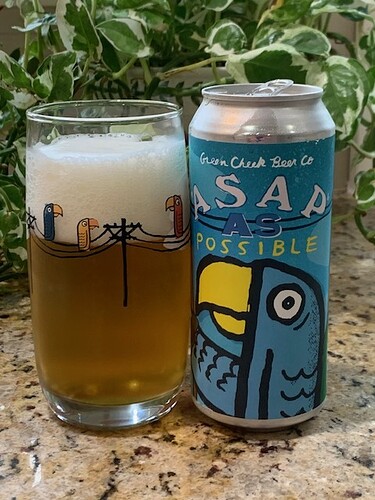 Green Cheek Beer Co. ASAP As Possible Fresh Wet Hopped WCIPA. 7% ABV. Hopped entirely with fresh wet Strata hops. Continuing my exploration of new wet hopped releases local to me is Cheeky's annual release of this all Strata beauty. This is an incredible wet hopped IPA. Super fragrant nose followed by insane hoppy flavors of lychee, candied mango, mandarin orange and sticky hop resin. Finishes with a long dry bittersweet wisp of mixed berries, this is next level stuff.
Highly Recommended,
Cheers,
Bud
My son had a soccer game in Huntington Beach this past Sunday, so – afterwards – most of the team's parents dragged our kids over to riip Pizza & Beer. Not my first time with a riip beer, but my first time visiting either of their two locations.
The place was pretty packed, as Sunday football was in full swing; it appears to be a San Diego bar, given the large percentage of Chargers fans present, and that they had the Chargers game on the biggest screen.
I thought the pizza was really tasty, and the beers were, too! I tried their Wet Hop Stratacaster west coast IPA — very good, and also their riip n Greens west coast IPA — excellent. Fun stop. Walked with some cans, too.