Sorry, but why is comparing a Bedrock to a de Negoce relevant?
The N.365 was suspected to be sourced from Bedrock.
Ahhhh, gotcha. I mean, i know there's like a whole sub-reddit thing going on in that thread with all the dn offerings…but id be shocked if Morgan sold fruit to Cameron. Why would he?? As far as i know, they dont have much trouble selling through their OVZ and CA Syrah

Side note…that continues to be the strangest thread on WB, but mostly because of one or two people (i check in from time to time as i bought a small amount of the 'best cabs ever' and have been pretty disappointed so far). You deserve a medal or something my man for being able to provide value in multiple threads outside of just DN, ha!

There's enough crossover between these two threads that it is worth mentioning. Won't stop me from buying more Bedrock though. DN offerings are often once and gone forever.
I take a look at it in a different way. Maybe knowing that they have an avenue to bulk out a second blend of a new wine allowed them to take more of a risk on the Angeles de Arena. The 3 wines literally taste like a progression from warm to cool Syrah from the same producer.
Thank you so much for that. I'm not a big cab drinker so I avoid them and go more for the Pinot and other oddball offerings. And I too am finding those threads to be strange lately, since the people like us who are looking for a good deal and cellar defender are drowned out by people thinking they got the deal of the century.
Pagani isn't one of my favorites from Bedrock and I stopped buying it to focus on others but the 2014 we opened last night was superb. As Rich said, it's open and ready to go but no rush as it's got years. I often find Pagani a bit too big and heavy but not this 2014. The balance was perfect.
You and me both. I bought 4-5 cases of some of the first offerings. They were just bad. I'd be shocked if Morgan sold them anything. At worst he'd sell it to his buddy Desire Lines.
Yep, i totally agree. Mine are now gifts for people who are not really into wine. And i don't see Morgan bulking fruit to Cameron. Just dont think he needs to. To your point, plenty of other options.
There are a lot of sleuths proclaiming confidence in identity of the sources in that thread, including this as a ringer for Bedrock. I recall the initial email including Bedrock in the hotlink that was later taken down? Regardless, it didn't match the description of the Arena and also stated that the producer "only bottles a Bien Nacido Syrah", but who knows what happens to rejected barrels and how much you can say to hide the NDA source.
I've had reasonable luck on most DN purchases and some really good ones, but few matching the descriptions (yet to get a baby Montrachet!). Been amazed at how many people are buying 4-5+ cases of a single wine.
I agree the de Negoce bottling under discussion doesn't make a whole lot of sense as to why it exists.
I have tasted it, and it doesn't fit the typical MO for de Negoce. It's mid weight, elegant and complex, where most de Negoce reds are oaky, ripe and bold. And why would any producer have 300+ cases of elite whole cluster Syrah needing to be bulked out?
Even if it's not sourced from who they/we think it is, it is serious Syrah, and tastes how a hypothetical blend of Bien Nacido, Santa Rita Hills, and Alisos should.
I guess I learned my lesson bringing up the comparison

Now going back to Bedrock - any thoughts on opening up a 2015 Bedrock Vineyard or letting it rest a bit longer? Playing some cellar tetris and was debating opening this up this weekend.
Yes…no more de Negoce talk please! Like…ever. ha!

Im probably the wrong one to ask as i think the Bedrock/Bedrock is one of Morgan's offerings that does best with age. I did try opening a 2016 last year just to confirm that i like them older…which is exactly what happened. It felt super tight to me.
I did open a 15 Carlisle last month and thought it was great though! So who knows, ha!
Dolinsek is such a perfumey, bright, purple fruited wine when young I have yet to taste one with any significant age that performed better than than in it's first year or two.
I have not opened one yet.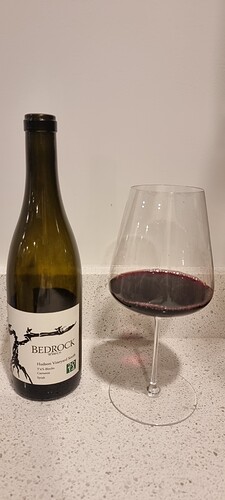 All this syrah talk motivated me last night. Drinking fantastic right now and still has plenty of structure to keep going. Decanted for a couple hours, kept getting better through the night.
Great to hear. This has been on my list to open one soon.
I had a 2014 North Coast Syrah last night and it was in a very nice place on PNP. Didn't last long enough to see if time provided any additional improvement.
Nothing wrong with comparing the wines and I appreciate the notes. Even if not Bedrock, 365 sounds like a pretty good syrah for $15.
Doesn't Bedrock have their own vehicle for bulking out lots - The Whole Shebang? Seems very unlikely they would sell a Syrah lot that seemingly is good enough to stand on its own instead of rolling it into the CA Syrah bottling or into Shebang.
Bingo. There's almost zero chance they sold to Cameron.
Ok…i promise to never speak of de negoce in this thread again, ha!