I have a huge backlog of written notes to transcribe from the last trip. Of course, since I had to catch up with work, I've not had time to do so. To make matters more difficult, the backlog builds from a succession of dinners plus a wine lunch - so here are briefer notes than usual of the wines over this immediately past Friday and Saturday:
Friday, 16th April 2010, Lunch @ Je Suis Gourmand; the Stockbroker, Miguel, Rene & I.
The Stockbroker was busy and said he'd catch up at around 1:45, so we had our starters ahead: Terrine of Foie Gras, an order of Escargots Miguel for Miguel (yes, Marc named the dish after him), Watercress Soup for me and Escargots Bourguignonne for Rene: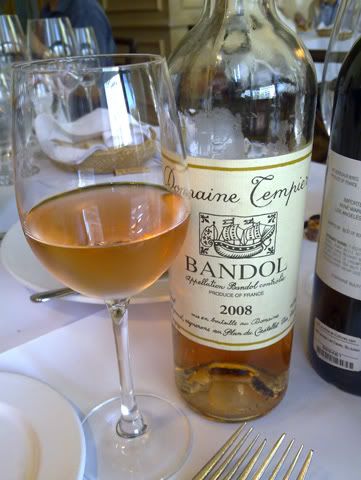 2008 Domaine Tempier Bandol Rosé - Rene's bottle, the current release locally distributed by Jerome's Sommelier Selection. I've had this several times (the last one over dinner at Masseto mid-February 2010).
As usual, we marveled at the wine's attractively distinctive light copper and salmon color. Notably fruitier than the celebrated 2007 vintage, my old notes from a head-to-head comparison of the two vintages still hold true: "The 2008 has a joyful, playful, feminine, fruity character, its garrigue discreet, with a more apparent melon note to it. This 2008 has a most infectuous smile…"
The Stockbroker arrived before our main courses, so this course we had all together. I recall Miguel, Rene and I went for the old favorite Beef Onglet with Caramelized Onions while the Stockbroker, I think, had the Roasted Chilean Sea Bass. The reds were, in order of service: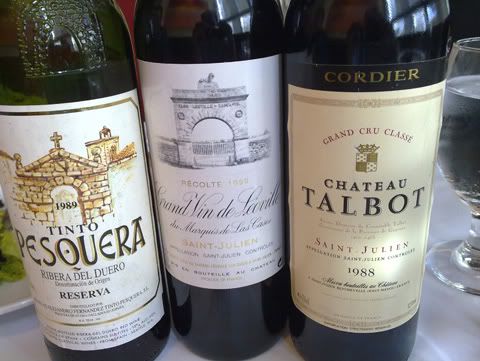 1989 Tinto Pesquera Reserva - The Stockbroker's bottle. Penetrating, mildly earthy dark sour cherry, black cherry, violets, cedar and underlying leather and licorice-touched blackcurrant. Admirable fruit vibrancy and focus too. Taught medium-body, good acid drive, masculine. For Mig and I, this was the best pairing for the Beef Onglet as the wine's penetrating cherry notes and acidity cut through the meat's earthy richness and the savory-sweetness of the caramelized onions. The fries were exceptionally good that day, by the way.
1988 Château Talbot - My bottle. Softly rounded and mellow cedary and slightly mushroomed and loamy cassis and blackcurrant, with cherry, plum, tobacco and violets. Notable harmony and balance. Quite nice, familiar and comforting. There is a bit of green to the nose not detected in the mouth. Nice, but, to me, nothing memorable.
1999 Château Léoville las Cases - Rene's bottle. I first tasted this wine from him during his 2008 birthday dinner and have been buying/enjoying it since then. This is definitely one of the top 5 Bordeaux in my book (along with Latour, Margaux, Lafite and Cheval Blanc - Haut Brion is my 6th). I like it much more than my '99 Mouton Rothschild which certainly did me no favors in Blind Bordeaux Challenge XV.
More push, drive, weight (full-bodied) and quiet muscle here. Again, praise-worthy balance in its dark, moderately meaty, pencil lead-and- leather-touched fruit, cedar and violets. Very masculine. Not as earthy/mushroomy or loamy as the Talbot, but, then, it is still quite young at 11 years from vintage. I think this will develop some truffled and meaty notes in years to come. Right now, though, it is already a very enjoyable wine which the others enjoyed with the Cheese Plate (I didn't have any of the cheese and enjoyed my share on its own).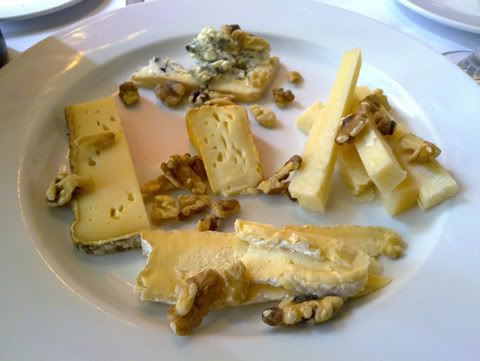 After the Stockbroker had left for a family emergency and I had finished my usual dessert of Dark Chocolate & Walnut Ice Cream, Miguel opened the last red of the lunch.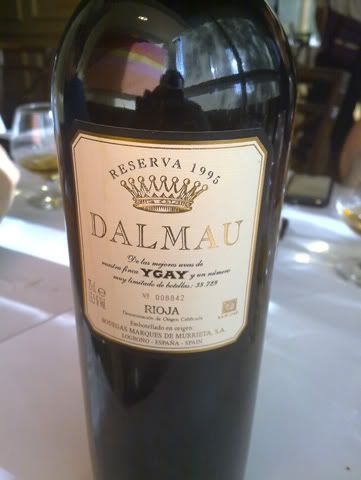 1995 Marqués de Murrieta Dalmau Reserva - Miguel's bottle, no decanting. I first tried this maiden vintage of Dalmau in late February 2009 from the Stockbroker. So, it was great to be able to see how it is doing over a year later.
The wine seems to have gained even more weight and power over the past 14 months. Now decidedly full-bodied, it is roaring with sweetly ripe black cherry, raspberry, cassis/blackcurrant, licorice, sweet pipe tobacco, cinnamon, cloves, hints of dried fig and chocolate, creamy oak/vanilla. For fans of Rioja in the modern/international style, this would likely be a hit.
Saturday, 17th April 2010, Dinner @ Sala for my eldest son's 17th birthday.
With appetizers of Lobster, Goat Cheese/Prawn Soufflé, Tuna, Etc…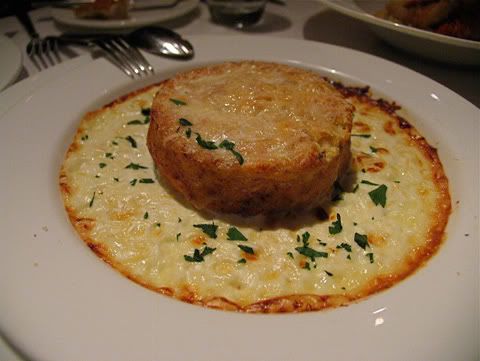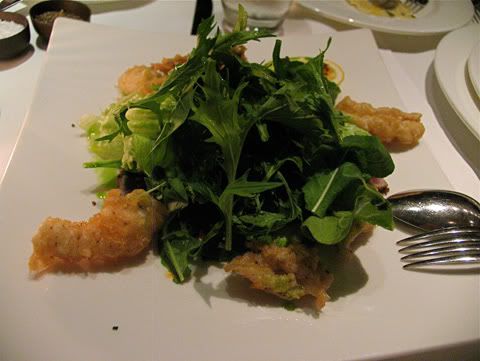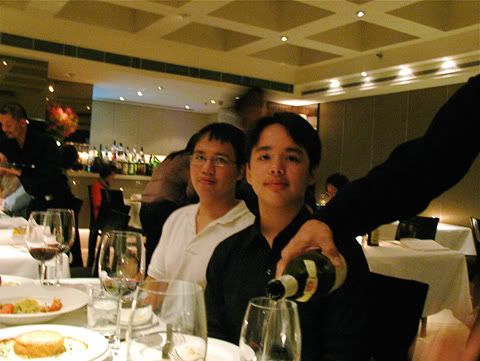 The one on the left, in white, is the celebrant; on the right is my 2nd son.
2007 Domaine Laurent Tribut Chablis - From the Sala wine list. Typically traditional Tribut Chablis: nervy, dry, tense, cold-stone and clean steel, oyster-shell, white apple, hint of citrus. I always love this old-school Chablis. As a pairing, it was fine indeed with the lobster and the chèvre/prawn soufflé.
Bumped into and chatted a while with Jerome Philippon early in the dinner and told him I am very happy to see this wine of his on the list.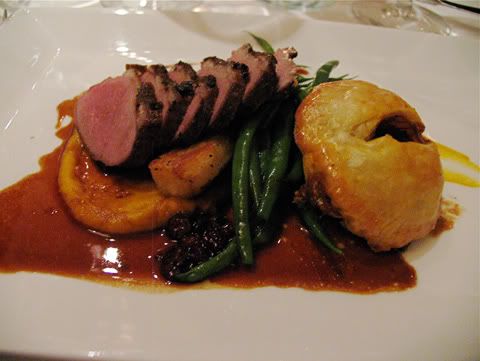 With my main course of Magret de Canard…
1993 Château Haut Brion - From the celebrant's birthyear. Uncorked and left open for around 20 minutes, no decanting. Medium-bodied, delicate touches of earth, ceps, tobacco leaf and dried herbs in the smooth, medium-bodied violets, cassis/blackcurrant and dry black cherry. Finesse and sophistication. Lacks a bit in concentration and push, but that is the vintage speaking. Still and all, it is a fine wine and a pleasure to drink with my son on his birthday.
Gerhard Kropp happened to be in the next table and I shared a glass with him. He noted the vintage signs but added "…but, hey, this is still a good wine - nobody would ever complain!"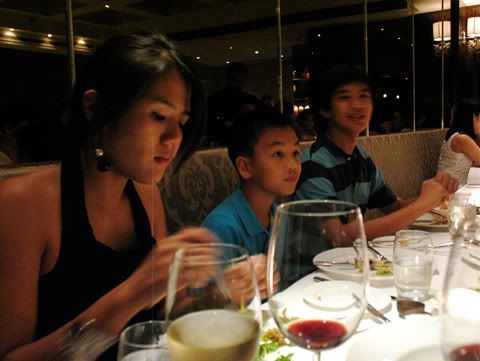 L-R: My niece, youngest son and nephew/godson.
2005 Bodegas Mauro Vendimia Seleccionada - The celebrant's namesake wine - a most thoughtful gift from Aaron. Decanted and let air for around an hour or so before service, consumed over a couple of hours thereafter.
This is another (ref: the 1995 Dalmau above) dramatic, modern Spanish red, this time 100% tempranillo from Castilla y Leon, the winery headed by Mariano Garcia (winemaker of Vega Sicilia for 30 years), who named the winery after his father. Made only in good years, the fruit from a 9-hectare sand-and-clay plot named Carramontemayor situated in Valcorba Santibanez.
With decanting for aeration, this mellowed materially, but was, nonetheless, obviously far, far bigger, fuller, denser, showier, sweetly-ripe (somewhat jammy) and oakier than the previous wine (of course). Lush, opulent, generous and pedal-to-the-metal, full-bodied, mouth-filling black fruit/berry, cherry, dark plum compote, touch of raspberry liqueur, licorice, dark chocolate, toffee, caramel, cinnamon, clove, vanilla. Powerful, heady, very indulgent stuff. not for the faint of heart. This went hand-in-hand with the thickish, sweetish sauce of the duck.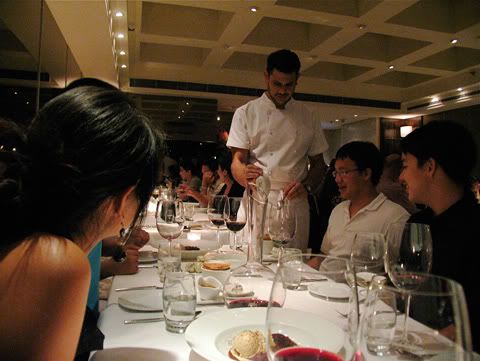 Carl Miguel (Sala's chef), back in fine form from his 2nd place finish in The Biggest Loser Asia, spent a lot of time with us chatting, reminiscing, catching up (we haven't seen each other in quite a while) and personally chose and prepared all our desserts (two orders each, the celebrant getting his own special chocolate soufflé lit with a candle).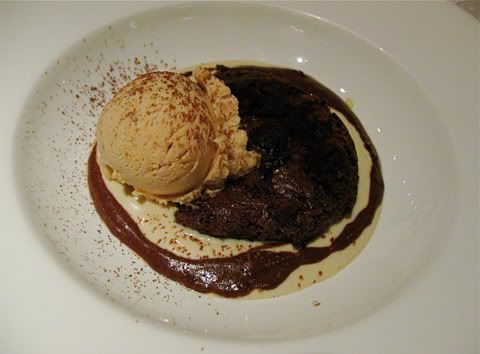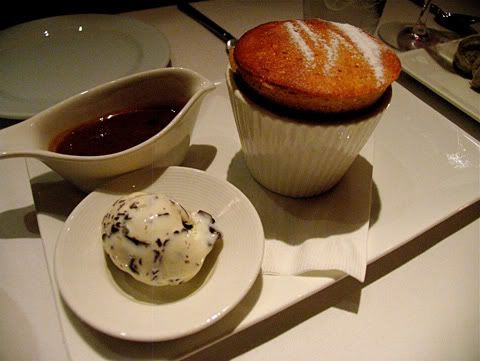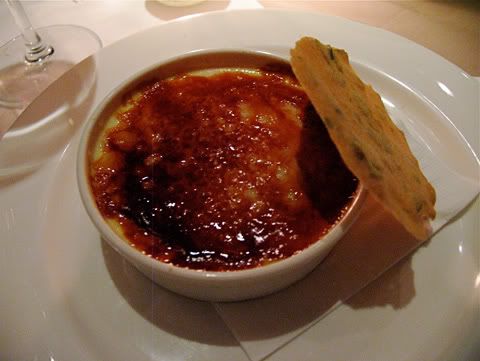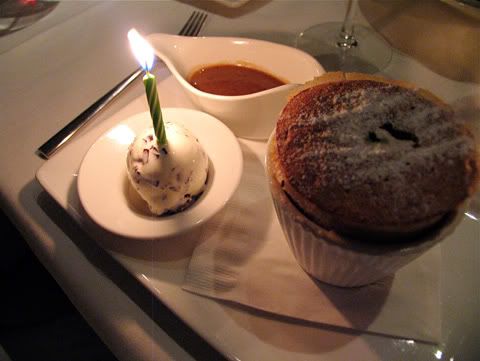 It was a great dinner with family, serendipitous and planned meetings with friends, great food and wine. Service, as usual, was impeccable despite a full house that night. Gerhard was right - nobody would ever complain, nor should they. Special thanks to Carl for an excellent evening.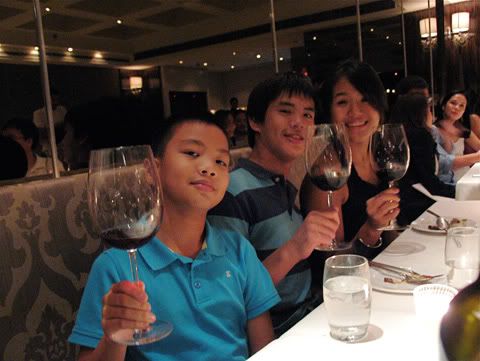 The little one was using my glass as a prop; he didn't have any wine.