Twisted Root Burger Co.
2615 Commerce St
Dallas, TX 75226
(214) 741-7668
http://www.twistedrootburgerco.com/" onclick="window.open(this.href);return false;
Voted Best Burger in DFW multiple times this place is the place to go for burgers, or so they say. Myself, Alissa K, and John Liotta decided to put this to the test. Our visit was on Saturday April 25th. Yes, this is the Saturday of Flannery Fest #2…nothing like a burger to get you warmed up for some prime beef.
I should also note that Twisted Root was just featured on The Food Network on Diners, Drive-ins', and Dives with Guy Fieri, but this wasn't the reason that we visited.
Counter service with a big menu hanging over the register and cooking areas. Upon ordering you are handed a card with a "famous" name on it and then they give you a shout when you food is ready. Apparently we were in full Dallas spirit as we got Dirk Nowitzki, Dallas Mavericks basketball player…Liotta wasn't happy.
Now for the food…yea, it's that damn good. I haven't been to too many (burger) places in DFW but from what I've had this is the best. Hopefully some other Dallas locals can chime in on.
The burgers were 1/2 lb, with lettuce, tomato, onion, and homemade pickles. The sides were not the best, I wasn't a huge fan of the fries or the onion rings, but the fried pickles were nice, personally I would have liked them a touch bigger (thicker sliced). There was a black pepper ranch that was served with the pickles that was fantastic, great flavors and a lot of black pepper.
Twisted Root not only does burgers, but they do hot dogs as well…that would be worth the trip alone.
All burgers are under $8, and for what you get its well worth it.
Name Card
Twisted French Fries
Fried Pickles
Hot Dog (100% Black Angus Beef) - Buffalo Style, a lot of spice here with some bacon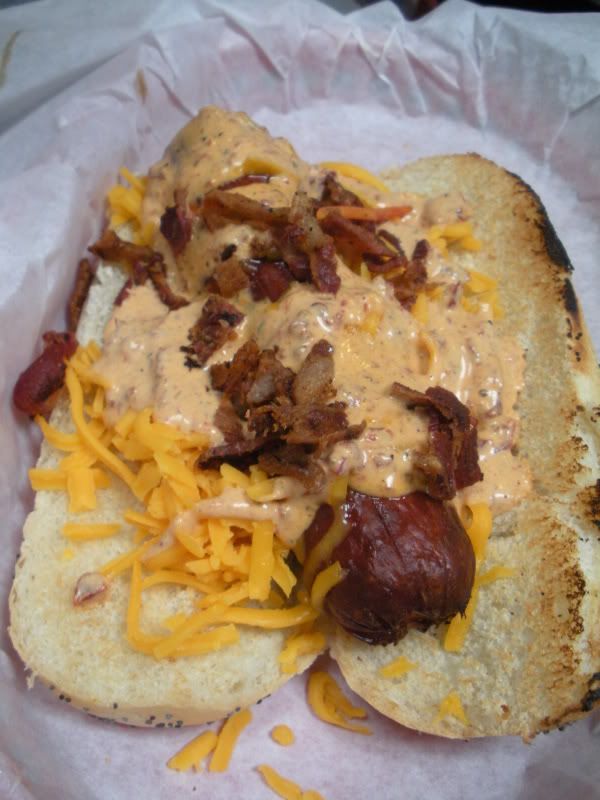 Blue Cheese & Tangy Buffalo Sauce Burger
Western Burger: Pepperjack, Bacon, Jalepeño & a Big, Fat Onion Ring