This past Tuesday, 8th September 2009, was Don's belated birthday dinner which, concurrently, was a reunion among friends from an entrepreneurs' organization of which I am a former member. While I've kept in touch with most of the fellows since I left, I hadn't seen them all together in a while so this was a most welcome event. We were 9 for dinner at Dorothy's parent's place (Dorothy is Don's better half) - actually, we were 11, but Dorothy and her sister let us guys dine amongst ourselves and took their dinner in another wing - Dorothy joining us only for dessert.
I rode with B that night since I was still a bit under the weather, we arrived at 7pm, the appointed time. Many were already there.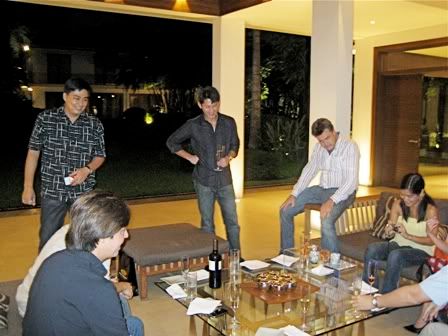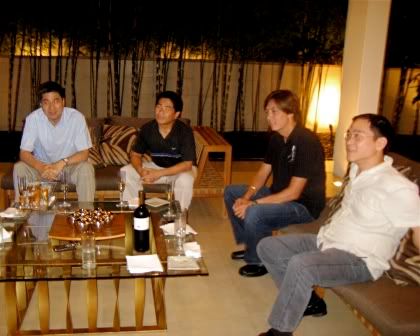 Dinner was prepared by a young lady chef who I had heard of but, until that night, had never had the pleasure of meeting, much less of having enjoyed her work.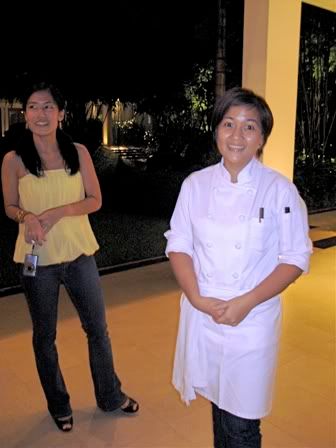 Dorothy and the chef
We started off with an appetizer straight out of the French Laundry: Cornets of Salmon Tartare & Red Onion Crème Fraîche (topped with Salmon Roe). This dish has been around for a while, and I have no idea if it was Keller who thought it up, but the first time I recall trying this was in July 2006 at Les Jardins des Remparts, dinner with my wife on a warm night in Beaune - with a glass of Puligny Montrachet (the vintage and maker of which I, unfortunately, didn't note down).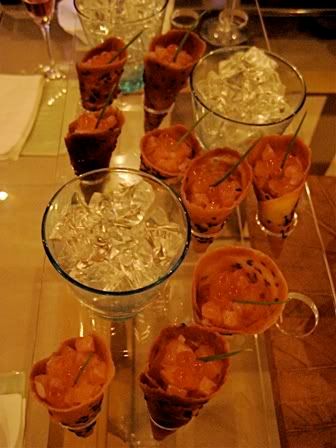 At Don's dinner, we washed this down with a chilled stream of Veuve Clicquot Ponsardin Brut NV. After around an hour of catching up, we were seated for dinner proper. All the wines were from Don; all the pairings made by him.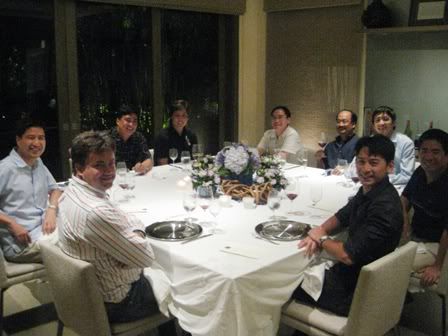 Oysters on a Half Shell in Three Ways: (1) raw with red wine vinegar; (2) lightly poached with pommery mustard cream and gelée; and,…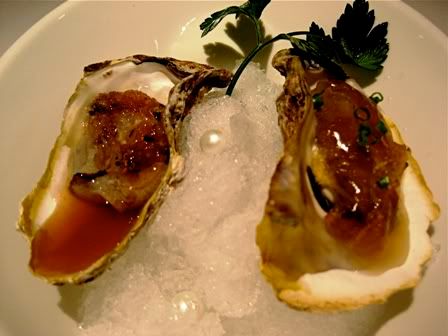 …(3) poached in white wine with saffron sauce and caviar.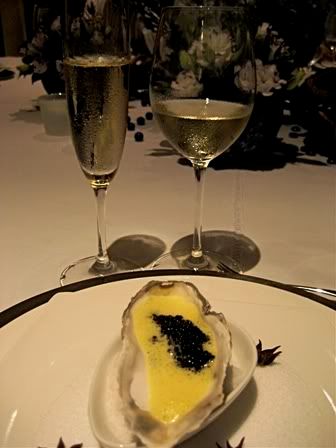 Don precisely paired these with a floral, minerally, somewhat tropically fruited 2006 Henri Bourgeois Pouilly-Fumé which I initially suspected he brought home from a recent trip with Dorothy to the Loire. Don, however, mentioned that they didn't make it to the eastern Loire, so he possibly bought these from the central Touraine area or at Bacchus that carries several good lines of Henri Bourgeois' wines.
I must mention that many people over-generalize vintage weather, especially when it comes to France - tending to equate Bordeaux vintage assessments with the rest of the French wine-producing regions'. This is very innacurate. Even within Bordeaux itself, different appellations, communes and, at times, even different châteaux within a commune experience different and very significant weather-related events (e.g., isolated hail within a commune that may hit some vineyards badly yet totally sparing others).
In any event, though 2006 weather wasn't too kind to chenin blanc-dominated central Loire, the eastern Loire, where sauvignon blanc strongholds Sancerre and Pouilly-Fumé are situated, fared very well. In my experience, the 2006s from these two particular applellations generally strike a notable balance between ripeness of fruit and acidity. Those Pouilly-Fumés of Bourgeois and Raimbault-Pineau (distributed by Terry Selections) I've tried exhibit vigorous floral notes as well.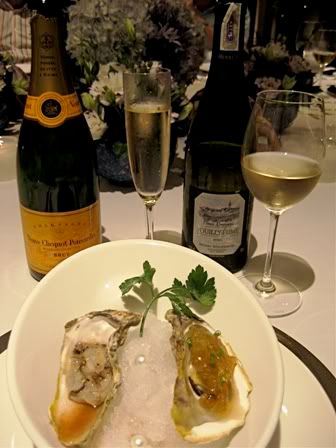 I couldn't help but ask for another glass of the Veuve Clicquot Ponsardin Brut NV to pair with the oysters, alongside the Pouilly-Fumé. While both paired very well in their own ways with all three oyster preparations, I favored the 1st and 3rd preparations with the champagne and the 2nd with the Pouilly-Fumé. I won't go into the specifics of why as this would take too long and would probably be too geeky for most readers anyway.
The next course was Coddled Egg with Truffled Ragout and Chips.
As regards truffles and eggs, this is a combination I associate with Burgundy, a region I absolutely love visiting for the food, wine and warm, welcoming wine producers. Don and Dorothy also spent time there in 2007, wining and dining their hearts away - and the influence of that trip shows - they served this dish with a good Côte de Nuits rouge, a traditional bourguignonne pairing.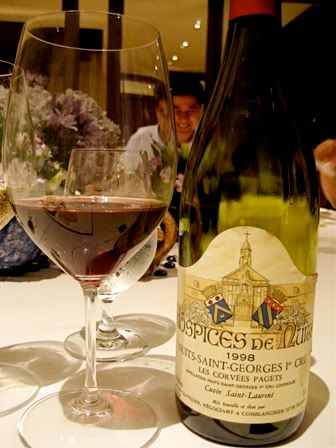 1998 Hospices de Nuits Nuits-St-Georges 1er Cru Les Corvées Pagets "Cuvée St-Laurent" (por Maison Clavelier) - Though I am quite familiar with the town proper, surrounding environs and wines of Nuits St Georges, I have never had a wine from the Hospices de Nuits vineyards. This négociant wine displayed an excellent and typical bouquet of Burgundy decay, redolent of old violets, compost, raw meat (in a good way, one has to experience it to understand and appreciate the same), cedar, over black cherry, some wild strawberry and, underneath, black berries.
I recall Joey gushing over the bouquet, and with good reason. One whiff, it is undeniably Burgundy. In the mouth, the flavors mirror the bouquet (with emphasis on cherry, raw meat and a nuance of iron) on a firm and masculine (typical of Nuits St Georges) slightly-over-medium body. The wine is well balanced and gives a good performance, though tartish cherry notes and a bit of tannin jut out at the end somewhat. I wouldn't age this more as I'd think the tannins and acidity will overpower the fruit within a year or two. This is not a bad thing - one can just drink up and enjoy now without having to wait.
The Hospices de Nuits is, obviously, an entirely different animal from the more famous Hospices de Beaune. The former was founded almost 250 years after the latter, with vineyard holdings of less than 15% in area and holds its annual auction in spring (before Easter), while the Hospices de Beaune auction is held late in autumn (every 3rd Sunday of November). I have no idea how much this costs, it is not locally available - Don brought it back from his Burgundy trip. Still, if this is priced at, say, US$50-US$70, it's a definite buy for immediate gratification purposes.
We continued with this wine with an interesting next course of Lettuce and Arugula Cream with a Chèvre Beignet.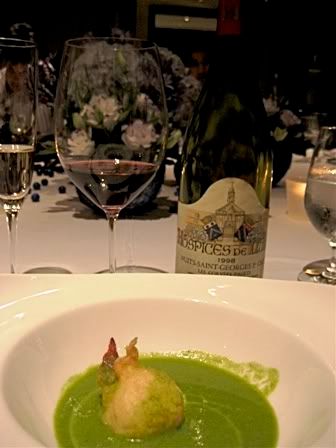 A rich, very creamy but gracefully flavored crowd-pleaser of a Foie Gras Terrine with Compote of Peach and Griottes, Miettes de Pain d'Épices followed, traditionally paired with…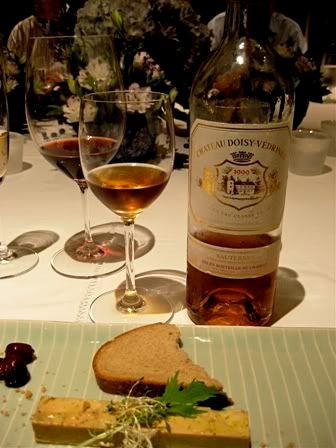 1999 Château Doisy-Védrines - This is from a Barsac producer which has always impressed me with wines relatively richer and hefty compared to other Barsacs (the wines from Barsac are usually lighter, brighter, more delicate and not as opulent as Sauternes). Doisy-Védrines, in a few vintages (including a notably rich 2006 that I tried in June 2007 at the UGC Tasting, Vinexpo Bdx 2007), somewhat calls to mind the style of Barsac's star, Château Climens - a great compliment indeed.
This richly botrytised, honeyed/caramel laden, curvaceous, candied ginger, vanilla-orange marmalade and dried apricot beauty appears quite advanced (note how dark gold/amber it already is) at a relatively young 10 years. Like its previous vintages, it is unctuous (I don't like using that word, but it is the most accurate in this case), generously fleshed and readily pleasing - it may not have the more precise/buttressing acidic balance of a Climens (which leads me to believe it cannot age as gracefully as the latter), I think this is a plus, rather than a minus. After all, we all need something to enjoy right here and now while we wait for the long-agers to mature.
I must mention that the rich foie gras terrine, though nicely already accented by the peach compote and Morello cherries (a.k.a., "griottes"), a bit ironically (to me anyway), became even livelier on the palate with a bit of the pain d'épices. I need not delve into how well the wine paired with the dish. This, surely, most everyone already knows and expects.
The following course, for me, was the most memorable dish and pairing of the evening: Palawan Lobster with Clams à la Marinière, Grilled Shiitake Mushroom Confit and Baby Lima Beans, traditionally and masterfully paired with…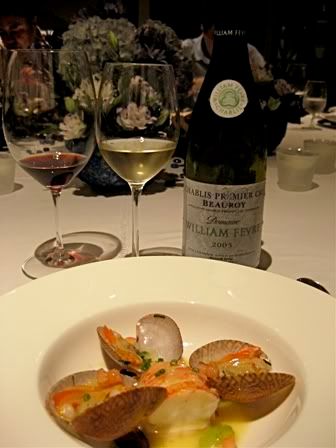 2005 Domaine William Fèvre Chablis 1er Cru Beauroy - A Chablis maker that the Stockbroker seems to favor as he has opened quite a few of their wines with me relatively recently. What I know of this premier cru climat (east of the old town) is that the vineyards are pretty steep, get lots of sun (faces the south) and are situated near a river - though I do not think it is as near a water souce as, say, the grand cru Bougros. There is a good amount of ripeness and a tinge of tropicality to its soft, somewhat baked pear and apple dominant fruit notes. Still and all, it displays the hallmark Chablis minerality, tense nerviness and cold stone/limestone nuances that I love.
The acidity is just a breath on the low side, but the focus is good and balance admirable for such a hot vintage. The oak is noticeable, but well in check (I'd guess the comparatively oak-shy Fèvre used a bit more than usual because the fruit was rich and ripe in 2005), definitely not at all intrusive. Not that I've had many 2005 Chablis, but this is definitely one of the best of them I've had (and surely the 2005 premier cru Chablis that best suited my own palate thus far).
As regards the pairing, it was most memorable because the wine had enough acidity, focus and purity of fruit to brighten and not overwhelm the clams (the minerality giving reassuring seaside whispers to them) while its soft ripeness and discreet vanilla/oak richness stood well with the lobster while its acidity and minerality gave a precise bit of cut to the luxurious shellfish. Superb match - hats off, Don.
B, Santi and I took a quick smoking break and returned to a refreshing Green Apple and Key Lime Sorbet.
Regular readers of my blog know that I do not usually partake of sorbets in between courses since many are made with overly aggressive fruit or herb flavors (usually blackcurrant, calamansi, basil, etc.) that just throw my palate out of whack for a good many minutes (pomelo and grapefruit are the worst offenders). This one, however, was mild, delicate and nicely cleansing. This, I ate most of.
The meat course made its entrance: Trio of US Angus Beef Striploin with a Pinot Noir Reduction, Horseradish-Potato Purée and Glazed Shallots; with Tomate Provençal, Grilled Asparagus and Bèarnaise Sauce; and, with Roasted Garlic, Wilted Spinach and Beurre Persillé.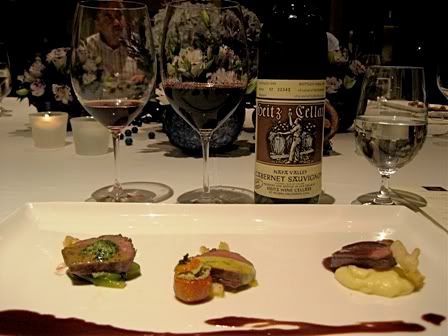 With this trio, the last three of evening's reds were served.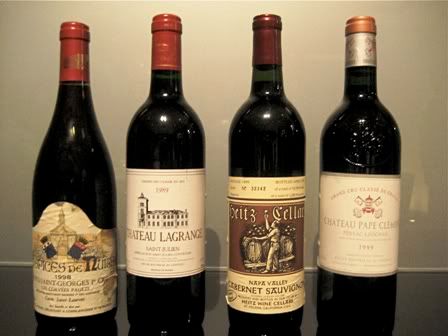 I did not get to taste the 1989 Château Lagrange that night, but I've had it a couple of times before (once with Santi) and am quite familiar with their other vintages, the best vintages I've had being the 1986, 1989 and, definitely, the 1990. Those who want to read my past notes thereon may click on the indicated vintages. Lagrange's 2000 is also impressive and did very well in our Blind Bordeaux Challenge VI.
I had the 1999 Heitz Cellar Napa Valley Cabernet Sauvignon "Martha's Vineyard" with my meat course. I know I've had wine from Heitz at least twice before (once long ago from Napa head Paco Sandejas, if I'm not mistaken) but cannot, for the life of me find any of my notes thereon (maybe I didn't write any). In any event, Don had decanted this 100% cabernet sauvignon for around 2 hours previous to service, and it was surprisingly suave for a 14.2% abv bruiser.
Rich, ripe and dense (though not at all syrupy), it presents a nicely layered, self-possessed profile of ripe dark fruit, dark plum, touch of licorice, dark chocolate, smoky cedar, bit of violets, dark minerals. There is a good dose of oak, that's to be sure, but, somehow, the wine could carry it well. Good power and restraint, this didn't shout out like many higher-end Napa cabs do. A bit of a creamy texture mid-mouth and past; Napa heft and muscle, but not ponderous. Actually, it was nicely streamlined for its size. Confident wine.
Later on, I had a small pour of the 1999 Château Pape-Clément. I recently had a short discussion on a local wine website with the Stockbroker about Bernard Magrez's wines, Pape-Clément in particular. For those unfamiliar, Magrez is a very successful producer in that he consistently gets high scores from Parker, Pape-Clément is certainly not cheap, and yet it sells pretty well, especially in the powerful US market. Magrez-era Pape-Clément is marked by pronounced new oak, a lot of concentration, ripeness and extraction (surely a formula that suits the emperor's palate). This 1999 is no exception. It, to me, is a designer wine.
It's not that I shun this style, though - Pape-Clément was actually on my list of recommended 2004 Pessac-Léognans. My most memorable Pape-Clément was the 1985. Though Bernard Magrez already started managing the estate that year, I do not believe he had implemented his decidedly modern style that early. The 1985, which I opened at the farewell dinner of good friend, Hervé Pourcines, showed no sign of it anyway.
As if the foregoing were not enough, two desserts were left in store for us; the first being a light and refreshing Strawberry Soup: "fresh strawberries, mint leaves and lemon zest in strawberry cordiale".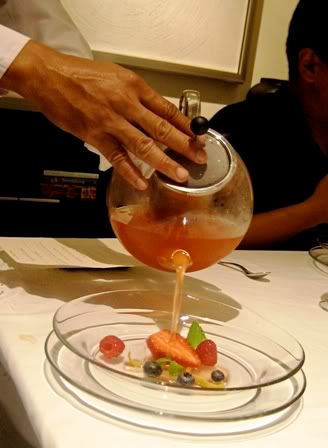 Dessert of strawberry "soup" is very popular in France and seems to be everywhere during the early to mid summer season. Well, rhubarb based desserts too in Burgundy, but I never could quite get into those. I've had this dessert a few times in Manila, but never served with such panache.
The dessert that followed was Crème Cuite and Burned Mérengue with Pistachio Brittle and Espresso Granita.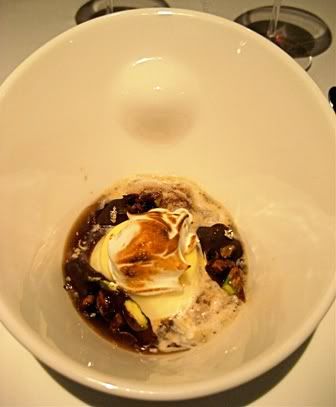 Those who eat with me somewhat regularly know I almost never finish any of my courses; I prefer to have many courses but just get a good taste of everything. This time, however, I cleared my plates/bowls of every single course, except the foie gras (due to hypertension issues). Desserts were no exception. I would have tipped the bowl to my lips or asked for a straw to get every drop of the espresso granita had it been at all politely possible.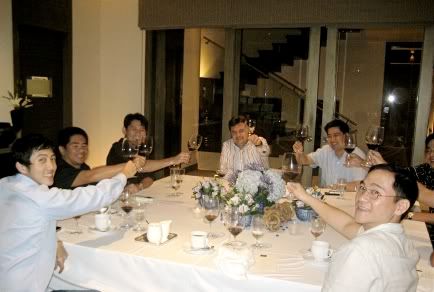 It was wonderful to be with all the guys again, moreso over such good food and wine.