Berserkers,
The Toronto Wine Elitist Cabal ™, whose origins stem from my decision to dub us with a suitably wine snobbish group appellation at an impromptu wine dinner get-together years ago, celebrated its wooden anniversary last night. The original core founders of Michael Grammer, Jay Shampur, Michael Wright and myself convened together as Mike G. arranged for a special get-together to commemorate the anniversary. To keep things interesting, he told us that he would be bringing all wines and that we were only to bring an aperitif and a digestif wine if we so desired but he would not be informing us of what wines he was bringing to celebrate nor what the tasting menu would be composed of. Everything was a surprise for the celebration. One of those surprises is that Mike ended up bringing the dessert wine himself as well after I volunteered to do so.
The location chosen was Montecito in downtown Toronto, which is managed by our friend and Honorary Female Member Heather MacDougall who is also a professionally certified sommelier (and ex-accountant, but don't hold that against her). Executive chef Matt Smith came up with a spectacular 5 course dinner to go along with our special celebration wines:
13TH STREET 2007 GRAND CUVEE BLANC DE NOIRS – This Niagara sparkler was my contribution. Made with an extremely low dosage of just 2 g/L and it shows. This stuff is bone dry without any perceptible sweetness. You'd think there'd be no richness with so little sugar to it but in fact this is quite rich and stuffed with ripe pear fruit flavor to go along with the lees. A slight bit of oxidation has set in giving it some Sherry-like rancio as well. Very nice sparkler and certainly comparable to the 1975 Sensation Champagne we had at Edulis recently. Please note that pic is only of the bottle itself. That is sparkling water in the glass next to it.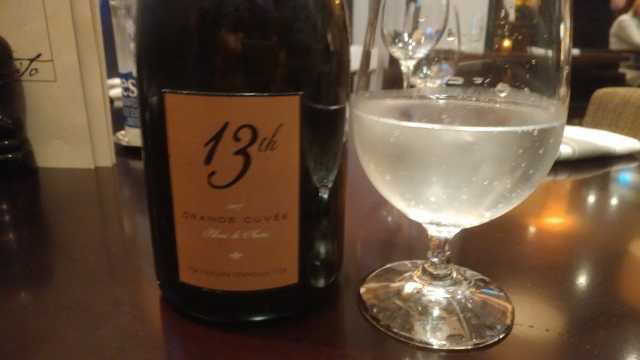 VARNIER FANNIERE NV GRAND CRU ROSE ZERO – Jay ordered this for the table off of the menu. This is my first time ever having a zero dosage Champagne and if I have anything to say about it, it's the only and last time as well. Now don't get me wrong, this is an insanely high quality wine. 90% Chardonnay and 10% Pinot Noir, this was extremely complex 100% completely austerely and severely bone dry… and that wasn't necessarily a good thing. Tons of minerality, high acidity, a pristine mousse and body, and even a touch of tannins… and virtually no fruit to be detected. Resulting, this made the wine extremely hard to enjoy on its own. I actually gave a harsh opinion of it at the table but then walked it back once I had it with food. That's when it hit me. This is definitely a food wine. I mean, literally a food wine. I mean, as it's absolutely unenjoyable on its own without food. And that's a problem for me because I like drinking Champagne and sparkling wine on their own with food. I respect the craftsmanship but this definitely needs food as it's very hard to enjoy on its own without it. I've no doubt true Champagne lovers will enjoy this.


CHATEAU RIEUSSEC 2001 SAUTERNES – This was served to us in a decanter and looked like brown sugar dissolved in water. The only reason it looks much brighter in color is due to the HDR setting on my phone camera and the low lighting above the table. Sorry the pic isn't much better. The nose is all coconut cream pie with a touch of oak. On the palate, flavors of cream, marmalade and roasted pineapple seamlessly blend together with sweetness and a touch of bright acidity and oaky vanilla. Pretty much perfect and an astonishingly good match with all the savory dishes we had.