Berserkers,
The Toronto Wine Elitist Cabal ™ returned to one of our favorite Toronto restos, Core Restaurant. They specialize in tasting menus which is always a fun and delicious time with all the different wines that we bring. General manager Alexandria Anthony and Raul handled the floor beautifully and attentively while master chef and owner Hyun Jung Kim and his sous-chef worked his usual culinary magic. We of course opted for the full 5 course tasting menu to go along with our vinous beverages:
DOMAINE HUET 2012 VOUVRAY PETILLANT – This was fresh, crisp and leesy. The sweet Meyer lemon fruit and phenolic bitterness typical of Huet's Chenin Blanc were secondary but were not overwhelmed by the primary flavors. This was delicious and we all really enjoyed this. For Champagne lovers, it really comes down to the classic green apple/unripe pineapple flavors typical of Champagne vs the Meyer lemon flavor of Vouvray. I love the change of pace and IMHO it's as good as any high quality NV Champagne for an equivalent price.

EMILIO ROJO 2016 RIBIERO BLANCO – Mike Grammer brought this unique and rare Spanish white from the Ribiero region is the ONLY wine Emilio Rojo makes. You've got to be pretty damn confident to put your name, reputation and livelihood on a single wine and it delivers in spades. A complex white made from 65% Treixadura and then small amounts of Loureira, Albariño, Lado, Torrontés and Godello all of which exert some influence on the wine. The florals of the Torrontés are immediately on the nose but it's also reminiscent of Chardonnay with lees and green apple on the nose. The salinity of the Albariño is evident immediately on the palate. Lots of dragonfruit and white grapefruit flavors, the latter of which Alex pointed out to us. The palate is nothing like the nose which Michael Wright pointed out. As soon as it is paired up with food, the texture and flavors becomes quite creamy. It was actually a really good pairing with the house made rustic bread and butter.

RAUL PEREZ 2011 ULTREIA LA GODINA – This 100% native Godello has undergone quite the transformation since last time TWEC member Jay Shampur brought it for us. It's deep burnished gold in color, with flavors of rancio, cream, and honeydew melon. Almost reaches over into Sherry territory before pulling back. Remarkably, it's as complex as the Emilio Rojo above despite only containing one varietal. As you might imagine, fantastic with food as well as the creaminess comes out.

STEPHANE AVIRON 2014 COTE DE BROUILLY VIEILLES VIGNES CRU BEAUJOLAIS – Dark purple in the glass, this Beajolais was all strawberry on the nose and palate with a slight touch of tannin. I really enjoyed this, but alas, Beaujolais is a bastard child that lives in the shadow of Burgundy and doesn't get the respect it deserves, sadly even from the TWEC ™. The others seemed rather non-plussed over the wine while I rather enjoyed it. When it was paired with our ribeye main, the fruit disappeared in a wave of umami and tannin flavor only for it to roar back the second I had a sip without food.

MULLER-CATTOIR 2008 RIESLANER AUSLESE HERZOG – A special treat from Mike, this sweet wine is vinifed from Rieslaner which is exactly what it sounds like, a cross breed of Riesling and Sylvaner. Definite botrytis influence on this sweetie which has a sweet lemon drop and roasted pineapple flavor with high acidity in a very full body. This is very much a meditation wine and was much better on its own than matched with anything.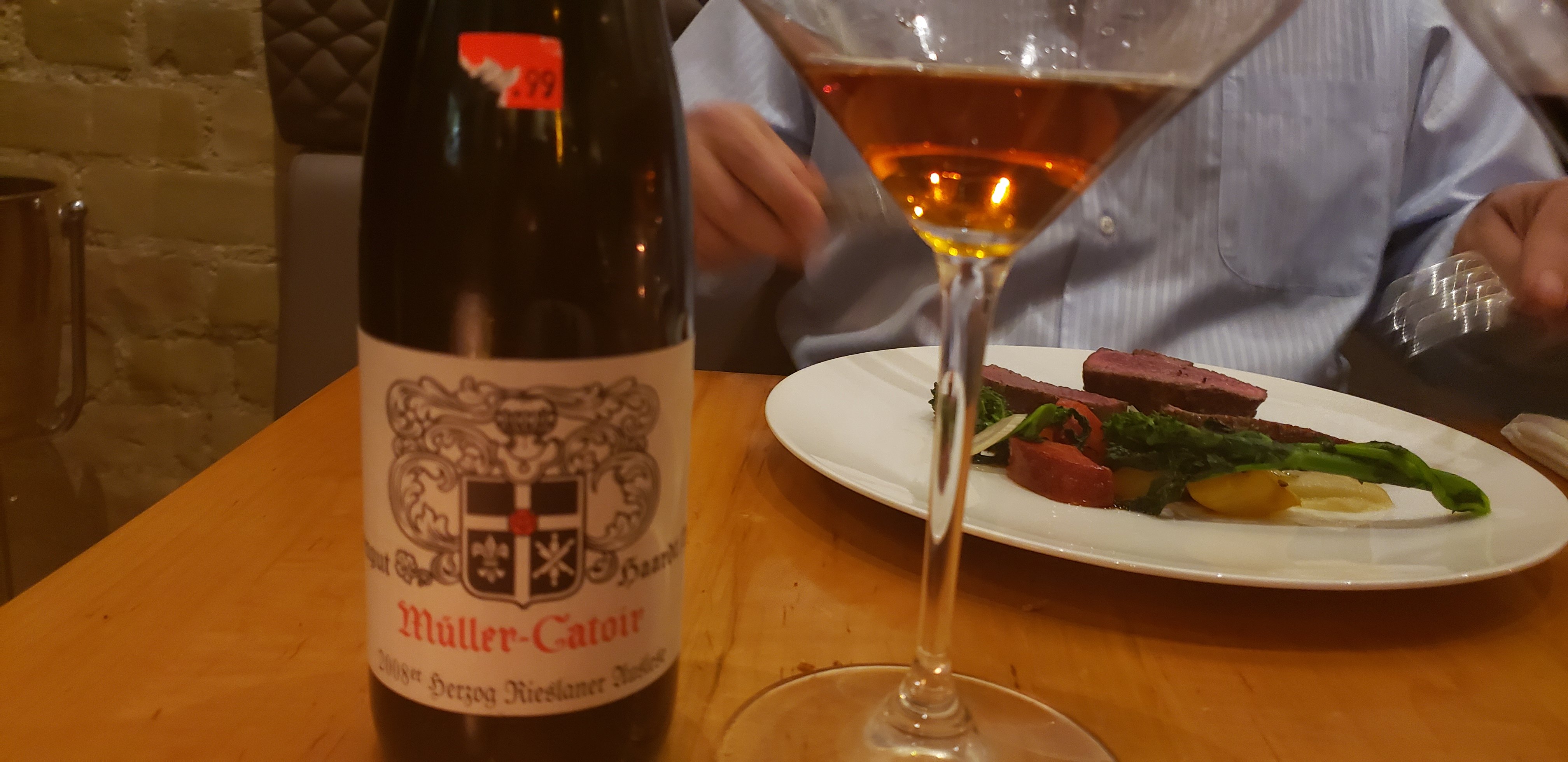 MAS AMIEL PRESTIGE 15 ANS D'AGE – A rare Tawny style French fortified wine from the Languedoc-Rousillon region. Equivalent to a 20 YO Vintage Port, this has a ruby-pink color, a light body at just 16% ABV, and a butterscotch candy nose. On the palate, lots of rancio, nut skins, and sour plum flavors with a nice touch of high acidity on the finish. The major characteristic that stands out of the wine is the light body which is a stark contrast to the rich tawny flavor. On the one hand, you could view this as an advantage in that you can imbibe much more of this than a classic 20% ABV Tawny Port. On the other, the lack of body is noticeable and will be quite a shock to traditional Tawny Port lovers. It's definitely delicious and Mike Grammer noted his surprise that it worked extremely well without our lemon tart dessert. I agree though I must say it was screaming out for chocolate.

We began our meal with the house made rustic bread and butter.

Our first course was an Albacore Tuna Crudo dressed with celergy, pickled radish, buttermilk dressing and fresh orange slices. Mike noted that he felt the orange dishes surprisingly pulled the entire dish together.

Our second dish was a seafood plate of roasted scallops and charred octopus tentacles dressed with chorizo, pumpkin and butternut squash pureé, and mustard seeds on a bed of lentils.

Our third dish was the Pork Duo, roasted pork loin and crispy pork belly dressed with onion sous bise on a bed of lima beans.

The fourth course was a 30 day dry aged ribeye steak in a red wine jus with roasted rapini and vegetables.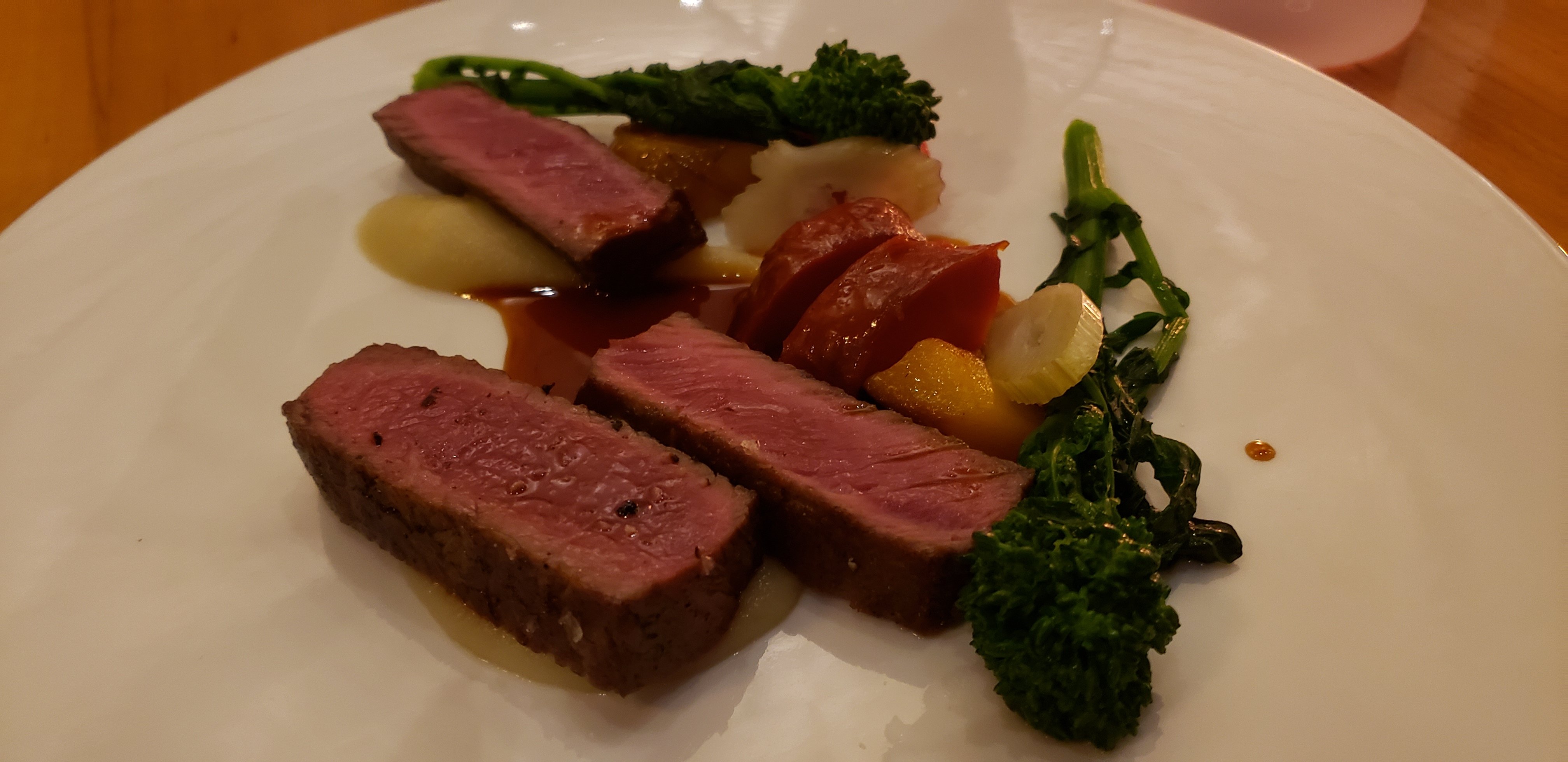 Our final course and dessert was a lemon tart with vanilla ice cream, sesame chips, caramelized orange peel, and white chocolate cake crumble.

TWEC ™ would like to thank Alex and RAUL for the great service and Chef Hyun Jung Kim for the amazing meal. We look forward to returning.