Berserkers,
Aside from building up my Vermouth collection during my holiday in Montreal last week, I also finalized some acquisitions for another component of my collection: the Mistelles. I tasted a trio at a store and then made some purchases to round out this part of my collection. Another term you may have heard for this type of wine is Vin de Liqueur or Liqueur Wine. Or you may have heard more specific individual terms such as Angelica, Pineau des Charentes, Ratafia, Macvin and Pommeau. They're all the same thing.
Related to Vins Doux Naturels and Port wine, mistelles are wines made in the moutage method. Neutral spirit is added to fresh or just slightly fermented must and then barreled and aged. The fortification is usually anywhere from 15% up to 20% ABV. It's very similar to a Vin Doux Naturel (Natural Sweet Wine) with the exception that a Mistelle can actually be made with zero fermentation at all, meaning you would literally just be adding spirit to fresh grape must as your base.
There is currently just one mistelle available at the LCBO here in Ontario which necessitated my purchases in Montreal. This is a very underrated style of sweet wine and like Port and Sherry have lost an incredible amount of ground with younger wine drinkers who likely have never even heard of let alone tasted the stuff. I find they make a good change of pace from Ports due to their fruit-forwardness as you will notice that they are virtually all based upon white grapes (with one exception below). I have a couple of tasting notes for everyone on a few of these and like my Vermouth thread, I will be updating this thread as I go along opening bottles. Let me discuss my actual collection first.


There are only 3 countries that I have so far been able to find mistelles produced from: Canada, the USA and particularly France. To the left, you see both the Andrew Quady Essencia and Elysium wines. I actually emailed Andrew Quady way back in 2010 when I first found these and to my surprise he responded while in flight back to California from an overseas trip to explain these to me. These are made from Orange and Black Muscat grown in California. He informed me that they do undergo a very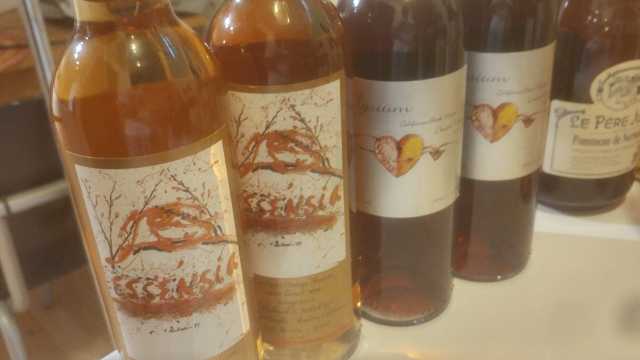 brief fermentation to get started before being fortified so they really straddle between Mistelle and Vin Doux Naturel.
We then move on France for the majority of my collection. You will see two Ratafias from J. Dumangin and Vilmart. Ratafia is a mistelle made from Champagne grapes and fortified with Marc de Champagne. The Dumangin is made with Chardonnay, Pinot Meunier and Pinot Noir. The base is then split into 4 different groups and aged differently before being blended: traditional barrel for 6 years, a Solera barrel system for 5 years, in Vin Santo barrels for 7 years, and in neutral vats for 3 years. The Vilmart is 100% Pinot Noir based.


To the middle left you see the one non-grape based mistelle in my collection, the Le Pere Jules Pommeau de Normandie. This is of course from the home of Calvados and is made of fresh apple must and Calvados which is then aged and blended for 5 years. Finally you see four different white Pineaus: the Lehraud Vieux which is aged 15 years; the Chateau de Beaulon Or 10 Ans which is aged for 10; the Chateau de Montifaud 7 ans; and the Jules Gautret Vieux. I am not entirely sure of the age of this last one.
You'll notice that there isn't a red Mistelle in the group. The only one I could find was the Chateau de Beaulon Ruby 10 Ans and after tasting it at the SAQ I declined to purchase it. I will explain why in my tasting note below. I will be updating this thread occasionally as I go along tasting these.
CHATEAU DE BEAULON RUBY 10 ANS

OVERALL: Bordeaux blend Pineau that is virtually indistinguishable from 10 year old Tawny Port
I did buy a bottle of this many years ago and shared it with Jay and Michael Wright at a dinner and recalled not being too impressed. I tasted it again to see if anything were different now that my palate has changed. My impression pretty much remains the same. This is a blend of 60% Cab Sauv, 20% Cab Franc and 20% Merlot and Cognac spirit which is then aged for 10 years in Limousin oak barrels. Deep crimson red in the glass with a bit of translucence. Black plum and cherries on the nose as well as some distinctive Cognac heat. In the mouth, strong flavors of sweet black plums and black cherries with caramel toffee rancio flavors. I then remembered as I tasted why I wasn't impressed with this. It tastes exactly like a 10 year old Tawny Port… and 10 year old Tawny is my absolute least favorite form of Tawny Port. It's not fresh and fruity like a Ruby is and not as complex and rich as a 20 or 30 year old Tawny is. This Pineau suffers from the exact same issues. It's extremely high quality, though, so if you do enjoy 10 year Tawny Port this makes for a nice comparison you should try.
JULES GAUTRET VIEUX PINEAU

OVERALL: Fresh tropical fruit flavors, slick gylcerin mouthfeel, a touch of rancio and an oddly strong Syrah like black pepper note make for a complex Pineau.
This Pineau comes in a nice decanter bottle which is great for presentation and awful for storing. This uses Cognac grapes for the must. Thick golden orange in color with a brownish hint. Heady nose of dried apricot and a large amount of Cognac heat. In the mouth, a very slick glycerin like texture gives this an interesting and appealing mouthfeel. Flavors of dried apricots, dried peaches and dried pineapple which is both odd and intriguing when you consider this is made with fresh grape must. There is a very pleasant rancio undertone of toffee caramel flavors. The most striking note, however, is a huge hit of black pepper spice flavor that I have previously only found in Syrah. It was so strong, in fact, that at times it actually felt like it was burning my tongue. It's like you literally took a pepper grinder to the glass. This was very intriguing but could potentially be off-putting if you're not expecting that flavor from your fortified wine. Nicely complex Pineau I think would go great with a cheesecake. Strong second to the Beaulon 10 Ans.
CHATEAU DE BEAULON OR 10 ANS

OVERALL: The use of Sauternes grapes instead of Cognac grapes makes this a smooth and well-balanced winner of a Pineau.
This Pineau forgoes the standard of using Cognac grapes in the fresh must and is made instead with 80% Semillion and 20% Sauvignon Blanc – the same blend you would expect to find in a Sauternes. This proves to be an excellent choice. Thick orange-gold in color. Very pleasant nose of apricots and pineapple. In the mouth, rich flavors of tropical fruits and vanilla creme brulée mix with strong toffee caramel rancio and a touch of lemony acidity. Unlike the Jules Gautret above, I detected no distinct black pepper spice. Resultingly, this was a lot smoother on the palate. The tropical fruit flavor and vanilla is far more complementary with the rancio. Frankly it's almost like a fortified Sauternes and I'm sure that's no accident. Unlike the Ruby version, this doesn't taste like a copy of a 10 year old white Port which I find very creamy and not as fruity as this. This is an absolute winner. Arguably not as complex as the Jules Gautret but far superior in pretty much every other aspect. I'm sure the extra aging helps smooth it out as well. Interestingly, Chateau de Beaulon also makes 5 year old and non-aged versions of both of their Pineaus.
REYNAC PINEAU DES CHARENTES

Pleasant but a lack of aging means it comes up short next to its brethren. Good alternative to white Port though if you prefer tropical stone fruit to white melon flavors
This is the only Pineau I have ever found available here in Ontario so when it came in recently I bought two bottles immediately without having any idea what they were like. I then tasted it at the SAQ and immediately returned them. I want to make clear it's not because it wasn't a good product – it is – but simply because I was spoiled by the other Pineaus and felt that this was too basic compared to them. Honestly, it's no different than how I feel comparing Ruby Port to Vintage Port. One is clearly superior so that's what I spend my money on.
Bright golden orange in the glass. On the nose, cognac heat mixes with sweet grapey aromas. On the palate, fresh sweet grapey flavors mix with a mild heat. This is very pleasant and fruity with a nice texture… but it's also one-dimensional compared to a Pineau with age as there is no extra rancio or spice flavors to give it complexity. Like I said, I've been spoiled. This would probably go well with a fruit dessert.