2017 Myriad Cellars Cabernet Sauvignon Napa Valley - USA, California, Napa Valley (8/9/2019)
Haven't seen any notes on this wine yet so hopefully this will be helpful. Picked up my wine yesterday and decided to Pobega a couple that haven't been covered in the forums.
Pop, pour, 3+hrs in glass.
Pours dark crimson red. Nose loaded with tobacco, cedar and cassis. Texture is dense and viscous with ample dark fruit and chocolate covered coffeee beans followed by a wall of sweet tannins. Very chewy. Prototypical Myriad Napa Valley.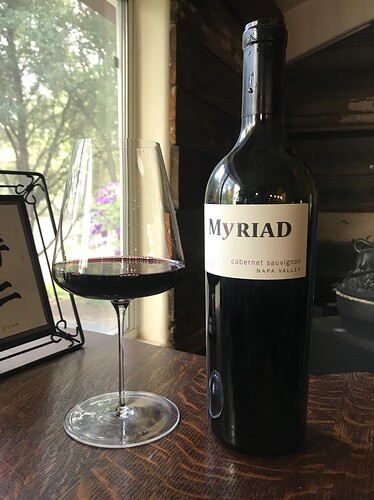 2017 Myriad Cellars Cabernet Sauvignon Round Pond Vineyard - USA, California, Napa Valley, Rutherford (8/9/2019)
Following up the Napa Valley with this Round Pond. 3+hrs in the glass after pop'n'pour. This one pours redder than the Napa with a purple tinge to the rim. Earthy Rutherford nose of cigar box and damp soil after the first rain. Lighter texture as well with a more traditional Napa Valley fruit profile of dried black cherry and red currant pushing up against powerful enamel stripping chalky tannins. Wonderful balance, silky and structured, tannic finish lingers for minutes.
Posted from CellarTracker