Berserkers,
This is what I love about wine – after 6 years of being at this, there are still varietals and wines that I haven't tried before just waiting to be discovered. Fellow board member brought one such gem recently to a games night and I'm still over the moon on this. I was even more floored to discover what a great QPR it is. This is the first time I've ever had a Montepulciano d'Abruzzo wine and had never heard of the wine or the Montepulciano grape before this. It was a great discovery.
ZACCAGNINI 2013 OLTRE PASSO MONTEPULCIANO D'ABRUZZO

SUMMARY: High-quality fruit-forward affordable Italian red wine that's like a ready to drink Barolo and Brunello love child. Amazing QPR.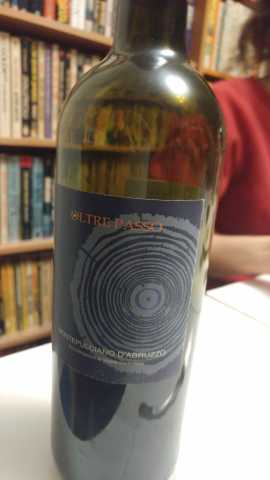 Deep inky red in the glass, reminds me of Chianti or Brunello on appearance alone. However, on the nose I get light raspberry jam and cranberry juice aromas which make me think of Barolo right away but then some turpentine aromas to remind of Brunello. On the palate, a medium body with very low tannins carry strong fruit flavors of sour cherries and sour raspberries which then gave way to denser plum and black cherry. Slight touch of cranberry jelly in there as well. Acidity is not very high, but there is no heavy oakiness or tannins so it really doesn't need it. This was really nice and 5 of us completely polished off the bottle. It went great with Mike's Molé Chicken and a Thai Turkey Stir-Fry I made for dinner served along with some healthy brown rice. Really nice and definitely a wine I'm going to be exploring a bit more this year.
Edit – Oh I forgot about the QPR. This goodness goes for a mere $19.95 CDN a bottle which floored me. I was expecting it to be $39.95 based on what I was tasting. Nice.