WINE TASTING CAGE - MASSETO GETS SMACKED DOWN BY A BUNCH OF CALI CABS! - Pamplemousse Grille, Del Mar, CA (6/16/2010)
Eight of us converged at the Pamplemousse Grille last night to see who could come up with WOTN and get bragging rights until, well, I guess the next time we do this. We were going to follow the format from a group in L.A. where the person that brings the last place wine pays for everyone's dinner, but we're not that mean, so instead it was that winner would have their dinner paid for by whoever's wine came in last.
So for weeks people agonized over which wine to bring that would eclipse the others. Would a wine with age show poorly against a bunch of "young and restless" bottlings? Would a nuanced wine from the old world get lost among a bunch of California fruitbombs? Personally, I changed my decision three times, setting on the '90 Conseillante, since it had interesting old world characteristics while still being reasonably young and from a fruit-forward vintage.
Ground Rules: Wines were decanted according to the directions of the person that brought it, and the glasses were pre-poured before we were seated, so all nine (there was a ringer thrown in) were lined up before us. Each person ranked all 9 wines and the one with the highest points was the loser (with lowest points obviously making the winner).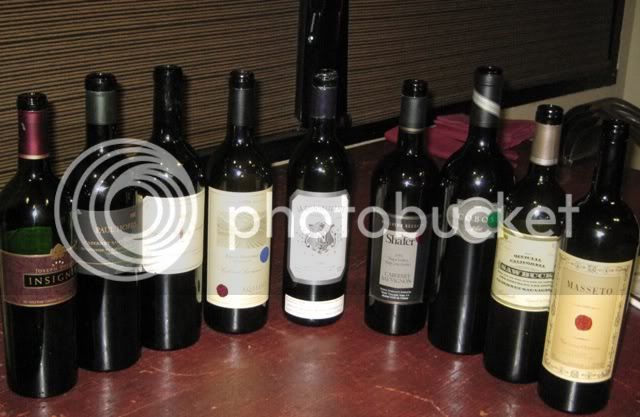 Posted from CellarTracker