Our church and school hosted a fundraiser over the weekend, one event being a zoom wine tasting of volcanic Italian wines. My wife and I were of course happy to support. We really liked two of the wines, but struggled with the third- which was very polarizing in the zoom tasting group overall. Big thanks to Dcanter wine boutique for putting the tasting together and walking is through the wines.
2015 Roccolo Grassi Soave La Broia - Italy, Veneto, Soave (1/25/2021)
Very pleasant wine. This is a straw yellow color, on the nose a nice mix of pear, red apples, orange citrus, grilled pineapple, and a touch of smoke. On the palate, some crushed rocks, beeswax, saltiness, pear, lemon, and candied pineapple. There is a nice salinity and mineralogy to the mouthfeel that reminds one of a Vouvray (someone at our tasting mentioned Albariño which I guess I could see as well). There is a real refreshing acidity to balance the wine and drive it to a strong finish.
Very pleasant wine and an excellent QPR at $18-20. Another couple years may bring out some more complexity, but it's drinking super well now. (91 pts.)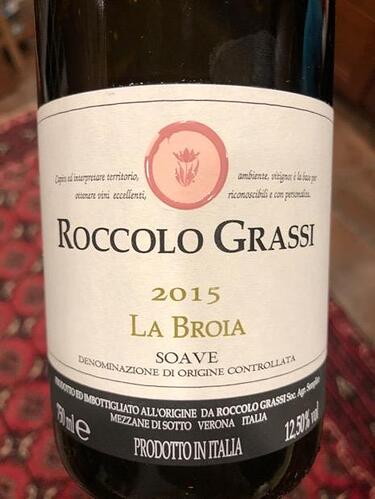 2018 Tenuta delle Terre Nere Etna Rosso - Italy, Sicily, Etna DOC (1/25/2021)
Really pleasant wine. Light / medium red color and quite translucent. On the nose is some black cherry, raspberry, some cranberry, and a touch of sandalwood. On the palate, notes of cherry, raspberry, pomegranate, a touch of dark fruits. Three is a nice touch of sweet smokiness as well, like pork ribs off the grill (though the wine is not sweet) that helps bring a bit of extra depth to the wine. The wine has a nice tension with good acidity and a real juiciness to the wine making for very easy drinking. The overall excellent balance makes this a great drinking wine even if it is not terribly complex. Paired well with food, and though I doubt this is a long ager (had a bit left over for night 2 that wasn't quite as good), it drinks super well right now. This is an overall excellent QPR at $17-20 and the kind of wine you can purchase by the case. (90 pts.)
2017 Cantine Matrone Lacryma Christi del Vesuvio Rosso - Italy, Campania, Lacryma Christi del Vesuvio (1/25/2021)
I really wanted to like this wine but just couldn't unfortunately. Nose is very Smokey - more like a campfire vs ashtray, but the smokiness is dense and crowds out the fruit (though there is some plum, cassis, and black cherry).
Palate is a bit odd. There is touch of carbonation when you sip - I noticed there were a few bubbles when the wine sat in the glass, but didn't think much of it. Unfortunately the carbonation lends a bitterness at the start, while it goes away at mid palate it's not pleasant. Smoke is the dominant flavor here, it's strong, and there is a strong flavor of tar, rust, and some black cherry and black currant. The wine is very tannic, I got hit with a wall of tannins when I drank it and they overwhelm the mouthfeel. Acidity is medium.
We drank it the first time without decanting, which was a mistake. After letting it sit for a night, the acidity was a bit more pronounced which improved balance. A second day and some decanting improved the balance further, but the wine was still too smokey, tannic, and the carbonation was still present.
I could see this being a nice bottle in 10+ years when the tannin and smoke integrate, but I'm not convinced, and it's not working for me now. (81 pts.)
Posted from CellarTracker[/i