Berserkers,
The Toronto Wine Elitist Cabal ™ had its second In Honor of Hizzoner dinner in Toronto at Tanto, a new Argentinian restaurant on the scene that has earned raves in its short existence. Jay Shampur, the honorable Judge Bernard Schwartz and yours truly headed out for a great meal and a trio of nice wines:
HIDDEN BENCH 2012 TETE DU CUVEE CHARDONNAY – A small hit of flint on the nose, but huge hit on the palate. Very smooth texture. A bit light on the apple fruit but very high acidity, rivaling that of a fresh young Burgundy. Easily matches a quality 1er Cru white Burgundy.
VINELAND ESTATES 2009 SOPRANO RIESLING – The Schmidt brothers hail originally from Germany and in fact brought their Riesling vines over
directly from Germany. 2009 was the only year they made German Spatlese style wines from their Ontario Riesling. This wine is showing
signs of maderization and ripeness as it is a slightly darker burnished gold and there is burnt sugar on the nose. Lemon gumdrop flavors
give way to a refreshingly high acidity on the finish that saves the wine.
BEVAN CELLARS 2016 PETALUMA GAP SONOMA COAST PINOT NOIR – While I have been enjoying much lighter Burgundy and New Zealand Pinot Noir lately, Cali Pinot always wins me over for its incredible texture and this is yet another winner. This rich and exceptionally smooth Pinot is dark purple in color, medium-full bodied, and slides like glycerin down the palate with flavors of ripe Bing cherries and blackberries accented by some pencil lead and slight herbaciousness. It is a very good but very big Pinot, though, so Burghounds have been warned. This is also likely to age and stand the test of time very well. Added to my list of personal faves along with Kutch, Siduri and Littorai.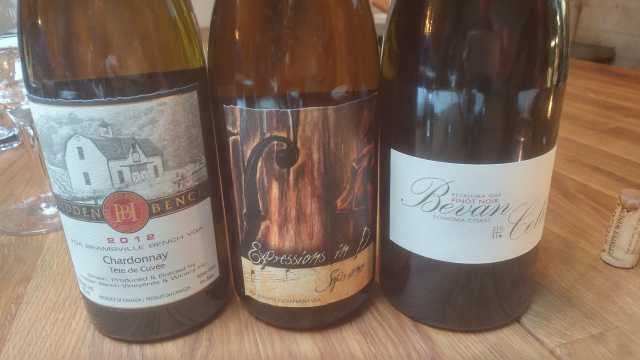 Tanto is a very new restaurant focused on Argentinian cuisine co-owned and headed by Chef Julian Ilioplus. He has earned raves for the high quality approach to this rarely seen in Toronto cuisine. We had the pleasure of sitting at the chef's table and seeing the entire open kitchen at work.


We began with some potato churros. As Hizzoner Judge Bernie described it, "they're like eating a pillow." A very tasty potatoey pillow. Extremely light and airy with a nice crunchy texture on the outside. This was followed by some smoked ricotta empanadas that were just fantastic.