So, me and a pal of mine shared these three bottles earlier this year.
Suavia has been one of my favorite producers in Soave. Terrific Soave Classico wines with great sense of purity and volcanic minerality. Their entry-level Soave Classico is a bargain and they make two remarkable single-vineyard single-varietal wines: Monte Carbonare (100% Garganega) and Massifitti (100% Trebbiano di Soave) from very volcanic soils. I've always loved Massifitti more, since it seems to be more about minerality, freshness and structure, while Monte Carbonare is more about fruit, weight and concentration (note that this doesn't mean that the wine is a big bruiser, because it certainly ain't). In cooler vintages Monte Carbonare can be very lovely as well, but this 2018 seemed to be from the very ripe and fruity end of the spectrum, plus the overall feel was so primary that the wine felt a bit too young for its own good. A good and very enjoyable wine with a lot of upside to it, but unfortunately not the best Suavia wine I've had.
I had no idea about the Quarticello wine other than the producer made rather non-interventionist wines in Emilia-Romagna from biodynamically farmed vineyards and the wine was 100% Malbo Gentile - a local, quite tannic cultivar normally used as a minor blending component in fizzy Lambrusco wines to bring color and tannins. Definitely a wine for wine geeks who are interested in obscure varieties rarely made into varietal wines.
My friend poured the Domaine de l'Horizon Blanc blind. I was immediately in France with the wine, but my mind wandered instantly to Burgundy and Chardonnay. Outstanding Burgundian character here. I was guessing different Burgundy appellations until my friend said that while France is correct, this is not Chardonnay at all. I was pretty much floored to learn that the wine came from Roussillon - a region known mainly for their sweet, fortified wines. You really wouldn't think that they made wines like these there!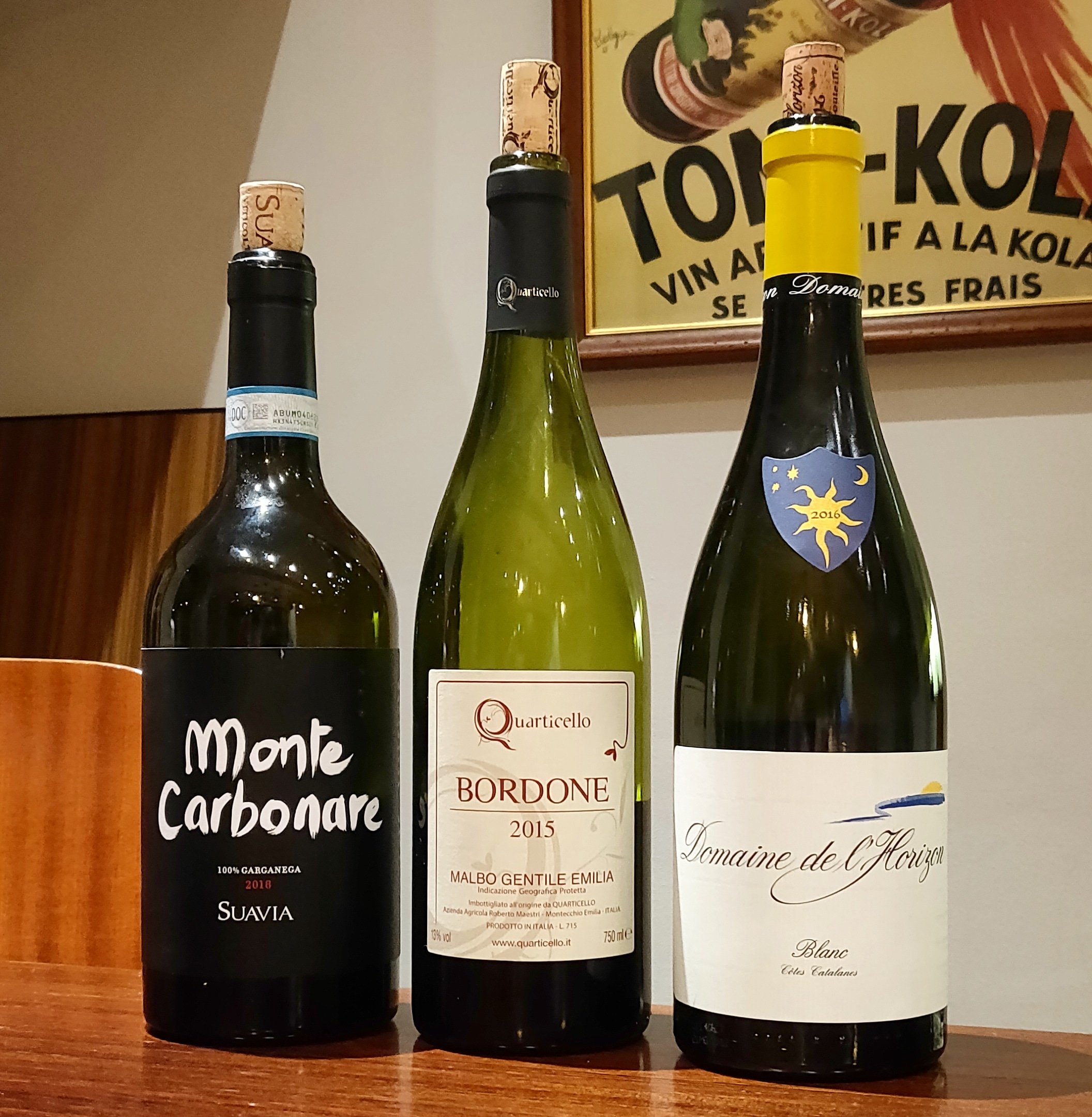 2018 Suavia Soave Classico Monte Carbonare - Italy, Veneto, Soave Classico (6.2.2021)
100% Garganega from a vineyard planted on the volcanic soils of Monte Carbonare, located in the heart of the Soave Classico appellation. Aged for 15 months sur lie in stainless steel. 12,5% alcohol.
Youthful, rather pale yellow color with bright greenish highlights. Quite big, fragrant and rather tropical nose with aromas of apricots, mango, some apple jam, light candied notes of gummi bear, a little bit of grassy greenness and a hint of stony minerality. The wine is youthful - almost primary - and very juicy on the palate with a medium-to-moderately full body. Crisp flavors of ripe white peach and crunchy gooseberries, some green banana tones, a little bit of grassy herbal character, light fruity notes of golden apple and cantaloupe, a candied hint of gummi candies and a touch of something slightly gaseous or smoky that might be either SO2 or some volcanic character. The fresh, moderately high acidity keeps the wine nicely in balance. There seemed to be a touch of CO2 as well, but it blew off very quickly. The finish is fresh, lively and rather tropical with lengthy flavors of sweet-toned peachy fruit and apricots, some mango, light grassy tones, a little bit of unripe banana and a hint of stony minerality.
A lovely, fresh and nuanced single-vineyard Soave. Although a high-quality wine in itself, this still doesn't manage to reach the heights of Suavia's other varietal single-vineyard wine, the Massifitti made from Trebbiano di Soave. This Monte Carbonare gets close, but I still prefer the brighter, leaner and more mineral expression of Massifitti to Monte Carbonare's bigger, more tropical and slightly voluptuous style. It feels as though Monte Carbonare is made to impress, while Massifitti is the one with class and finesse. Nevertheless, this is a very enjoyable and well-made wine. Most likely it is just all too youthful at the moment and will tone a bit as it ages and drops its baby fat. I'd let the wine wait for at least another 3-4 years. (89 pts.)
Translucent, very dark dried blood color. Big, somewhat evolved and subtly raisiny nose with vibrant, fruit-driven aromas of blackberries, juicy plums and black cherries, some pruney tones, a little bit of something meaty and a lifted hint of volatile sweetness. The wine is dry, medium-bodied and quite complex on the palate with flavors of juicy black cherries and succulent plums, some raisiny tones, a little bit of elderberry, light lifted notes of sweet, ethery VA and dried-fruit hints of prunes and dates. Good, moderately high acidity and firm medium tannins that slowly pile up on the gums. Silky mouthfeel. Fresh, firm and slightly sweet-toned finish is a rather long aftertaste of juicy prunes and raisins, ripe plums, some blackberry juice, a little bit of elderberry, light notes of savory spice and a sweet hint of volatile lift.
A very nice, somewhat evolved and pleasantly complex wine. This was my first experience with Malbo Gentile and I was not disappointed. Enjoyably plummy overall feel with good balance and a nice, dry overall taste that is pleasantly suggestive of sweetness. Most likely isn't built to age, based on the somewhat prominent dried-fruit tones - or then these characteristics are from the hot 2015 vintage. It's hard to tell, since I'm not familiar with the variety. Nevertheless, a nice little drop; good value at 16€. (90 pts.)
2016 Domaine de l'Horizon Vin de Pays des Côtes Catalanes Blanc - France, Languedoc Roussillon, Roussillon, Vin de Pays des Côtes Catalanes (6.2.2021)
A blend of mostly old-vine (60-100 yo) Macabeo (about 2/3 to 3/4, depending on the vintage) with some Grenache Gris and a dash of Grenache Blanc. All fruit from organic and biodynamically farmed vineyards. Pressed slowly, left to settle naturally for 12 hours, then fermented spontaneously with indigenous yeasts in oak casks ranging from 500 to 2000 liters. Aged for 12 months on the lees in these same barrels. 12,5% alcohol. Tasted blind.
Quite intense yellow-green color. Expressive, fragrant and very Burgundian nose with aromas of white peach, fresh apples, a very judicious streak of toasty oak spice and nuttiness, a little bit of creaminess, light smoky tones, hints of herbal spice and garrigue and a touch of roasted almonds. Very lovely; you can smell the wine has seen oak, but just as in a good white Burgundy, it does not dominate at any point. The wine is dry, ripe and medium-bodied on the palate, coming across as pretty substantial yet not at all weighty. Complex, focused flavors of fresh red apples, creamy oak, some savory wood spice, a little bit of saline minerality, light toasty notes of smoke, fresh fruity hints of lemony citrus fruits and cantaloupe and a touch of wet rocks. The overall feel is wonderfully balanced, thanks to the moderately high acidity that lends good sense of structure and freshness to the wine. The finish is ripe, dry and juicy with long, complex flavors of nectarine, creamy oak, some savory wood spice, a little bit of tangy salinity, a fruity hint of cantaloupe and a sweeter touch of exotic spice.
A beautiful, harmonious and complex Roussillon white that is made in a wonderfully Burgundian fashion. I mean my first guess was that this is either a Côte de Beaune white or a well-made emulation from Chardonnay. I was surprised to learn that not only was this not Burgundy, but also not Chardonnay. Hands down one of the greatest Roussillon whites I've tasted. Remarkable freshness, intensity and finesse for such a southern white. I can imagine this will continue to develop wonderfully in a cellar. Not particularly affordable for a Roussillon white at 30-35€, but nevertheless great value for the quality. Very highly recommended. (94 pts.)
Posted from CellarTracker