This past weekend I got together with five friends for a wine dinner at my place. What was supposed to be three Napa Valley Cabs and some steaks turned into a night of craft beer, Californian wine, Port, cigars, and laughs. Without further ado, here were the wines;
Iron Horse Vineyards Wedding Cuvée 2013– A bottle of bubbles after some beers to kick off the dinner and served alongside some assorted cheese and charcuterie. 75% Pinot Noir and 25% chardonnay with very bright green apple, nectarine, and peach notes. 3 years of maturation on lees shows off some moderate autolytic and pastry notes. Bone dry and with a long finish. A nice example of quality new world sparkling wine.
Pax Valdiguié Quail Run Vineyard 2018 – Straight after the bubbles we dived into a light, fun, and easy to drink chilled red wine. Too easy to drink. Bright and crunchy light red fruit; tart cranberry, redcurrant, some blueberry.
Pax Syrah The Hermit 2015- This is when the plan started to diverge. We were thirsty and just put the steaks on the grill. So I opened up something with a little bit more bite than our last wine. This wine continues to be a pleasant surprise. Dark black fruit, black olive, pepper and meaty savory notes are present from the initial pour. Rhone like and grabbed the attention of the group.
Wilde Farm Wines Heritage Bedrock Vineyard 2016- We were thirsty and our steaks were cooking nice and slow but our glasses were empty. Out comes a bottle of Wilde Farm Wines Heritage from BDX. This wine hit the spot. Black currant, blueberry, violet, black pepper, but very bright and refreshing. Medium bodied.
Steaks are off the grill and were back on schedule. The next three wines were all Napa Valley Cabs spanning three decades and enjoyed side by side.
Hall Cabernet Sauvignon Napa Valley 2013 – Decanted for a few hours and it payed off. Open and expressive ripe dark black fruit and hints of vanilla. Young, strong, and simple. The little brother of the night.
Nickel & Nickel Cabernet Sauvignon Martin Stelling Vineyard Oakville 2003 -Wow. Double decanted for sediment and let breathe in bottle for two hours. Strong powerful inky ripe dark fruit with layers of complexity. Dusted cocoa and a chocolate. This wine was on this weird border of jammy and burnt fruit but still felt fresh. Hard to describe. This was almost everyone's WOTN. Hot vintage valley floor fruit held up pretty well. The big brother of the night.
Spring Mountain Vineyard Miravalle-Alba-Chevalier 1993 – Bordeaux like. If the last wine was powerful this wine was delicate. Faded fruit on the lighter side and floral notes intertwined with graphite and cigarbox. Appreciated but not widely loved. The middle child who is forgotten about.
Churchill LBV Porto 2008 – Sweet and sticky and served as dessert paired with cigars. Wine was balanced as the alcohol didn't feel hot and then sweetness wasn't cloying. Not a port that requires a lot of thought but a nice change of pace.
Pax Syrah North Coast 2017 x 2 bottles – Not pictured but consumed after dinner. Tart under ripe cranberry fruit and a little grapey.
Menu:
Ribeyes, top sirloin, churrasco seasoned with salt from Seneca lake.
baby potatoes, baby carrots, brussel sprouts, and asparagus all grilled.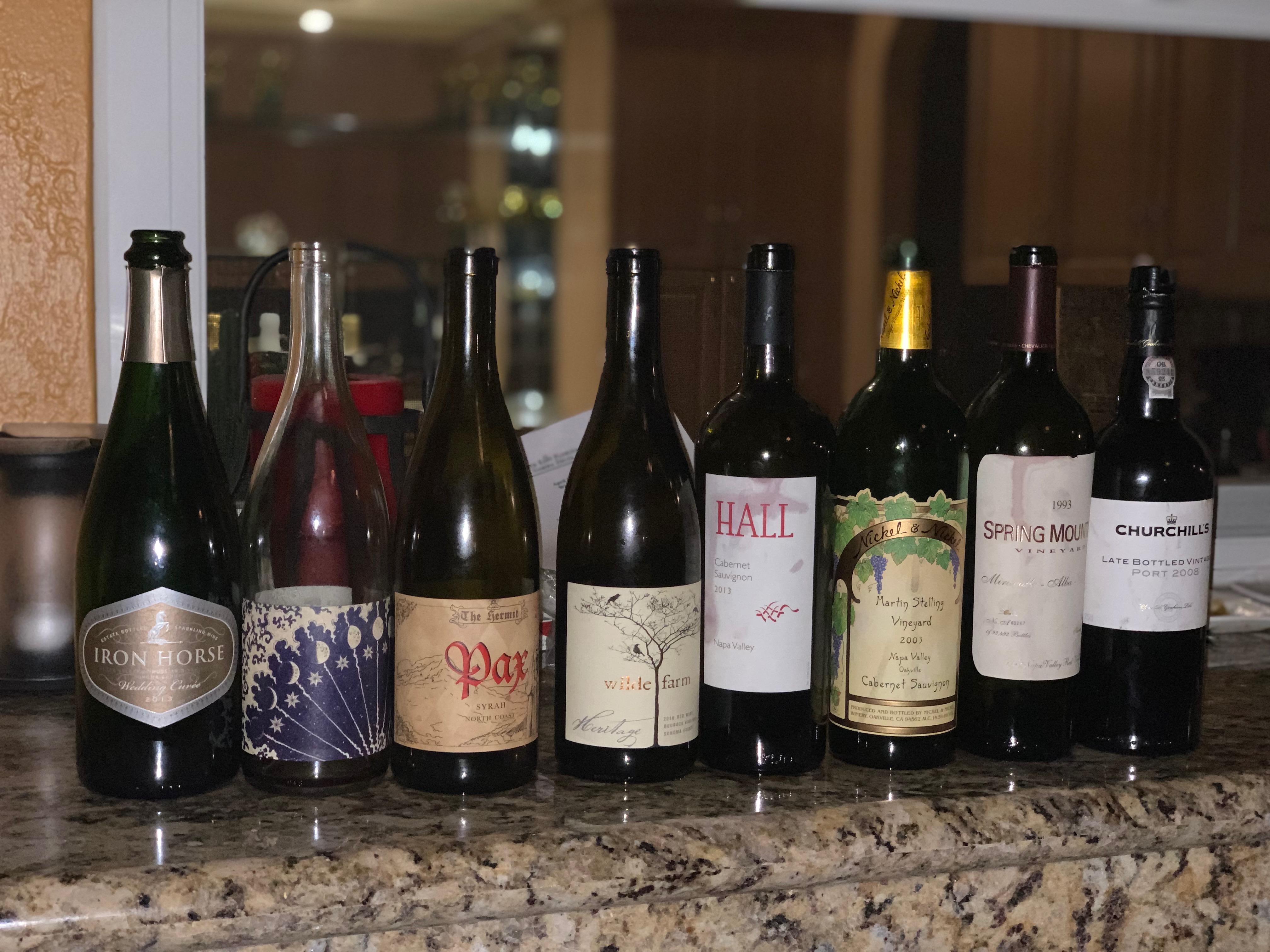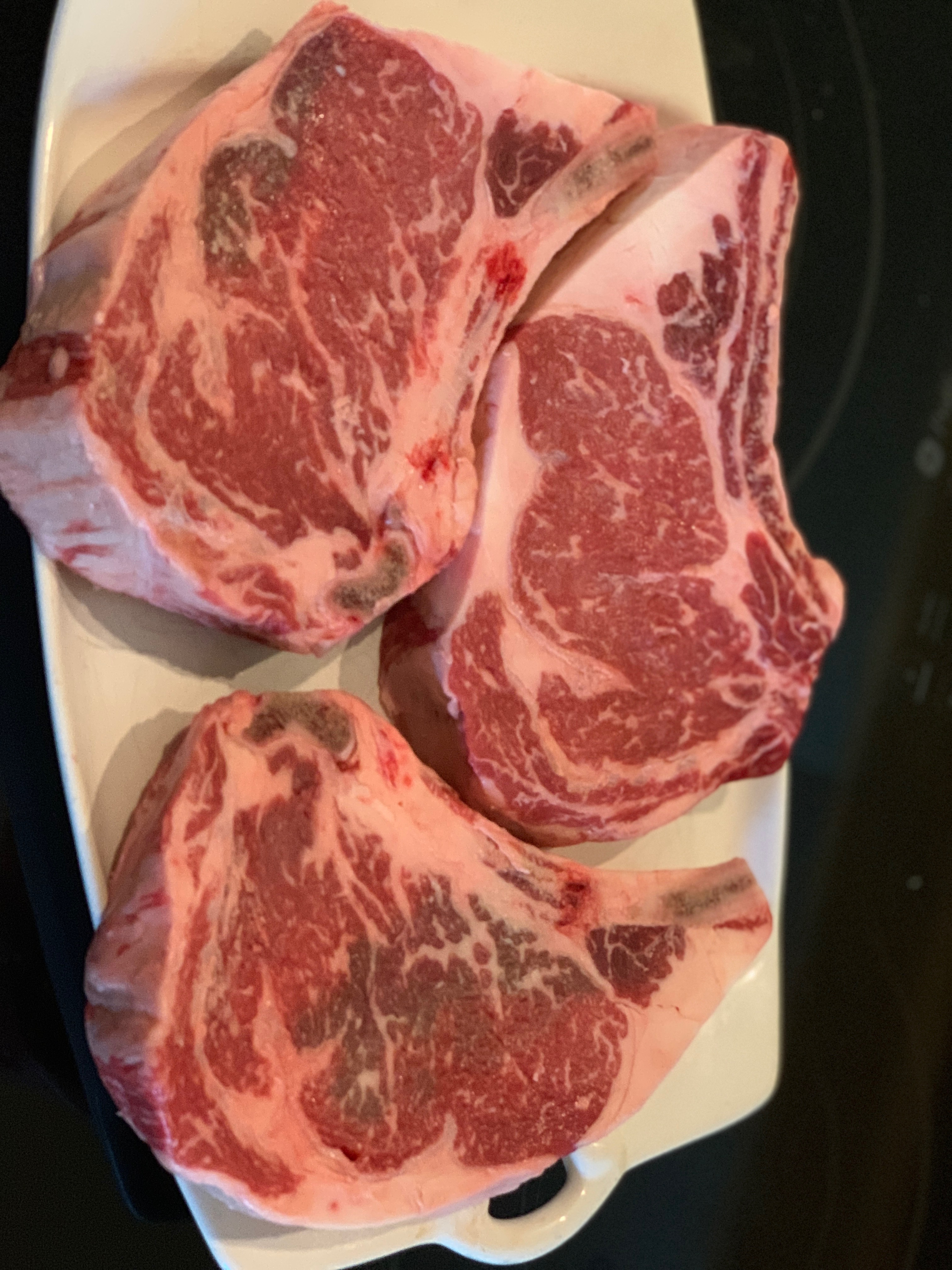 A little about the people attending. Small group of friends in their 20's either starting or wrapping graduate school and starting to explore wine.