Hello Everyone,
I have been lurking around here for a few months and have decided to take the preverbal plunge into actively participating. As a relatively young guy it is often difficult to explore my seemingly obsessive passion for wine with my colleagues and peers who are more content with other things. Places like wineberserkers are great for reclaiming a sense of community in our common interest and I hope to learn a lot and make some new friends.
As a collector and enthusiast, the wines of Burgundy will always have my full attention. That being said, I have always found a uniqueness in the wines of Margaux and in particular the wines of Chateau Palmer. I thought a good first post would be to share some tasting notes of a few Palmers that I have had recently.
Thanks a lot and I look forward to participating!
-Jeremiah


1978 Chateau Palmer: Fully mature, nice integration, perhaps a little over the hill, but maybe this was because I had it from a .375. It has a nice aroma of roasted herbs, cedar and earth that gives way to dried cranberry, some graphite, and violet. After some time in the glass, the nose develops an interesting burnt rubber, liquorice and red fruit characteristic. In the mouth, tart red fruit, forest floor, cigar box and smoke are clearly apparent. The finish is lasting and generally enjoyable. The acid is still quite striking, which took me a bit by surprise, but it lends a nice freshness to this wine. There is definitely elegance to it and worth another look in the very near future. 90 pts.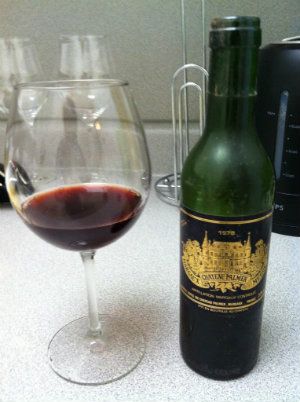 1989 Chateau Palmer: I hear a lot of talk about the 89 Palmer being somewhat austere, thin and at times being quite vegetal. However, my experience with this vintage of Palmer has really only been positive. I had this wine most recently at Troquet and found it to be just as enjoyable as previous times. The 89 has great depth and shows a lot of that classic Palmer style that I like. It definitely needed some time to open up, initially it was quite closed and somewhat awkward, but it quickly straightened up and showed beautiful earthiness, red fruit, mushroom, and slight floral notes on the nose. On the palate it showed great depth, darker fruits, spice and game with balanced tannins. I definitely think it will develop into an even more striking Palmer. The only problem was that we finished the bottle very quickly and I didn't get to see where else it might have been going given some more time. 93 pts.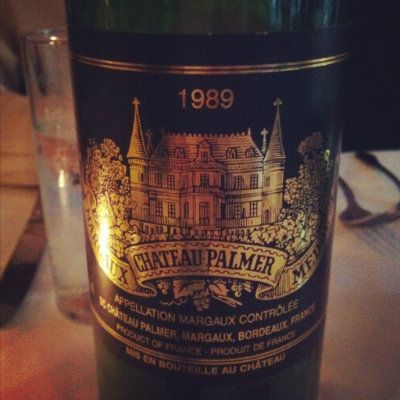 2007 Alter Ego de Palmer: My local merchant gifted me 2 bottles of the 2007 and I brought both to a friend's house for dinner recently; I thought it might have some universal appeal. It is definitely a very typical Bordeaux, but still retains many elements of what I like about Palmer and in general Margaux. It is very accessible and surprisingly ready to go, the nose shows nice touches of tobacco, darker fruits and earth. On the palate it is a bit more 'opulent' than the 2007 Palmer and somewhat clunky and it developed a stewed fruit quality that I didn't much care for, but others seemed to like that aspect of it. The higher percentage of merlot being used is clearly apparent. Although it was a hit at dinner, I wasn't too impressed. Still it was fun to drink. 87 pts.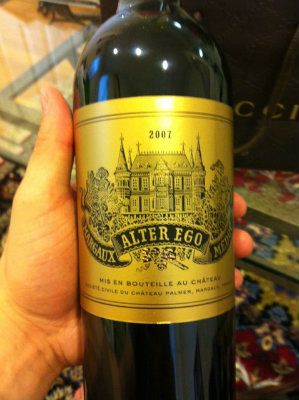 2005 Chateau Palmer: Very heavy-handed and un-Palmer like. The nose is powerful and filled with red and black fruits, violets, spice and some vanilla. On the palate it takes on an almost candied like approach, the fruits and oak are intense and somewhat primary almost. It is very 'modern' and forward in style, which I think detracts from my overall experience of the wine, especially a Palmer. I can see fans of Napa cab liking this vintage of Palmer quite a bit. It will be interesting to see how this is drinking in another 10 years when more of the secondary and tertiary aspects come to light. 91 pts.
Can't seem to find the picture I took of the 2005