2021 Myriad Cellars Syrah Vivio - USA, California, Sonoma County, Bennett Valley (8/16/2022)
A new vineyard for Myriad to supplant Halcón which was lost in the vineyard sale. This one is in Bennet Valley up off Grange Rd.
Opened Sunday evening, poured off a couple glasses and am revisiting on Tuesday evening. Crimson red/translucent purple, nose has a little barnyard funk and forest floor going on. Red tart plum and creamy blueberry up front, silky texture, this just glides across the tongue. Lots of new oak on this which is kinda new for Mike and Syrah and it definitely changes the profile a bit adding a mocha note. Right now this is a gulper with that silky fruit bolstered by fresh acidity and rounded off with a chalky finish. The 14.5abv is managed well here. Overall I'm really enjoying this, even on a 97° day.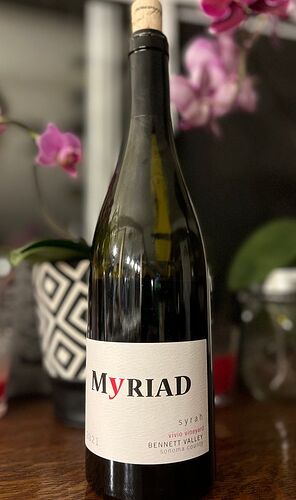 Posted from CellarTracker