2006 Domaine Alain Burguet Gevrey-Chambertin 1er Cru Champeaux - France, Burgundy, Côte de Nuits, Gevrey-Chambertin 1er Cru (7/26/2021)
Took a month off booze, health kick and just wanting a breather. Revisiting my cellar and just grabbed this on a whim. Older, under-appreciated, and excels. Some had this dead years ago. Nope. Its well alive and kicking. Its medium opacity in the glass showing a hazy ruby and definitive orange tinting. lighter viscosity. The nose is wonderful… stewed cherries with a soft-ish tart and rhubarb leading. Follows on the palate adding blood orange, and dried rose petals. Earth and tea joining the party on the middle. Lovely all around. Very well integrated and softer on acidity; aging showed well on this. Finish is a symphony of the aforementioned and rounding to an elderberry with unexpected length, soft and smooth. Last, will miss it. Well spent for a night.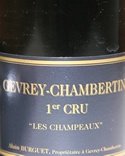 Posted from CellarTracker
This was soooo good. The right time and night.
Happy I held this despite what I had read or been lead to expect. It just killed it. Went well with a watching a dew USA Olympic golds.