On the flight over ( 12 hours from Hong Kong ) I had a few glasses of Luce IGT 2008 which induced a long sleep, enabling us to hit the ground and run on arrival. Great blend, sure it's ripe and showy, but it works well at altitude, with the fruit sweetness preventing a drying out on the finish.
The trip from Malpensa Airport to Barbaresco is under two hours and on arrival were greeted with postcard-perfect weather with views to the Alps. Despite having spent a month in Piedmont over the years, I had never seen the visibility this clear.
We stayed in a great little place in Neive, lunching in the old town, where there's a new enoteca and guest room (pictured below), that last year was not so developed and good only for a coffee or quick glass of wine.
A glass of Dante Rivetti " Bric Micca " 2007 hit the spot. In a good window, simple and expressive of the region, dancy red fruits on a bed of darker licorice like fruit. Good line and length and sits well over lunch with its soft finish. Comfortably an early 90 pt wine.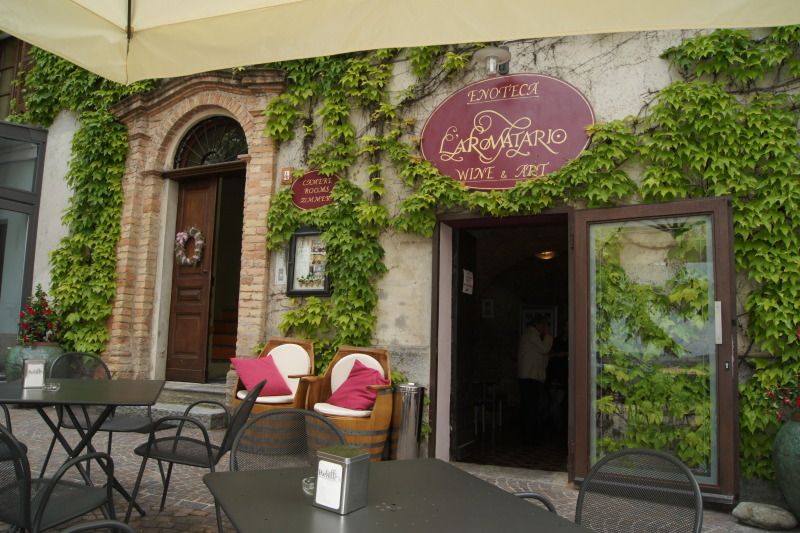 After check in and fighting the jet lag, drove from Nieve to Barbaresco for a coffee but could not resist Cantina Boffa, which has magnificent views over the wine rich valleys and hills and the stunning Alps in the distance. The Tanaro River delivered on a warmish day, providing a gentle maritime like afternoon breeze. Two glasses of Boffa Paje Barbaresco 2007 & 2008 for comparison. The 07 was bright with red cherries and an earthinees, very defined, linear like structure, finishes with a lump of tannin and a pleasant persistence. The 08 was fuller with riper and darker notes, very long and well structured for a long future with a fascinating prospect for the generous and powerful fruit. I tried their 08 Ovello Barberesco too, which showed the power and a classical but pronounced ripeness of the 08 vintage versus the 07.
The dining area below at Casa Boffa and their accommodation looks great. I prefer Nieve to Barbaresco personally, but will stay here next year. Very warm hosts.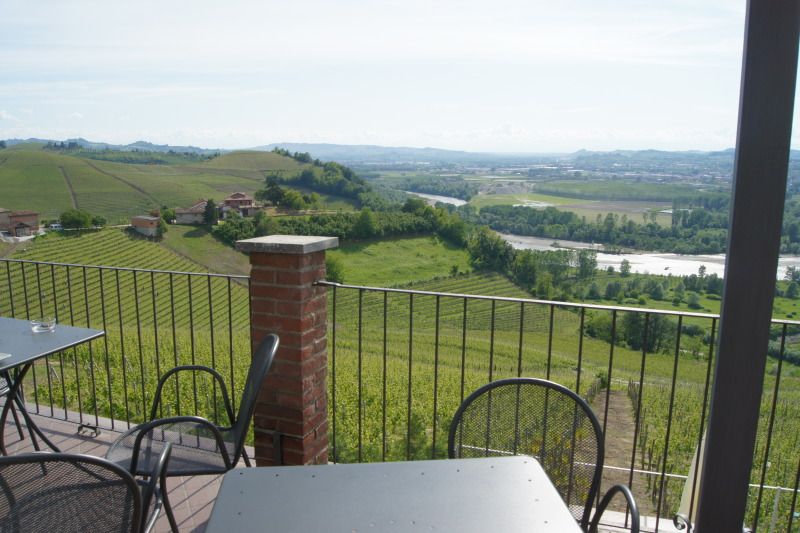 Monviso? With the Tower at Barbaresco off to the right.
View from our suite which had two balconies.
Light dinner in Neive, and the Produttori del Barberesco Ovello Riserva 2007 is in fine shape, great guns now and of course, will improve/hold for a long time. Red fruits and shades of black, an iron mineral spine in an elegant frame.
92pts +