This was some serious sodium overload!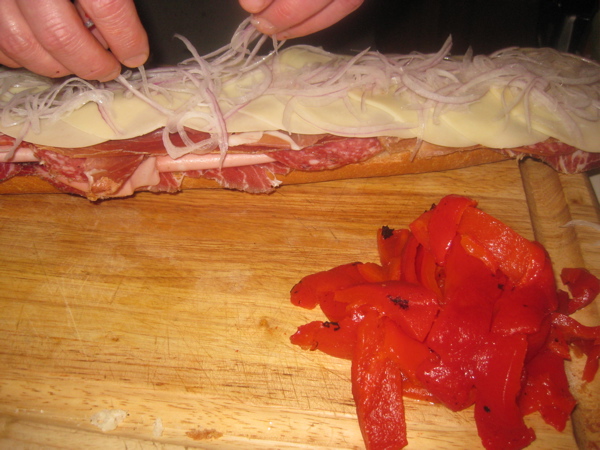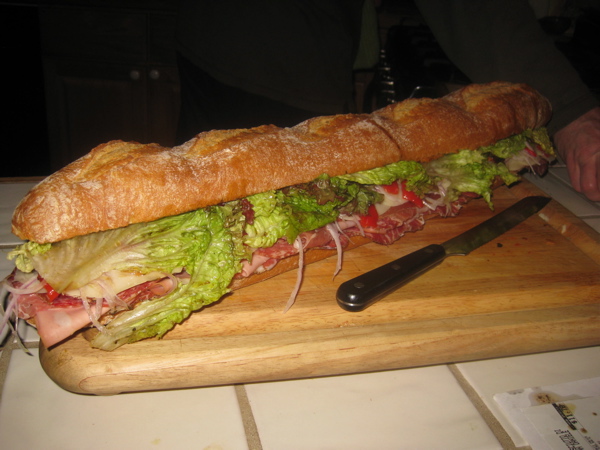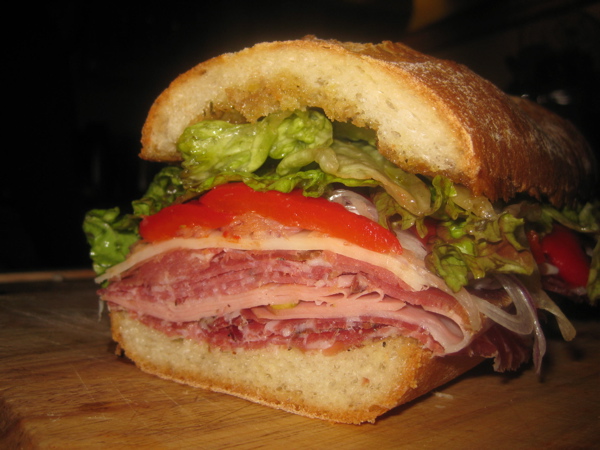 And of course there must be something to wash this bad boy down…

You see sodium…I see all sorts of goodness there!

Glad to see there's at least one person in California who doesn't think a sandwich like that should be slathered with mayonnaise and mustard. Looks divine.
Wow! You did a great job John. Yum yum.
That looks awsome

So you don't pee for a few days. It's worth it. It looks like you have some Cappicola, Prosciutto, Salami. Yes?
Wouldn't that be Gabbagool, Prozhoot and Salami?

Looks to me like it's soppressata, mortadella & prosciutto.
Oil and vinegar, of course! Beautiful specimen!
You nailed it, Jorge! But there's also coppa. I like the 4 meat blend. It seems they charged me double for coppa instead of for soppressata, which is the 4th meat. I wonder which costs more??

How many people did the sandwich feed? Looks great!!!
Bob, my mother grew up in South Jersey, so this was not an issue.
Eric, the sandwich only fed 3, with a touch left over. Thus my acute case of dehydration.
So did mine and I was born there. Where?
She was born in Northfield, spent most of her early childhood in Argentina, then moved back to Northfield when she was around 10. Growing up in Ithaca, NY, I spent many a vacation in Northfield and a few summers in Ocean City. Back in the day, there was a sub shop somewhere in the Northtfield area called Tony's. I was crazy about the place. Visiting the area for the first time a few years ago, I was saddened that Tony's was gone. But I found the White House in Atlantic City, and that did the trick.

I ate at White House subs in AC a few months ago. Good stuff. But my favorite in south Jersey is Primo Hoagies throughout the Cherry Hill area.
I HATE commercial mustard, mayo and ketchup and think they are the bane of all good sandwiches. Completely agree with the above that the only dressing a proper sandwich needs is some good quality olive oil and red wine vinegar.
I always think about Bob Wood when I make one of these, thanks to this thread. Never mayo! Shoulda used harder bread and giardiniera but this was a party sub for a group.
You forgot the tomato focaccia