Do you have the offer dates for those mysteries? The champ ones in particular get confusing.
If you've never tried the Finca La Mata (offered yesterday), it is IMO about as good as it gets for a sub-$20 red wine that will have broad appeal in a group of non-wine geeks while also being enjoyable for you and any other geeks in the crowd, and Garagiste tends always to have it for a few bucks less than typical retail.
Yeah sorry,
Grand Cru Chablis Jun 2nd 2022
NV Champagne Brut Mystery Nov 26th 2022
#1 and 2 Champagne Mysteries Dec 16th 2022
Top 100 Mystery Nov 19th 2022
2018 Washington State Cab Aug 19th 2022.
How much was this? I bought the 2013 Bodegas Ego Jumilla Goru as part of a $60 holiday mixed case from Wine Library back in 2017. It was an awesome deal for $5. It almost tasted like a $10 wine
Thanks Mikko. With inflation you got a bargain. It will likely drink as a $15 bottle.
All kidding aside, this is one to serve to all your non red wine drinker friends. It is so nondescript that no one can complain about the flavor profile being offputting in any way
Edit. Just checked pricing and it is $9-$10 everywhere. A bit disappointing in the Garagiste value proposition.
I have 4 mystery wines coming my way. A red burg, a white burg, a Barbaresco all 2019s and a 2015 Brunello. Usually a decent value prop but nothing ever blows me away. How can you go wrong with a $24 Brunello?
Anyway, I'm a sucker because in the back of my mind I think maybe I'll be getting a $100 red burg for $50. It in this day and age I guess but I'm still satisfied with the variety and relative value
Rimmerman gets a lot of brickbats thrown on chatboards, but I love his sensibility in the Beaujolais. A couple years ago he brought in this rarity: 2018 Collin-Bourisset 'Domaine des Hospices Civils de Romanèche Thorins' [Moulin-à-Vent]. Notes on CT are beyond thin, but I thought it was great. 14% abv, full bodied for its varietal/region, as well as darker than one would expect. Dried cherries on the nose and palate, then spicebox with a still tannic finish too. This is a gamay that can sit at the adult's Thanksgiving dinner table. The label is unusually beautiful, which adds to the enjoyment, and the SO had a second glass, which is rare. In my ledger, an A-, and a multi bottle reload if Garagiste ever brings this back over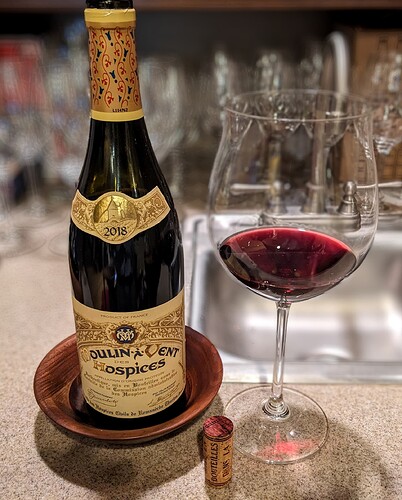 We marinated octopus in olive oil, lemon juice, salt and oregano to go with (separately prepared) caramelized zucchini & parmesan tossed spaghetti. The latter sounds like a weird combo, but it came out great. I lifted the recipe from Mobkitchen; like many good dishes, it's simple, but takes time. That Mediterranean supper didn't pair ideally with wine from the Department of the Rhone, but we were all hungry/thirsty enough that it didn't matter…
.

nice bottle of wine. No info on back of bottle. Drinks well. Nothing sticks out.
The pitch: NV Gossart Champagne "Le Revers du Mont Aigu" Blanc de Blancs Grand Cru Chouilly 750ml (Champagne) - $39.81
(100% naturally farmed Chardonnay, all of micro-plot Grand Cru origin; I'm not going to say much here but this wine is deeper, denser and even more luxurious than the René above; this was the finest wine I tasted in Champagne on my recent trip and of obvious Grand Cru origin – the Revers du Mont Aigu was the impetus for today's offer; at $39+, this is basically unheard of in Champagne circa December 29, 2021; a wow for sure and a wonderful way to end our recent Champagne frenzy with arguably one of the rarest and memorable top examples of the genre under $40…)
Not sure if it has been mentioned or not but the Northern Rhone Mystery from 11/25/22 is 2020 Graeme & Julie Bott Syrah First Flight.
#9 Northern Rhone - This is not a Black Friday Offer!

There's nothing like authentic Northern Rhone Syrah – highly charged, aromatic, superlative and long on the palate - #9 is going to be swooned over, that is for sure!

(this is not Crozes, it's from the Saint-Joseph/Cornas/Cote Rotie side of the river!)

Northern Rhone Mystery 750ml (Northern Rhone) · $26.71
(100% Syrah; gorgeous and riveting, highly perfumed and engaging; compare at up to $50+ in the US)