Another non-wine-related family/food post. After a big Spanish dinner with Navarran rosado at Terry's 2º Piso last night, I was in no mood for wine for lunch the next day. There will be a lot of time for wine, though, in 2010.
Sunday lunch (the 3rd January 2010) was at home, with my dad, youngest sis and in-laws - an advanced celebration of my wife's and my 18th wedding anniversary.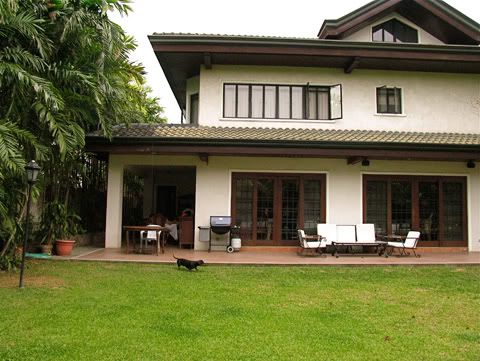 My brother and his wife just got back from the Tokyo winter, so were not feeling well enough to join; so we were 19 in all including one of my wife's aunts and the nephews and nieces.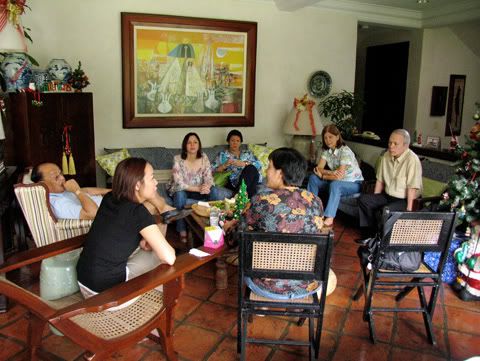 Clockwise from bottom-left: My sis, dad, wife, mom-in-law, an aunt, father-in-law and sis-in-law
My brothers-in-law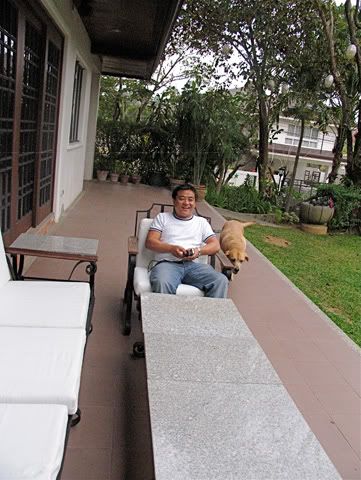 My HK-based bilas (i.e., husband of my wife's sis - there is no equivalent English term) between calls on the patio.
My youngest son's dachshund was wondering what all the fuss was about - he did ask.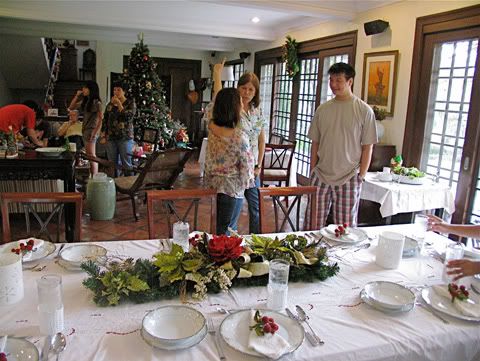 My wife decided to serve her version of Cocido Madrileño ("cocido") for the lunch - one of my dad's favorite/comfort dishes.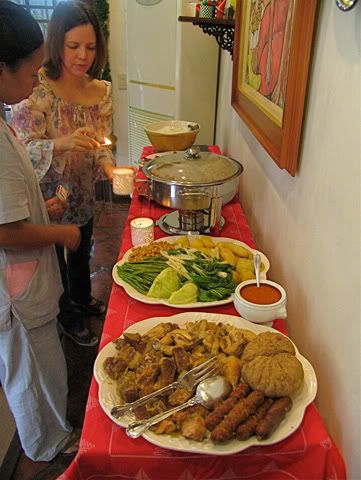 Basically, the version of cocido my wife serves is, as may be seen above, a 3-part meal: (1) the broth in which the meats and vegetables were long-simmered (noodles added in after the meats were done); (2) the vegetables (cabbage, green beans, chick peas, potatoes, a sort of bok choy locally called "pechay:, etc.); and, (3) the meats themselves (beef brisket, pork belly, chicken, chorizo, etc.).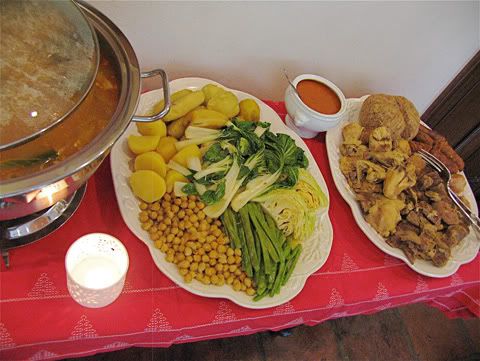 Cocido (broth with noodles on the left; there is a thick, moderately-spiced, tomato based sauce served with the meats)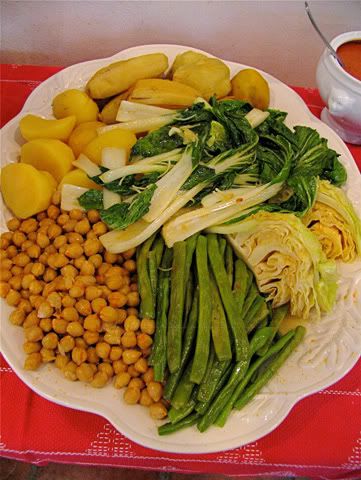 The Vegetables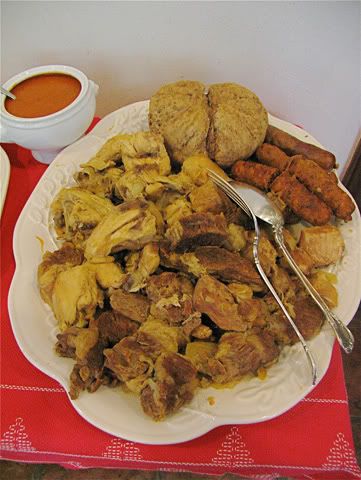 The Meats
Naturally, my wife had prepared a few other courses: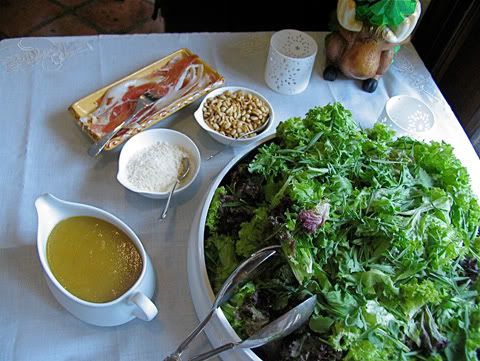 To start: Our Usual House Salad which our friends are all very familiar with by now (butter lettuce, arugula, tarragon leaves, toasted pine nuts, grated parmesan, Parma ham and a honey-mustard-vinegar-garlic dressing)…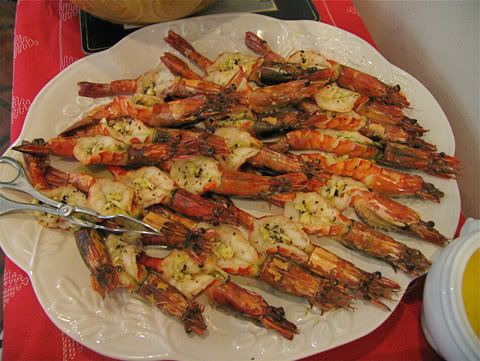 Grilled Prawns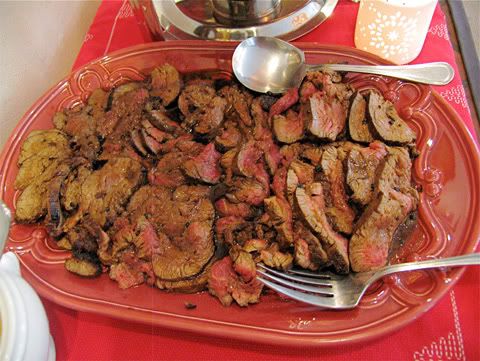 Solomillo (de Vaca)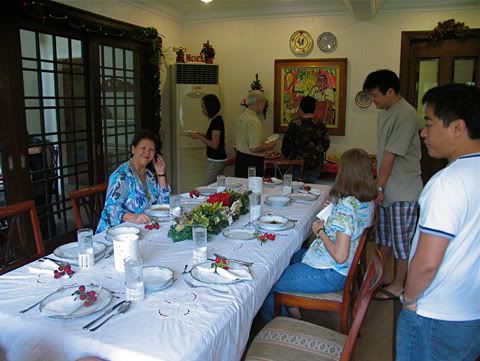 Chow time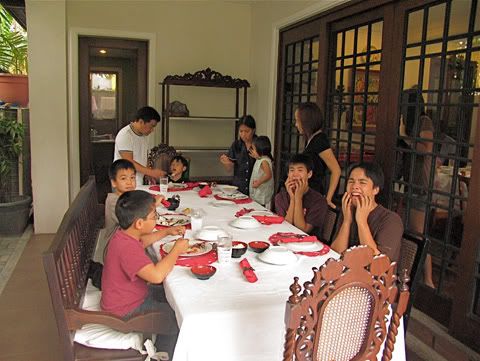 Even with an extra table set up, we couldn't fit everyone inside, so two of the younger teen-agers had to sit with the kiddies outdoors - much to their chagrin.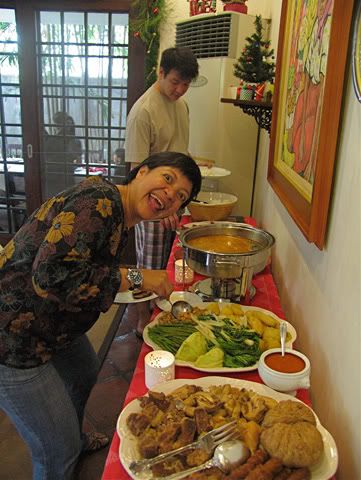 My sis-in-law didn't think I was quick enough with my camera to take a shot of her clowning around the buffet table. Well, as Yosemite Sam says: "That'll learn 'ya!"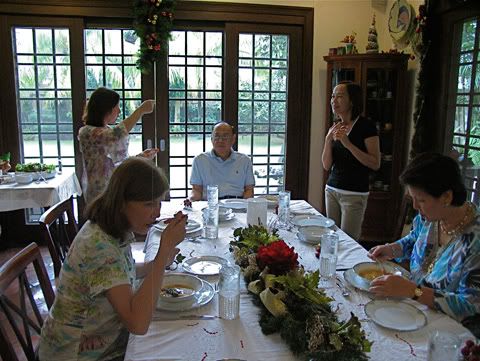 Desserts were…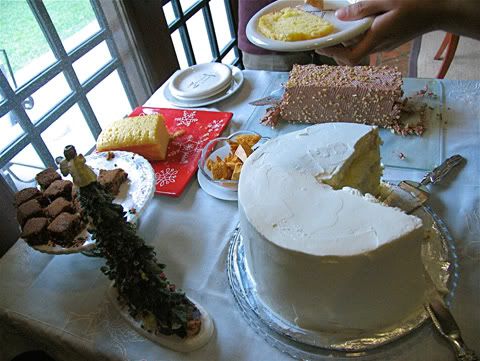 Butter Cake, Chocolate Sans Rival, Coffee Crunch Cake and Date Bars (a.k.a., "Food for the Gods")
Of course, there was some fruit as well: Cantaloupe and a local Pomelo called "Suha". I think I was the only one who had any though. That was quite a filling lunch. A double espresso ended it for me. I'm having the the fruits as my dinner, that's for sure.