Last night, the 24th January 2010, was a quiet Sunday dinner with my wife at Cyrille Soenen's Ciçou at the Hotel Celeste for a special menu of fresh French oysters (Fin de Claire, Brittany Belon Nº2, Creuse TG 1) and Crabe Torteau (I opted for the 2-way preparation, but served together).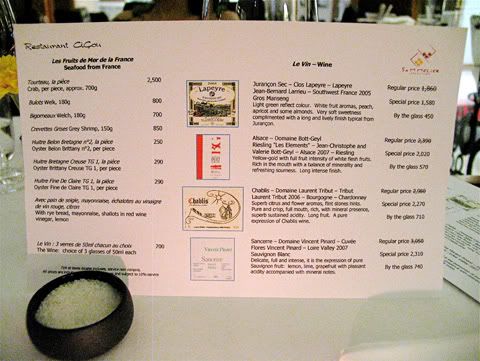 I had forgotten to bring a bottle of wine, but, as luck would have it, Jerome Philippon's Sommelier Selection had a pairing promo wherein a bottle of 2006 Domaine Laurent Tribut Chablis was going for a reduced price. Good, traditional Chablis, oysters and crab? This was a no-brainer choice for me - a bottle of this it was.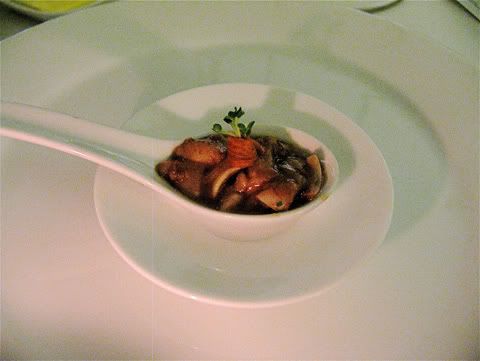 Amuse Bouche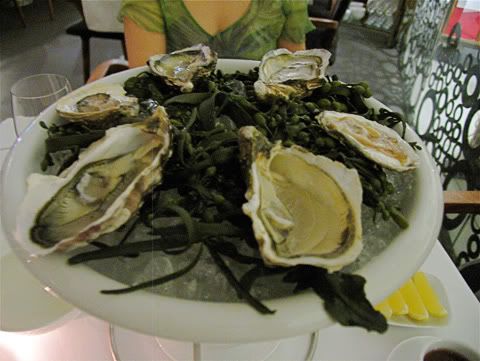 Fine de Claire (left), Creuse (right), facing away is the Belon, the latter of which was my favorite (rounder, smaller, fatter, jucier), but they were all excellent.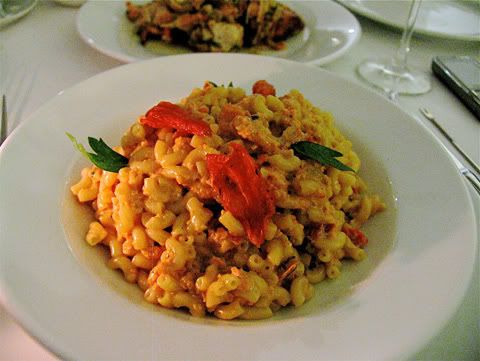 The 1st preparation of the Crab Torteau (Cancer pagurus, a type of Dungeness crab; I've seen some available live in Bordeaux) was a choice between risotto and pasta. I went for the pasta as risottos tend to make me feel way too full. The serving looked huge. I gave a little over a fifth of it to my wife, and somehow finished the rest. It actually didn't feel heavy at all. The crab meat was delicate, sweetish and juicy, subtly but definitively flavoring the pasta. Lovely.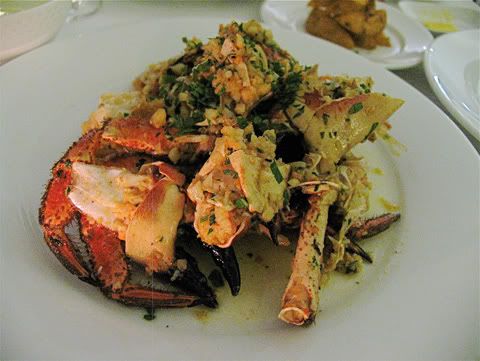 The 2nd way of the crab was reminiscent of the Thahn Long style (not surprising noted my wife due to the strong French influence in Vietnamese cuisine) roasted with butter, olive oil and moderately spiced. Delicious.
My wife had an order of Steak Tartare with Frites as her main course. Another large serving. I had several forkfuls just to help her out (no, chivalry is not dead), but she still couldn't manage to finish it. Cyrille's steak tartare is admirably seasoned and textured. I prefer this to I Am Angus' tartare - as the latter is comparatively a little too creamy in texture (nothing to bite on at all) and, honestly, a bit under-seasoned for my tatste (I have to ask for extra helpings of caper berries in I Am Angus just to add a bit of cut and acid to stave off palate fatigue).
With all these, as mentioned earlier, we shared a bottle of…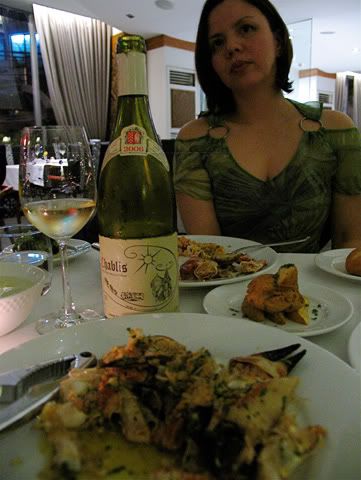 2006 Domaine Laurent Tribut Chablis - I've loved the style of Laurent Tribut ever since Jerome Philippon made me try it several years back. This is the village level Chablis, fermented in enamelled steel tanks, no new oak, no battonage (i.e., no leese stirring) minerally, tense, laser-focused, medium-bodied green apple with nuances of cool steel, cold limestone and oyster shells. The last bottle of this I opened was also at Boozze's and Margarita's dinners on the 12th June 2009. My notes then, just for comparison, are as follows:
My bottle. The domaine is located in the commune of Poinchy, approximately 1.5 kms west of the old town proper of Chablis, and owns 5.2 hectares of Chablis vineyards, including holdings in premier cru vineyards Beauroy, Côte de Léchet and Montmains. It produces wines in the classically lean, tense, steely, sea-shell, minerally, minimalist oak style (fermentation in enamelled stainless-steel tanks, no use of new oak in ageing, no battonage), which I much prefer.

Those familiar with the wines of Chablis star, R&V Dauvissat, will note a marked similarity between the labels of the two domaines. This is most likely because Laurent Tribut used to work with Dauvissat and, married to Marie-Clotilde Dauvissat, Laurent is Réne Dauvissat's son-in-law and, perforce, Vincent Dauvissat's brother-in-law. I recall reading that Laurent Tribut still helps out occasionally at Domaine Dauvissat.

My wife and I spent a couple of extremely hot days in Chablis in July 2006, billeted at Michel Vignaud's Hostellerie des Clos (at La Residence du Domaine where they have bigger, air-conditioned rooms) until the weak air-condition system drove us out to look for cooler climes. We didn't leave, though, before having dinner at the hotel's *Michelin dining room (they have a smallish but excellently stocked cellar, the bottles of which are reasonably marked-up from retail).

I first tried Tribut's Chablis (a vintage 2004) sometime in mid-September 2006. Jerome Philippon recommended it to me when I expressed my preference for old-style Chablis. I've bought every vintage since then, including Tribut's 1er cru Côte de Léchet.

With around 45 minutes opened, kept chilled in a bucket of iced water, the 2006 holds true to Chablis terroir with clean, pure, nervy/tense, cold-stone, oyster shell notes shining through the softish, ripe white stone fruit/apple, merest hint of white peach (it was a very hot July in Chablis, I can attest). Well balanced with acidity, nicely focused. I'm very happy with this and am glad I still have some as it is excellent with seafood, particularly fresh, simply prepared shellfish…
For dessert, I requested for some macarons. I love Cyrille's macarons. They are not cloyingly sweet like most all other locally available versions. The other ones I like are by Sunshine Puey-Pengson. Unfortunately, however, Sunshine doesn't make much of them anymore.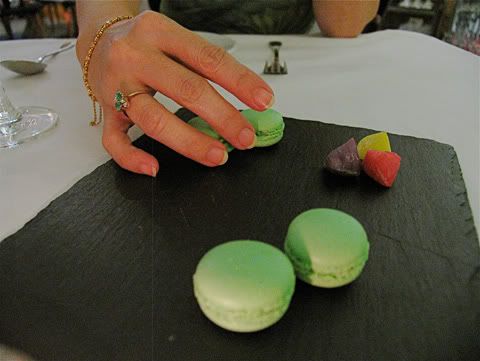 My wife ordered what I would call a Chocolate Lava Cake with a Vanilla Ice Cream Macaron "Sandwich" (I didn't take note of the proper name). The cake was really lava-filled, the latter cascading out in indulgent, rich chocolatiness. Cyrille really uses very high quality ingredients, that much is obvious.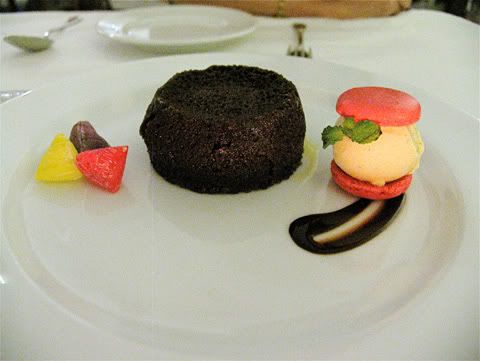 As usual, I had my double espresso at the end and my wife had her brewed coffee. Cyrille sent us some complimentary glasses Calvados which were very much appreciated. Excellent dinner all around.