Sunday night dinner with friends at home. Took out a Morgan Ranch Tri-tip. Seasoned in the morning with a blend of kosher salt, Kinder's Master Salt and a dash of MSG. Into the fridge for 6-7 hours. Oven at 175° until IT of 125°. 80 seconds each side in the Ooni to finish (didn't check the temp of the Ooni itself but it had been on full blast for about 15 minutes).
Best damned Tri-tip I've ever tasted!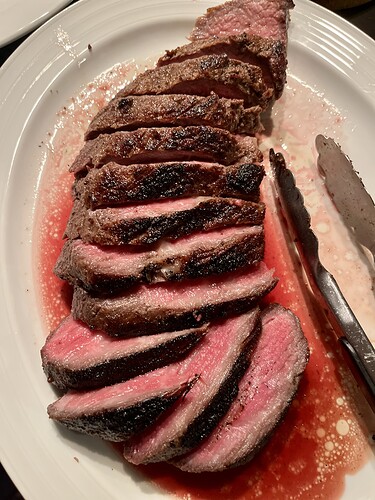 looks great - how long did that take at 175?!?!
I just received my first ever flank from Morgan. Any special tips on how to grill those?
Such a great cut of meat. I'd use SPG (salt, pepper, garlic) and grill direct over the coals. I like the SPG mix on Morgan and Flannery, as it doesn't overpower the meat you're paying a premium for. I'd also avoid any dried herbs or seasonings if you decide to use a rub, as they'll char when you do a hot and fast cook.
For what it's worth, the one thing I kick myself in the rear most for after cooking flank (and hanger or skirt steaks) is putting the meat on too soon. Let your coals get nice and hot; Im always in a hurry and throw the meat on 10-15 mins before I really should.
Remember to cut against the grain!!!
Thanks. I always follow your advice to the letter.
Regarding cutting against the grain, I made a pastrami last year and cut with the grain for the first few slices. Looked like shit until I figured it out.
Great advice for so many cuts. Well, really, all, but I think flank, brisket as Michael pointed out above, bavette, and hanger really benefit. Makes such a difference in the texture.
It also makes a huge difference for tri-tip. Didn't figure that one out for 10 years… because I'm a little slow like that

Oldest daughter is home for Spring Break, so I broke out a Mirgan Ranch tri-tip. Just so ridiculously good.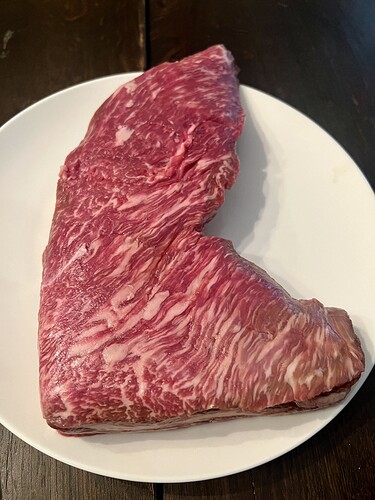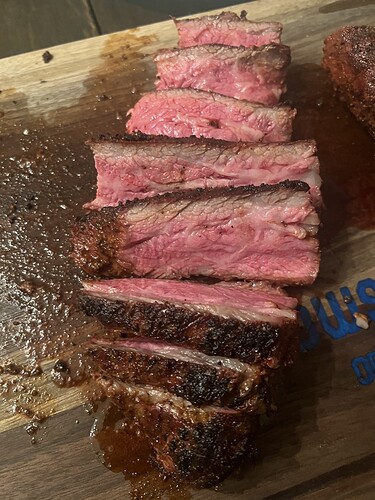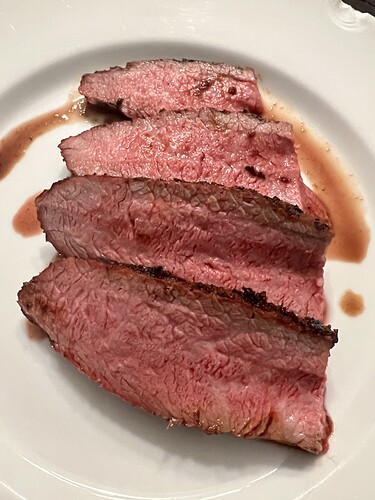 Andrew, how do you order the whole tri-tips? I am not seeing them on their website. I'd take a whole bavette too while I am at it

.
Was a Berserker Day special. I believe they're looking at adding them to the site at some point tho.
And it even gives you the lines to tell you how to cut it. These are great steaks for a crowd, 5-6
5 or 6?!?! Stay out of Texas Chris my boy
Cooked to perfection! Vegan Ribeyes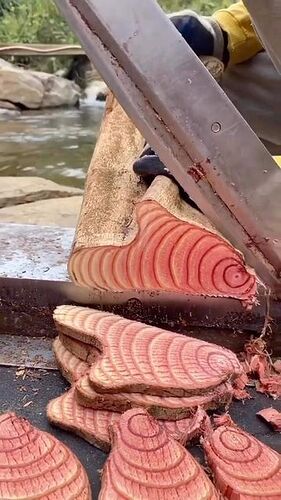 Love me a good plank steak.