6 of us and we might go through a case. Not sure what goes best with election night anxiety.
I was going to post this in Wine Talk also, but with the disclaimer that any post of political nature will be deleted (there's a thread IN the Politics forum about this as well, so go there if you want to discuss).
What we can say is that it may very well be a fiery and stress-filled evening, and I know many (even non-wine geeks) have planned their drink for the evening.
We're celebrating Braydn's family birthday dinner (with Flannery burgers!) so Jen will open the Cab of her choice, I will open Bordeaux, most likely
Traditionally I have had an excellent Sauternes to pass the evening, but this year it will be kool-aid, for sure!
Whatever Vincenzo Donatello serves me at

Piazza Duomo…
I'm thinking Carlisle or Peay…
I just bought some "family size" (1.75 liter) bottles of Old Weller Antique and Weller 12. I think it's a great excuse for a bit of side-by-side tasting.
I'll be drinking from the LEFT bank of bordeaux. I find that I can't palate what the RIGHT bank is selling these days.
2012 Realm Cellars, "The Absurd"
My wife and I are going to a cocktail and election watching party.
The host likes making exotic cocktails.
I think, beforehand, we may hit a bottle of chardonnay. Alpha Omega's reserve chard is one of the best I've had lately, or a Renteria Brown Ranch vineyard.
The local group has some voters on either side, and I've only seen one acrimonious exchange in the past two election parties.
I wish everyone a happy drinking night! be careful out there - election night drinking is for the pros.

I picked up one of these we will drink along with lots of wine, probably Dirty & Rowdy.
Other beers by Spiteful include; Angry Adam, Belligerent Bob, Chatty Cathy and Irrational Ian.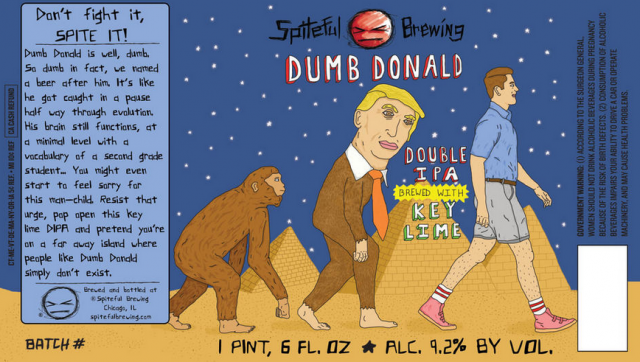 Arrogant Bastard and Raging Bitch.

Good question. I think I am out of Alles Verloren as well as Scacciadiavoli so I've got to think of something else. An Ungeheuer or a Hölle would be a possibility. A Nervi or a Cuvée 8 would seem right for the occasion too. Depending on how it all ends, I might then finish up with a Casa Nere, a Countach, a Sauer, a Sorg, a Rebel.lia, an Engel or a Madonna delle Grazie. Hopefully, it will be a hilarious night but I trust that there is always a wine that will trump any course of events.
champagne, but not sure what yet. Because: in victory you want it, in defeat you need it
Something yummy. A Napa cab of some sort.
Hedge your bet and make a hemlock mimosa.