Dinner of Monday, the 11th February 2013, was at JC de Terry's Tempranillo Room in honor of visiting Sileni Estates General Manager, Nigel Avery. Sileni estates is a relatively young winery (founded by Nigel's father, as I recall) the first vintage of which was in 1998. Its fruit comes from two wine growing regions of New Zealand, namely Marlborough (long renown for its sauvignon blanc) and Hawke's Bay. The night's pairing dishes were all conceived, kitchened, and executed by JC and his crew.
Catha and I arrived around 30 minutes late due to my not having read the invitation carefully, and, thus, proceeded to 2º Piso. Good thing. while stuck in traffic, I happened to call Cyrene and she told me I was headed to a wrong venue. In any event, we eventually made it to the dinner in time for some pass-arounds of Olive Oil Fried Almonds and Fresh Fruit & Seafood Tartlets, enjoyed with welcome glasses of…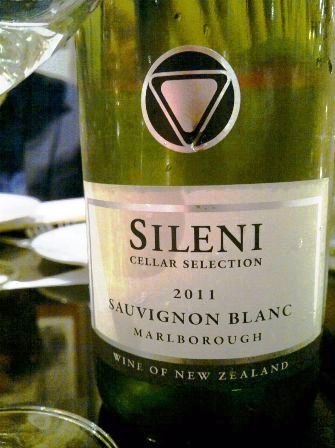 2011 Sileni Sauvignon Blanc - Bright, racy, crisp, with Marlborough, NZ's typical lively acidity and gooseberry, mild grapefruit, citrus notes. Lip-smackingly and appetite-enhancingly dry. Good purity and unmistakable typicity in its vibrant gooseberry, citrus and grapefruit flavors. I liked it. A steal at approximately P700/bottle. I'd happily keep some of this at home to casually enjoy with some chèvre and dried fruits, among others.
I saw, greeted, and even made several friends there, among whom were…
Cyrene dela Rosa & Berna Romulo-Puyat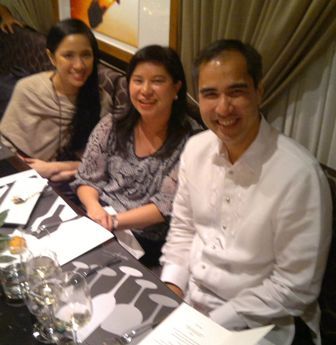 Nana & Mio Ozaeta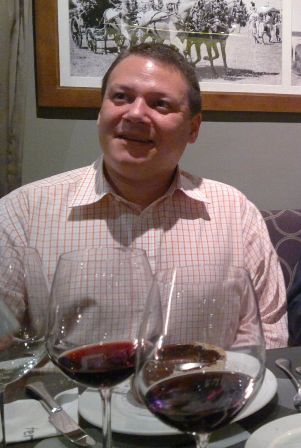 Miguel Vecin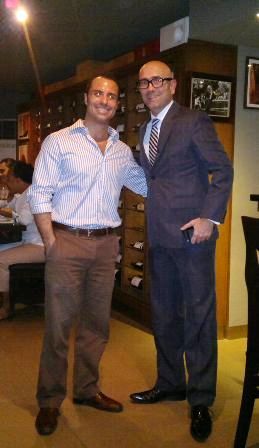 Besay Gonzalez and Javi Berenguer-Testa.
JC eventually took the floor, welcomed everyone warmly, made some opening remarks, and formally introduced Nigel…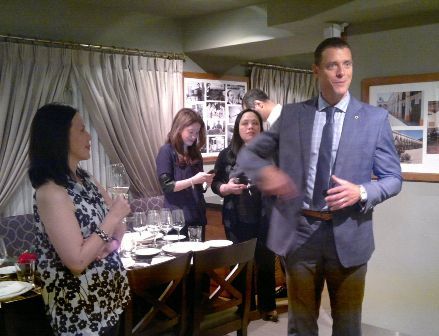 …who gave us a concise backgrounder on Sileni Estate's history, vineyards, wine-making philosophy, and techniques. Soon thereafter, everyone seated themselves for dinner proper.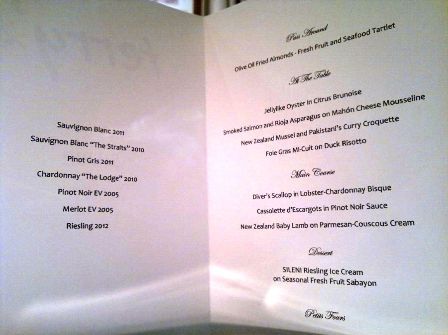 The Menu & pairing wines.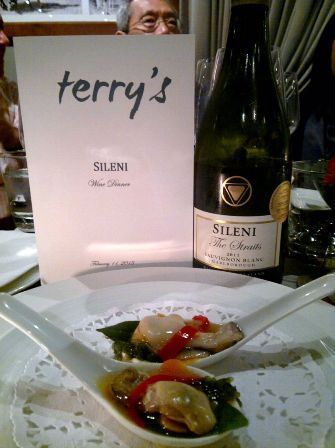 The 1st Course was Jellylike Oysters in Citrus Brunoise. While I continued with and enjoyed the 2011 Sileni Marlborough Sauvignon Blanc with this dish, I also had it the fat, delectable, complexly presented oysters with the intended 2011 Sileni "The Straits" Sauvignon Blanc - This was markedly softer, heftier (especially mid-palate), less dry, sweetishly-ripe (but not overly so) and vaguely tropical in fruit. It showed good balance and fair purity. I suspect this would be considered more approachable by the many. With the oysters, though, I preferred the previous, basic sauvignon blanc for its acid cut.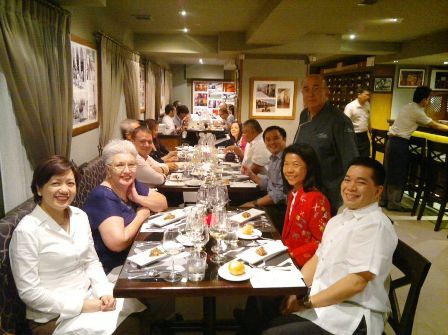 Mari de Terry's table.
The 2nd Course was a delicious Smoked Salmon and Rioja Asparagus on Mahón Mousseline, paired with 2011 Sileni Hawke's Bay Pinot Gris - Nicely rounded, supply fruited, slightly oily textured, medium-bodied pinot gris which presented lightly spiced ripe peach and mango notes. This was easily approachable charmer was an immediate crowd-pleaser. Many spontaneously complimented the wine, the dish, and the pairing.
Nigel at our table for a brief chat.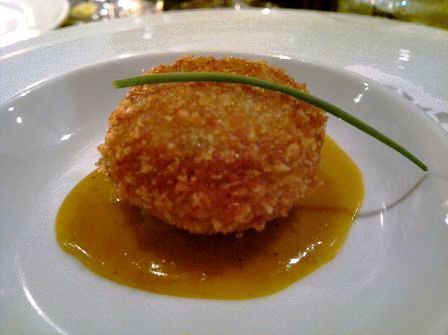 The 3rd Course, a curiously named New Zealand Mussel & Pakistani Curry Croquette, was quite interesting, the curry spice definitely making its presence felt. Though I am not personally overly fond of curry in general, this was quite an intriguing cross-over/fusion dish. The croquette itself was perfectly executed (typical of Team de Terry's croquetas) in that it was perfectly crunchy outside and moist inside, without any excessive/burdensome oiliness.
Pepper Teehankee's table.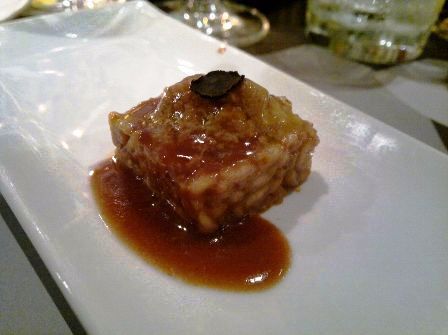 The 4th Course was Foie Gras Mi-Cuit on Duck Risotto. I loved it - perfectly moist, deeply flavored, and well-balanced. With this I continued with the 2011 Sileni Hawke's Bay Pinot Gris, the tropical, sweetishly ripe peach and mango notes of which made for a nice foil to the foie and duck laced richness of the risotto.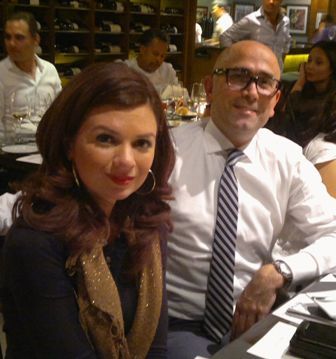 Lexi & Javi Berenguer-Testa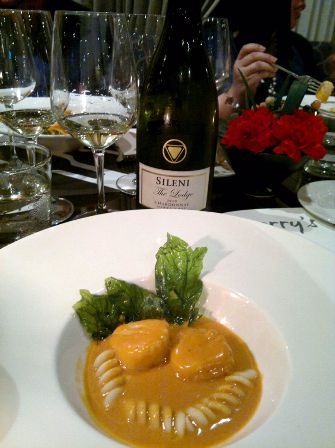 With the 5th course of Diver's Scallop in Lobster-Chardonnay Bisque (my favorite of all the night's delights - I sopped up every drop of the bisque, they'd not have needed to wash my bowl) was, of course, 2010 Sileni "The Lodge" Hawke's Bay Chardonnay - Curvy, softly apple and pear with citrus highlights and underlying orange rind. Not big, hot and forwardly buttery like Napa chards, this came off as more cold-climate and with more refinement. Even Catha, who favors big Napa chards, especially liked this.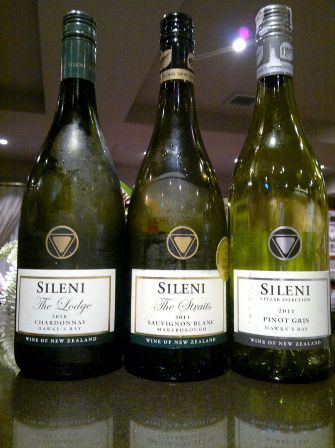 3 of the night's whites, none of which exceeds P800/bottle on retail.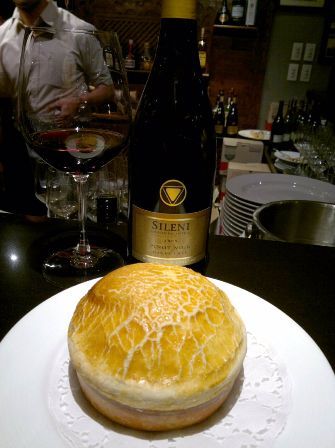 The 6th course was a delectably earthy Cassolette d'Escargots in Pinot Noir Sauce, paired with the 2005 Sileni Hawke's Bay Pinot Noir - it, like all the other wines, showed cool climate character despite its ripely sweetish, mildly candied cherry, raspberry, plum, whispers of cola and baking spice. Very accessible wine; and I actually liked its balance. Not a mean feat considering the ripe, sweet fruit.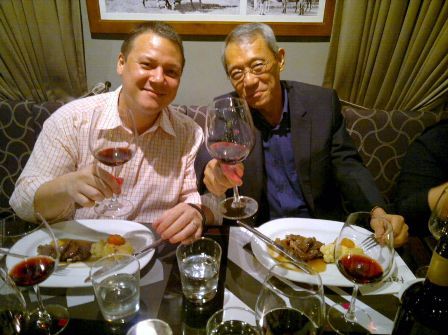 The 7th Course of New Zealand Baby Lamb on Parmesan Couscous Cream was paired with 2005 Sileni Hawke's Bay Merlot - Moderately deep, mildly earthy, soft, ripe and darkly plummy. Good dryness and healthy concentration. Again, readily accessible and openly pleasing, if straightforward. A good statement for New Zealand merlot, to my mind. The parmesan couscous cream was, in a word, heavenly. Everyone was raving about it. With the lamb, it was even more wonderful.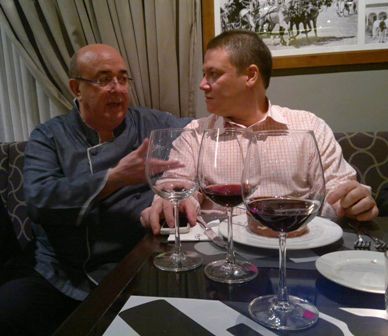 JC & Miguel
The Terry's Crew hard at work…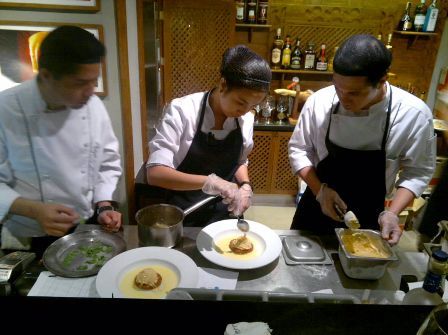 …plating the 8th (Dessert) Course of…
…Sileni Riesling Ice Cream on Seasonal Fresh Fruit Sabayon.
JC's dessert was exceptional as always. No matter how full one may be, there is always space for JC's dessert creations. I finished every bit of this.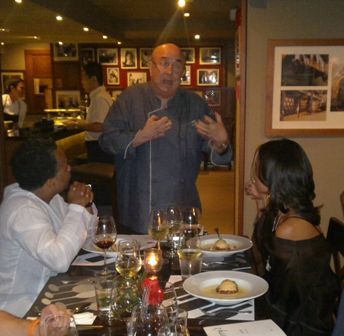 JC explains that, in the absence of a late harvest riesling, he devised the dessert to present how a dry riesling can do as a pairing as well.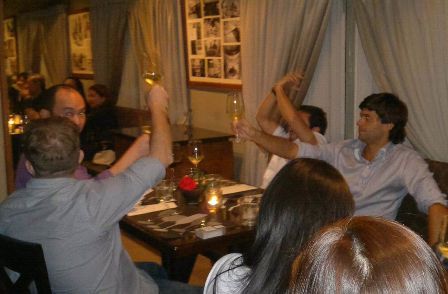 The crowd certainly appreciated his efforts.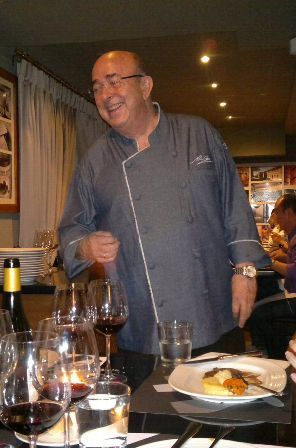 Bravo, JC! Be it a pairing dinner for Spanish, French, South American, New Zealand, etc. wines, he not only always delivers, but also never fails to impress. Many, many thanks to JC & Mari, Team de Terry, Sileni Estates, and, Nigel, of course, for a wonderful evening. Until the next!