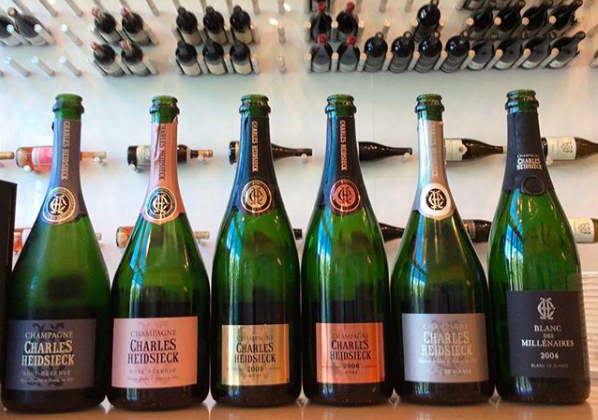 BRUT RÉSERVE, NV
Equal blend Chard/PN/PM. 40% of the blend is reserve wine with an average age of 10 years and is sourced from over 60 crus. Bottled in 2009 and disgorged in 2017. Pale to Medium gold in color. Racy acidity, ripe green apple almost more tropical fruit, toasted nuts, and yeasty/pastry/brioche notes make up the bulk of this champagne. Very long finish and IMO a great value for what it is.
Rosé Réserve, NV
This wine uses 20% reserve wine which is made up of 50% Chard and 50% PN with an average age of 5 years.The other 80% comes from an equal blend of Chard/PN/PM. About 6% of the vinified red grape varieties are blended in for color and tannin. Bottled in 2009 and disgorged in 2017. Very light pink in color. Ripe strawberries and a hint of stone fruit. Yeasty notes are there but not as much compared to the regular brut reserve. Very fresh and elegant wine. One of my favorites from the nights.
Brut, 2005
-60% Pinot Noir and 40% Chardonnay.10 years in cellar before release. Medium to deep gold in color. Brioche, dried apricots, white peach, hazelnuts. This champagne was very much alive and felt extremely fresh.
Brut Rosé, 2006
10% still red wine. Disgorged in 2014. Fainting pale pink in color. Beautiful red fruit that you feel is starting to transform from fresh to faded. Very savory, racy acidity, pastry dough. This made me fall in love with rosé champagne. My WOTN.
Blanc de Blancs, NV
New release from Charles Heidsieck this past August. 25% reserve wine. Pale gold in color. Typical BdB with sharp acidity and a thin body. A lot of citrus lemon and lime, chalkiness, peach, honeysuckle, very fresh. Other people in the tasting loved it but it wasnt my favorite.
Blanc des Millenaires, 2004
Their prestige cuveé which is also BdB. They source from only 5 crus; Oger, Mensil-sur-Oger, Avize, Cremant, and Vertus. Was very excited to try this after trying the BdM 1995 last year. To this day that might be the best bottle of Champagne I've ever had. This wine was special but still very young. You can tell it will develop into something spectacular. Lemon citrus, green apple, almonds, and toasted hazelnut, streaky acidity and a refined chalkiness. Very complex with a very long finish. Loved it but still miles behind the 1995.
My rankings (Would drink every wine again with a smile on my face)
Brut Rosé, 2006
BDM 2004
3 Tied. Brut, 05 / Rosé Reserve NV
Brut Reserve NV
BDB NV
What are your thoughts on Charles Heidsieck?