I love that stone work. Kudos to you and your mason!
I turned a kitchen that was once part of an in-law, into the wine cellar. Used Bordex racks and Whisperkool unit to maximize the amount of bottles to the space. Holds about 1500 bottles.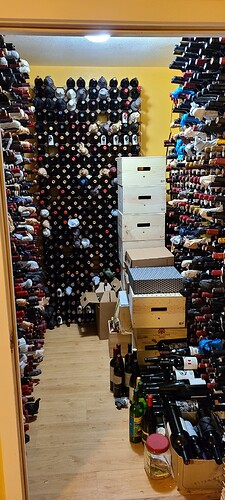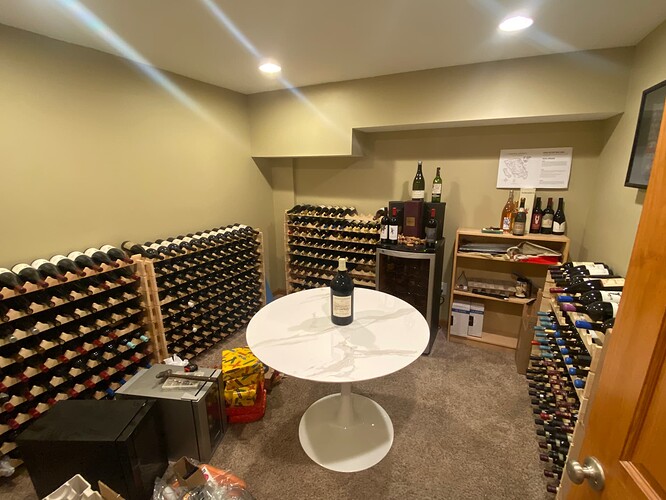 Welcome to my makeshift cellar until I have the time and money to get it done right. Stays between 58 and 65 most of the year.
These are amazing, I'm so jealous. I don't have space to build something but hope to one day!
I have an arbitrary $100 bottle purchase price to get into my fridge, and Detert's "regular" cab franc doesn't make the cut! (But it is still special

)
My purely utilitarian crawl space cellar. Truly a crawl space. Stays between 58-65 degrees. I must say it was a lot easier when I was younger.
Great use of space! Don't let advancing age slow you down…
Mechanic Creeper Car Shop Creepers - Garage Automotive Accessories Best for Auto Floor Low Profile 40" Crawler Roller Mechanics Tools… https://a.co/d/aDgqlzi
Harsh reality

That's not a window a/c, it's a Cellarpro cooling unit.
In the latter stages of converting our very unused guest room into a wine storage and hangout space… converted the closet to hold a EuroCave Revelation and an Artevino III - Cooling fans on the left side are keeping it nice and cool on the inside. Not the cellar I had previously envisioned… no spot really made sense in our house for one but this is working quite well so far!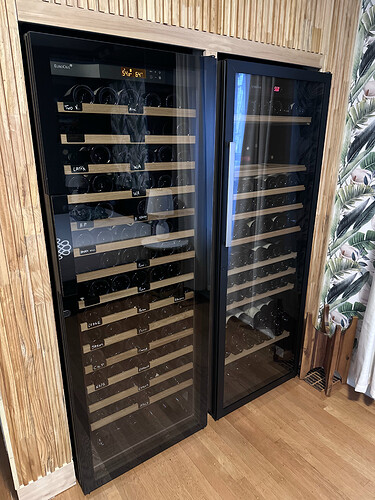 That's pretty slick looking - nice work on the install! And presumably pretty easy to convert back to a closet if you ever decide to move.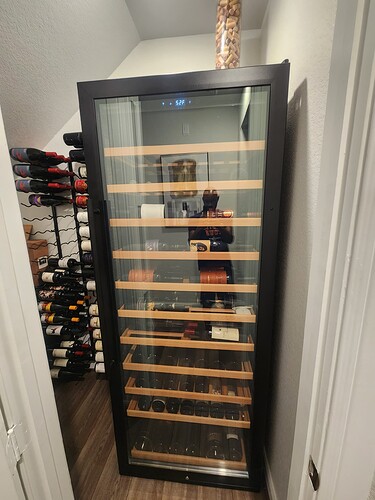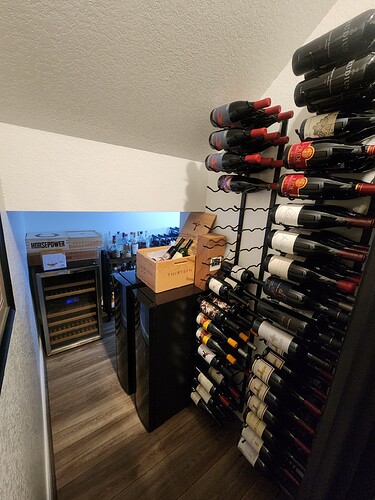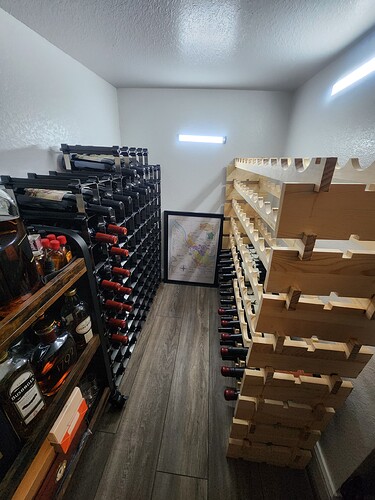 Took the area under the stairs for my cellar… Still a work in progress but everyday I think to myself… How can I cram more in here


Do I spy a collection of Fireball minis on your bar cart?

You have wine fridges in your "cellar"? Whats the temperature in the room with those running?

Looks great! which wall mounted vertical racks are you using?
I didn't think anyone would catch the fireball.

the bar cart has actually become an annoyance as I look to maximize space now
I actually used the Vintage View racks. Found them on wineracksofamerica website but they ended up being a slightly better deal on Amazon depending on the "size" you need. I went with( 2) 54 bottle racks .
Thanks! looking for a couple racks like this for overflow storage… I'll check those out
Can you tell me more about those plastic and metal racks next to the Fireball? It looks like a pretty flexible system that I'd like to take a closer look at before I buy racking for my cellar.
That is the "Nook" racking system. I found it on Wine Racks Of America as well. It worked perfect for my space because I was so limited on what would fit precisely in the space .You can customize the size to your space since it is modular. if I remember correctly this rack is for 110 bottles and is extremely sturdy( they sell wall anchors/ stabilizers for it as well) . I am secretly scheming on how I can fit another one in the room somewhere.