Dinner on the 24th June 2010 was back at La Tienda for more of Chef Javi Lecumberri's pintxos and, naturally, some chuleton. As usual, Miguel organized the menu with Javi. We were 3 couples in all: Mig & Ria, Matt & Chinkee and Catha & I. Unfortunately, Aaron, Jo and J-Lab couldn't make it.
Catha, Miguel and I arrived early and, being thirsty from a long day at the office, we ordered some chistorras, boquerónes and popped open the first bottle of cava. Javi joined us briefly for a quick glass.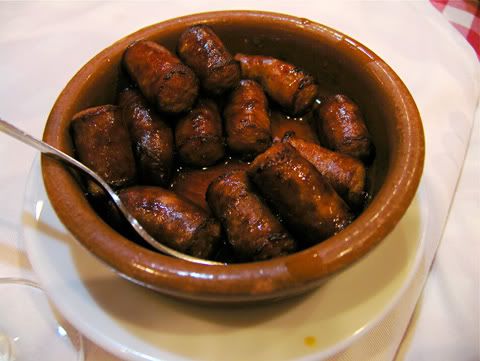 Chistorras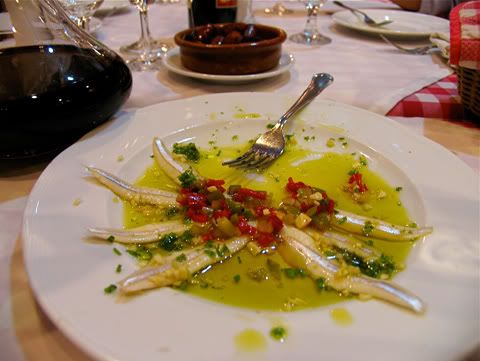 Boquerónes
Freixenet Elyssia Gran Cuvée Brut - My bottle. Consistently good as always, this is undoubtedly my favorite cava, which, incidentally, was a hit with the Alabang group at our last get-together:
By the giant Freixenet firm, this is a méthode champenoise sparkling wine which tastes and feels much more like a champagne blend than the usual cavas I encounter in that it is comparatively heftier, creamier, rounder on the palate and not "grassy", sharply minerally or acidic. The dominant, dry fresh apple, crisp pear and second-tier lemon/orange flavors have a very subtle white chocolate undertone mid-mouth and the merest hint of almond bitterness towards the back (but not in the finish)…
¡Salud!
Matt and Chinkee followed shortly. We were already running very low on pica-picas and cava, so I ordered another round of the former and popped open a second bottle of the latter. Ria arrived after a bit, so the serious eating began. Though Javi had a new set of pintxos lined up for us, I couldn't help but request a repeat performance of his…
Salmorejo - An Andalucian (particularly Córdoban) version of gazpacho, made out of tomatoes, olive oil, garlic, vinegar, etc. No cucumbers and other vegetables that gazpacho ordinarily involves. Javi's salmorejo is adorned with an incredibly and sweetly fresh prawn lightly cooked in vinegar. Love it. Perfect for the warm Philippine weather as well.
Having almost gone through our 2nd bottle of cava, and since most of the pintxos involved seafood, we moved on to a nicely chilled bottle of…
2008 Laxas Albariño - Chinkee's bottle, and our group's favorite locally available albariño. I've written about this refreshingly dry, fruity, precisely ripe, pleasingly plump, discreetly minerally albariño so many times, I need not elaborate further. An old favorite especially with seafood dishes, it gave a nice, crisp cut to the following pintxos: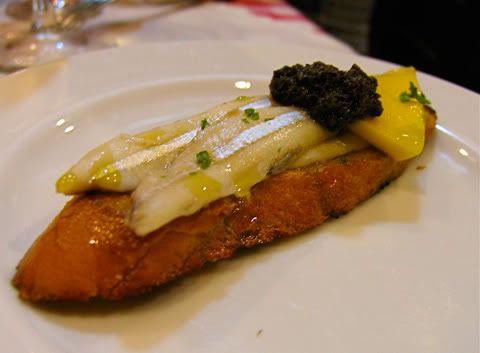 Boquerónes con Pâté de Olivas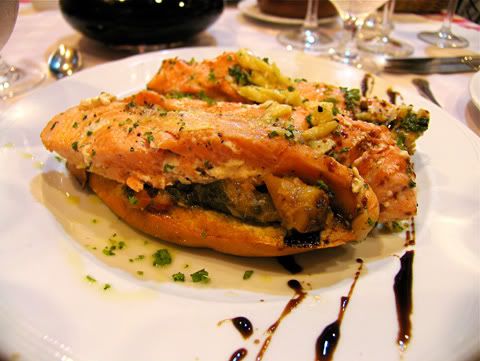 Salmón Confitado con Pisto
Bacalao al Ajoarriero con Gambas
Escalivadas con Anchoas (not new, this is an old reliable dish)
Brocheta de Solomillo y Bacon con Arroz Cremoso, Foie Gras y Salsa de Oporto
This last, meaty one reminded me of the pintxos morunos Catha and I had at Café Irvña in Bilbao a few months ago - only this was of beef tenderloin and pork belly instead of lamb, more elaborate and complex. Excellent dish, the creamy rice, foie gras and port sauce married perfectly - all in harmony, nothing over-powering anything else. With this dish, we moved on to the first red of the evening.
1973 Bodegas Berberana Rioja Gran Reserva - My bottle, the last of 5 I purchased from the cellar of a good friend who moved back to Germany. The cork was slightly depressed, broke in half and was a bit crumbly, but I managed to extract it without any parts falling into the wine. Left open (without decanting) for around 30-40 minutes.
Brick red, the edges were tinged with amber. Medium-bodied, very smooth and relaxed, red fruit elixir, balsamico, underlying leather, hints of ceps, meat and compost, violets, refined spiciness. Seamless stuff. Nicely complex, notable harmony and balance. Very nice. Without the balsamic notes, I imagine I could have mistaken this for a Burgundy if served blind. Probably the best of the batch. Too bad it was my last one.
We were all getting quite full by this time, so Miguel asked Javi to hold off with the main course for around 15-20 minutes to give us time to recover and have a quick smoke. Outside, Miguel thought to ask Javi to make our order of chuleton smaller and actually went inside to talk to him. Chinkee then said our main course was surely already prepped and asked me to tell Javi to just proceed as planned, stating: "Ako na bahala sa chuleton!" I, thus, followed Miguel inside and assured Javi we could handle the large order.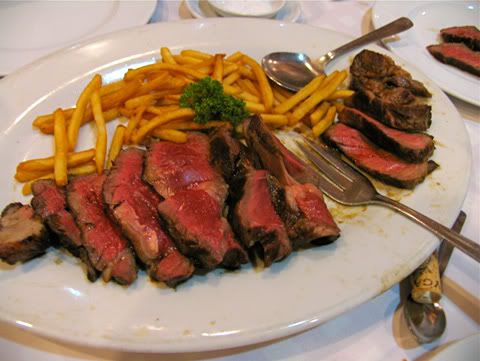 Chuleton, cooked to perfection.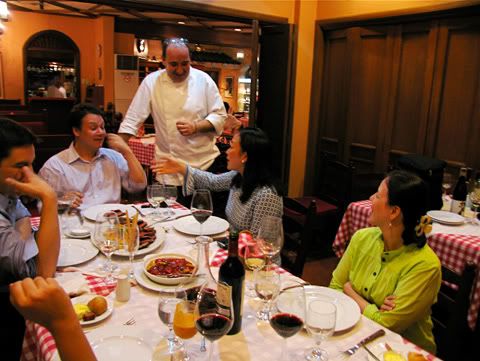 Javi stops by to see how we are doing. Matt looks overwhelmed with the food.
With this beef-fest, we had 2 more reds, both from a much more recent, but excellent vintage for Rioja:
2001 Bodegas Muga Prado Enea Gran Reserva - My bottle, a gift from Miguel for my last birthday. I've had this twice before within the past 6 months: the first time from Rene at the Usual Suspects' 2009 Pre-Christmas Lunch at La Tienda, and, the second during lunch with Catha at Restaurante Arzak in San Sebastian. This is still rather young, so I decanted it for aeration at the evening's outset - so it had been breathing for around 2½ - 3 hours by the time I got to it. Despite this, the wine hasn't seem to have budged an inch. My notes from this past April are still very much applicable:
2001 Bodegas Muga Prado Enea Rioja Gran Reserva > - deep, rich, ripe, well-concentrated and extracted cherry, kirsch, raspberry, underlying blackcurrant, meatiness, infused with a hint of ceps and a healthy dose of oak and related spice notes. There is good push on the palate, the fruit is generous, but the firm structure and good acidity holds the wine in indulgent balance.
Already a treat to drink now, I believe it will gain a lot more complexity over the next 15-20 years. Very nice indeed.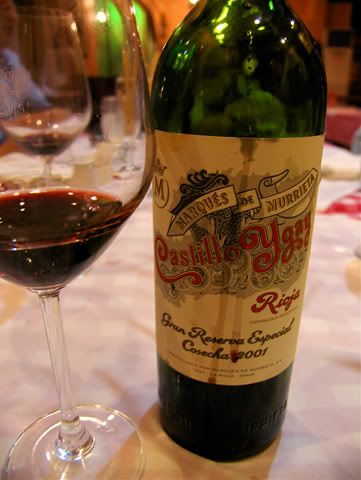 2001 Bodegas Marqués de Murrieta Castillo Ygay Gran Reserva Especial - Miguel's bottle; I don't know how long it was opened before being served. Also quite young, this came off as comparatively/slightly lighter in body (I'd call it halfway between medium and full-bodied at this point) and not as open, but better in focus and purity than the preceding 2001 Muga Prado Enea Gran Reserva. Notably more streamlined too. Ripe cherries (slightly tart at the finish), raspberries, bit of strawberry over blueberries and blackcurrant, slight hints of black coffee, tobacco leaf, cedar and mild vanilla/oak. I'd give this at least 3 or 4 more years before revisiting.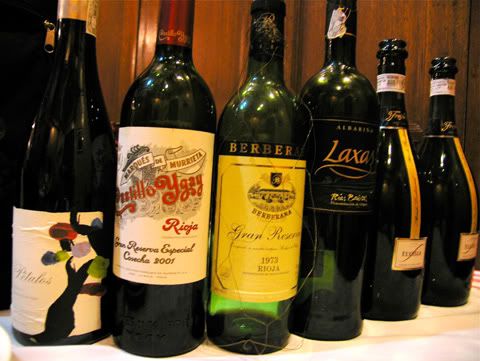 We had a few more bottles left (an Alvaro Palacios Pétalos from Bierzo, some Itsasmendi Nº7 Txakoli from Gernika and another bottle of Freixenet Elyssia Gran Cuvée Brut,) but these were saved for another day. Dessert was then served.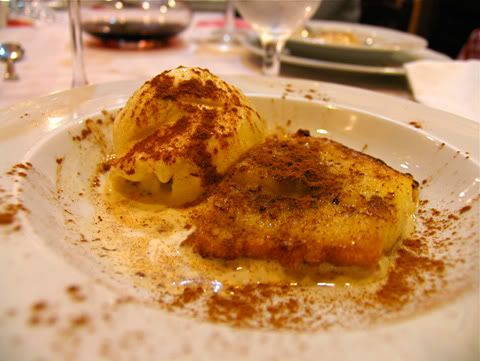 Torrijas con Helado de Arroz con Leche
Torrijas are, basically, the Spanish version of pain perdu, otherwise known as French toast. Of course, there are countless spins thereon. I think this is the 3rd version of this dish that Javi has made for us, and I've loved every single one - especially this one since it combined the flavors of arroz con leche which is another favorite of mine. The generous dusting of chocolate powder certainly didn't hurt either.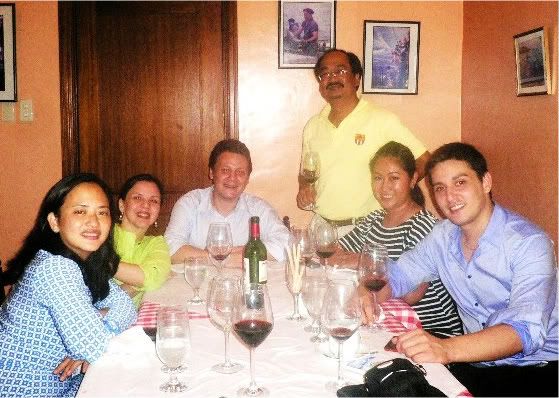 Incredibly good dinner, thanks to Javi. Great wines and company too. Many thanks to all who made this possible! Until the next!