Does anybody have any experience with Pinot Blanc Champagne? What's out there? If anything?
Thank you.
Dan Kravitz
Of course there's La Boloree from Cedric Bouchard, but I haven't tried it myself. Pierre Gerbais also makes one, and I believe most of the existing pinot blanc plantings are in the Aube.
Sorry this isn't more helpful – I'm also super curious. Would love to try one. I'm sure others on the board have more experience.
Cedric Bouchard La Boloree…best I've ever had! Although…my only experience!

But seriously…the 08 recently was top 5 best Bubbles I've ever had!
I took a flyer on this wine from Massin. I had recently been introduced to them and have loved their wines. I believe this might have been the first Pinot Blanc to get the 'Special Club' bottle. But I found it about as inspiring as most still Pinot Blanc I've ever had. As in, rip out and plant the better grapes on that land.
2014 Remy Massin & Fils Pinot Blanc Champagne "Special Club" Brut Millésime - France, Champagne (6/14/2021)
Pretty sure this is my first full Pinot Blanc from Champagne. I've had other that included the grape in blends. I was curious but held some trepidation as my experiences with Pinot Blanc are far less than noteworthy. This was tight initially but then drank like a sparkling Pinot Blanc. Not quite Chardonnay if paying attention and informed but probably what you would guess if blind. Some chance this could get better with age but it's hard to see room for real growth. It's just sort of a nice blanc styled Champagne but hard to recommend. Like most Pinot Blancs I've had it's just sort of a nice white without distinction.
Posted from CellarTracker
Vouette et Sorbee makes a 100% PB Champagne called Textures. I have one 2018 that I need to crack. Marie Courtin makes a 70/30% blend of Chardonnay/PB called Presence, but I don't think the PB is such that it is detectable.
Others I've enjoyed (aside from Boloree)
Jean Laurent Cuvee Blanche
Fleury Botes Blanche
Though I'm both cases had they note been Pinot Blanc I probably would have had less relative enjoyment
Boloree is probably the best and easiest to get. Pierre Gerbais also does L'Originale which are 100 year old plus vines but I've never had it.
Also in the Aube, there is Le Champ du Clos BdB by Charles Dufour
I've had a good number of PB Champagnes (Fleury Notes Blanches, Dufour Champ du Clos, Vouette & Sorbée Textures, Gerbais l'Originale, Piollot Pinot Blanc) plus multiple wines in which PB has been a part of the blend.
I've enjoyed most of them. What I've found out that the variety doesn't really go that well with dosage, as the resulting wines are fruitier and slightly more voluptuous than Chardonnay Blancs de Blancs. Often the wines come across as very balanced and fruity even as non-dosé wines and Extra Bruts might already show a little bit of dosage. Can't remember which PB Champagne (or heavily PB-driven blend) was only Brut and that one already seemed quite fat and sweet, way too much dosage there.
However, IMO the wines haven't been like simple PB sparkling wines (I'm thinking of Crémant d'Alsace here, which often is PB-driven or even completely varietal PB), as most of the wines I've tasted have shown much more freshness, precision, minerality and depth I'd expect from a Champagne. They definitely aren't Chardonnay, so one might be disappointed if they were expecting a zippy Blanc de Blancs with piercing acidity and lemony fruit, but they aren't simple, soft one-note sparkling wines as many 100% Pinot Blanc Crémants from Alsace can be. They're definitely Champagne, only somewhat different to what one might be familiar with.
I think the best ones are always from cooler vintages (to boost the acidity up), have been aged for quite a while on the lees and also have some bottle age (so they've dropped the most obvious fruit notes) and are Brut Nature or, tops, Extra Brut (as PB doesn't really need for any additional RS for fruit or body).
Occasionally I will be able to guess blind that a wine contains Pinot Blanc. Its primary marker, for me, is a sweet pear flavor bordering on Del Monte fruit cocktail we ate as a kid.
Nice wine but I'm guessing PB won't change the world. Fine bubbles, well made, and enjoyable but just missing that little something to make it stand out. The fruit was peach/melon which made it fun.
Posted from CellarTracker
Here's a list of champagne producers in CT
https://www.cellartracker.com/list.asp?Table=Producer&MasterVarietal=Pinot+Blanc&iUserOverride=0&fInStock=0&szSearch=france+champagne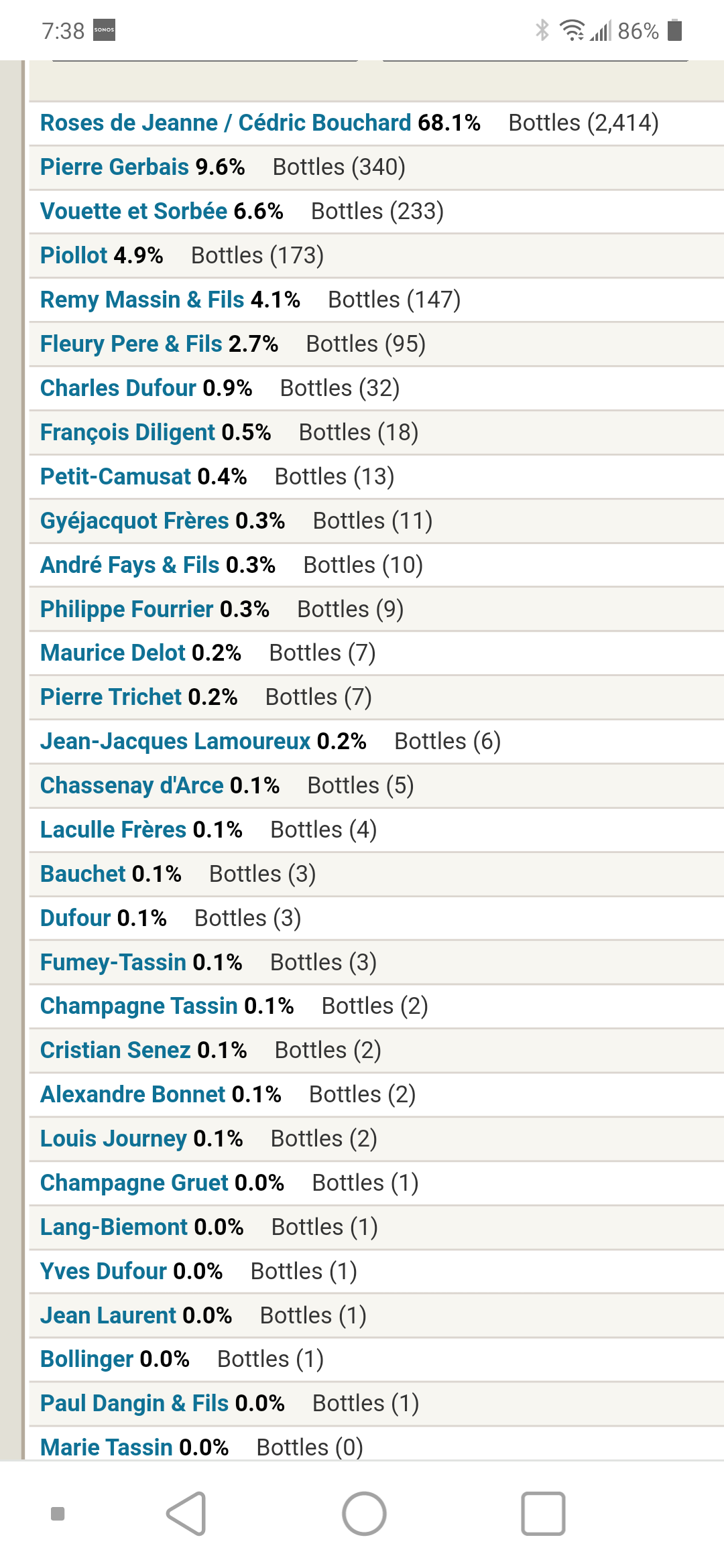 Seeing that Hardy was in this thread, not champagne, but he made quite a bit of sparkling Pinot blanc back in the day in his D&R Traditional Method Sparkler and 2013 Pet Nat Pinot Blanc
Gerbais l'Originale is sinewy, taut, and serious without being hard or lacking charm. I think it's really well-done though I definitely prefer wines where the dosage is not peeking through. I see it's varying between $70-100 depending on the market at the moment – I purchased mine for around $60, which was more than fair for the quality.
Agrapart's Complantee and Laherte-Freres "Les 7" also have good doses of Pinot Blanc
I think all of the old Pierre Gerbais cuvees are out. The new pinot blanc bottling is called La Loge.
The only one I've had was La Boloree from Cedric Bouchard, and to be brutally honest I was not a fan. It was back around 2010-2012 time frame. I didn't take a note, it was a friend that shared it with me, and I was really grateful for that experience. However, at the time it cost as much as a bottle of Pierre Peters Chetillons and there was no way I wanted to spend my money on that bottle compared to what I could get in other wines. I love Weissburgunder…but have not found a bottle of sparkling Pinot Blanc that I liked.
The only Boloree I've had was a 2007 opened Christmas day 2020 (the first Covid Christmas). Well made, but a bit too much in a honeyed, tropical, baked apple part of the spectrum for my preference. Maybe would have enjoyed it more when it was younger and fresher.
-Al
Took a leap and got a 6-pack of Gerbais' La Loge. Will pop one over the holidays and report back.
Remy Massin Special Club 2017.