My new favorite pesto. Pesto alla Trapanese is a flavourful version from the Western Sicilian city of Trapani.
"An ancient recipe that was born in the ports of Trapani, where Genoese ships from the East once landed, carrying products and preparations with them. The people of Trapani modified the pesto recipe of the Ligurian sailors by replacing the ingredients with the specialties of their territory, namely tomato, almonds, pecorino cheese, red garlic and basil. All pounded in a mortar and used to flavour the busiate, a typical shape of local pasta made with water and flour, a sort of perforated spaghetti obtained by rolling dough ropes around a special metal rod."
Note: My mortar was too small, so I started with an immersion blender/spice grinder and changed later to the mortar. Meanwhile I bought a bigger one.
Ingredients
50g almonds blanched (Sicily)
50g Pecorino/Parmesan
1-2 cloves garlic
bunch fresh basil
olive oil
250g fresh cherry/Datterini tomatoes or 100-150g canned tomatoes
Preparation
Open 400g canned tomatoes and mix with an immersion blender or food mill. You need only around 100-150g for the pesto. Then put parmesan, garlic and almonds in a spice grinder or food prozessor or use an immersion blender and mix. Put it in a mortar with pestle and add basil. In addition add olive oil and combine.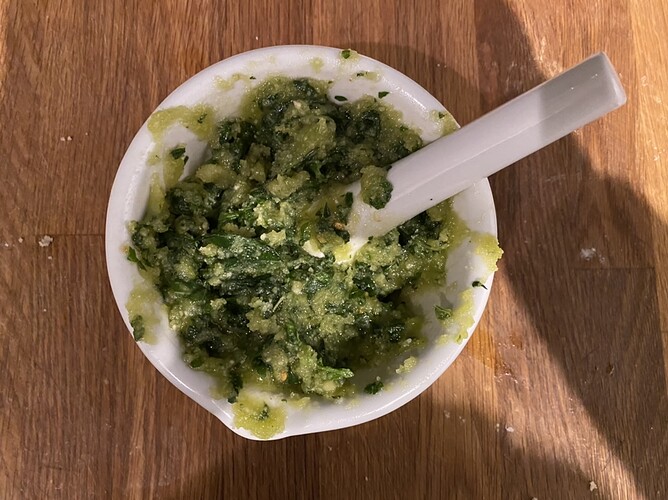 Add fresh tomatoes without skin to the mortar. Or combine pesto with canned tomato sauce in a bowl. Of course also salt&pepper. Optional you can add more tomato to your pesto. Serve with pasta of your choice or classic with Busiate pasta.